Appearance
At first glance the Asus K53SV looks very stylish and fashionable yet very practical and simple design. The lid is in a textured pattern and made of durable plastic in a dark brownish/gray color with a nice ASUS logo centered. We like the design of the ribbed pattern on the lid which not only looks good, it also helps to make traces of fingers and such pretty indistinguishable. According to Asus the K53SV model will be available in other colors as well.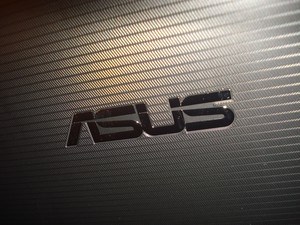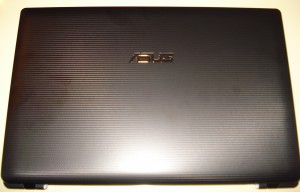 Upon opening the asus keeps it's minimalistic design now with rounder edges. The inside is also quite nice, with the black glossy LED screen surrounded with a black frame. The chassis around the keyboard is made of textured aluminum similar to the lid color and stays quite cool even after hours of work on that Intel i5 processor. There are led lights on the power button and the Wi-Fi, battery indicators and such right in front of the touchpad. Dimensions for a 15.6″ notebook are quite acceptable as well as the weight of 2.6kg. Like most of the Asus notebooks, the chassis seems to be constructed pretty well, and the hinges seem tighter on this one.
Keyboard & Touchpad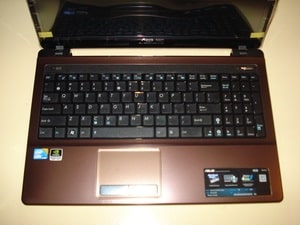 Even though it's size for a 15.6″ is compact, typing on the keyboard has good feel although the keys could have been made a bit tighter and a bit harder to press. The layout is comfortable, nothing is missing from a classic regular keyboard, even a full numpad with a big zero key is included. The chiclet keys make the keyboard easier to clean, and if you haven't used one hitting the keys is even more intuitive after you get used to it in just a couple of minutes typing.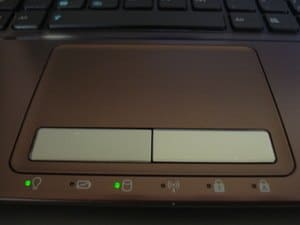 The touchpad is placed centered along the keyboard itself and represents quite a large area on the aluminum case with two large silver buttons. The touchpad itself feels very smooth almost like it is made of aluminum itself and is one of the better ones I have tried. Remarkably besides it's size and shiny material finger marks can't be distinguished at all. Control is also smooth, and it supports commands with two and three fingers like zoom in/out, rotate or scroll, stuff which almost no one uses on daily basis, at least I never do.