Being a parent is a truly challenging role. No single human being who became a parent is completely trained about "the position". As the child grows, the challenges are increasing. Kids start exploring, everything seems interesting and unfortunately they are not aware of the risks and dangers they might become a part of.Luckily, today's technologies have developed at that point that you are just one click or voice call away, to make sure that your child is safe. The GPS tracker for kids became a necessity for most of parents, especially for those who live in a big city, whose children are very active or simply for those who are constantly worried if their child is safe and OK.
Nowadays, everyone wants to be informed and feel connected. The technology is prominent, and only with the swipe of the finger you can access a large amount of data in no time. The smartwatch for kids enables the families to stay connected through the day. Parents can receive updates from their children. We cannot put a price on our children's safety, but it turns out,we can, and t is pretty affordable.
Although there are some parents who do not agree with this and do not want to spoil their children by putting an expensive technology on their children's hand from such an early age, the others, and that is the vast majority of the parents around the world, know that by buying the kids GPS watch, they will become more peaceful and secure about the well-being of their youngsters.
What is a GPS Tracker for Kids?

The GPS tracker for kids can be found in several forms, it can be wearable as a watch, bracelet or a belt or you can simply attach them on your kids backpack. It represents a combined power between tracking device and a mini computer, enabling you a hands free user experience. All the notifications and data your kids will receive, whether it is a voice call, an image or a text message, will be received without taking a phone out.
According to the statistics, around 450.000 children are reported missing every year in the United States, and around 250.000 in Europe.
It is a scary fact and we certainly want to find a way to prevent something like that happening to our children. The smartwatch for kids is one option to avoid any harm happening to your child.
The idea behind this tracking device for kids is not to stalk your child (although there are many parent that are actually taking advantage of the device, shame on you  :). The main reason why people are buying the child GPS tracker is to simply be sure that their child has arrived safely from point A to point B.
The tracking bracelet is mainly designed for smaller children, who cannot utilize the features of the GPS smartwatch, so in my opinion, if your child is under the age of 3, you should go with the gps bracelet.
The child tracker watch is suitable for children older than 4, who are old enough to use the other features that the smart watch is offering, such as games, voice recording, calls and messages.There is also the GPS tracker for kids that can be worn like a belt, and it is especially made for autistic children and their safety. We will discuss about each one of them in a separate review, explaining their key features and things to consider when buying a GPS tracking device for your children.
There are too many smartwatches for kids on the market today, but we narrowed it down to eight, that we think deserve your attention.
Our Reviews for the TOP 6 GPS Smartwatches for Kids
Table could not be displayed.
We will present you with a quick rundown of the best GPS watches for kids, and if you are particularly interested in any, you can check out the full review of the product and click the link leading to it.
#1 Angelsense
This autism tracking device has very powerful features, designed to track your child in real time. It can be attached to the clothes with a magnetic pin, so you will be the only person that can remove it. The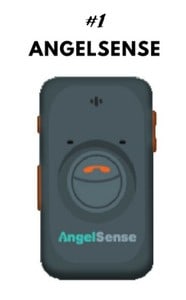 unique feature of the Angelsense tracking device is that is designed for individuals with special needs.
It was created by Doron Somer, a father of an autistic child, who used the power of the GPS tracking and geofencing to develop a device that can enable you to track your kid and give you a piece of mind.
Angelsense will give you the opportunity to see your kids routes and location during the whole day, and alert you with a SMS for any unusual activity your child is making. The Angelcall is a feature that enables you to communicate with your child when you need to, but you can also just listen-in and see if he or she is in some kind of trouble. The indoor search is a great way to find your child that has wandered in the toy section in the mall.
You will benefit from Angelsense GPS tracker in many ways, so do not hesitate to explore a little bit more about it.
#2 LG Gizmopal 2
Gizmopal 2 is a smartwatch produced by LG. It brings you a lot of feature such as two voice communication and real time location tracking, so that way, you will be able to be connected with your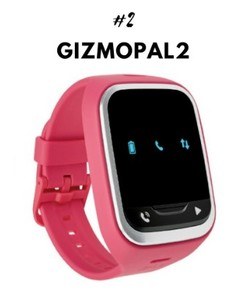 kid all day long. It is user friendly, which will allow your kid to easily find what he is looking for. The touchscreen makes it even easier to use.
Gizmopal 2 is the second version of the Gizmopal series. With the implemented cellular network, WiFi and the data connection that allows you see the location of your kid, the Gizmopal 2 is practically a phone watch. It has a great design and three LED lights that makes it fun for your children.
It comes in six different colors, so if you do not have any idea what to buy your child for his/her birthday, you can get a Gizmopal 2 replacement bands.
The price is very affordable, so if we got you interested in this smart watch, you can read our detailed review about it.
#3 Doki Watch
Featuring video calling and GPS tracking, the Doki watch is a phone watch that enables you to stay in touch with your kid and even connect with video if necessary. The kids' owners of Doki watch can communicate with each other, call and text each other.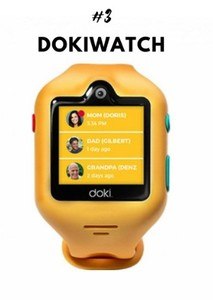 Another cool feature this GPS watch has is a Doki pet, which lives in the phone and is actually an activity tracker for the daily activities of the kid.
The Doki watch keeps the child safe and gives the parents a piece of mind. The GSM, GPS and WiFi connection enables great accuracy of your children location. It also has a SOS red button, that your kid can use if something went wrong. It immediately sends an SOS alarm to the parent's phone.
The kids can operate the Doki watch through touch screen, which makes it much easier to use. Through the app, the parents can enable access to other family members, like grandparents or siblings, so everyone can take care all at once for their youngsters. The Doki watch comes in three colors.
#4 My Buddy Tag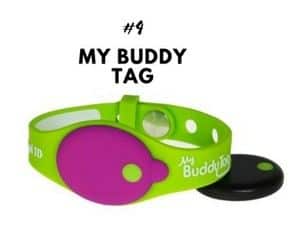 This GPS bracelet is suitable for kids who live by the water and are playing in the pool or by the sea, so if anything unpleasant happens, my buddy tag sends alert 5 seconds after it has drown under the water. Its waterproof feature really makes It unique. The alerts and notifications from my buddy tag come via email, so you can setup up to two email addresses where the alerts can be received.
My buddy tag is a GPS tracking bracelet, recommended to younger kids that do not yet how to operate with a watch, so the features My buddy tag is offering are sufficient enough for you as a parent to be alerted if something is wrong.
This GPS tracker operates via Blue tooth, it does not require sim card, meaning that the maintain costs are minimum and the battery lasts much longer.
If you are a big family and want to keep your children safe at all times, we strongly recommend My buddy tag. Through the app you can track your kids, even if they are a whole soccer team :).
#5 iGPS
iGPS watch phone is as the say "The closest thing to Holding your child`s hand all day". The iGPS watch can be used for voice messaging with your child, to see location history, send text messages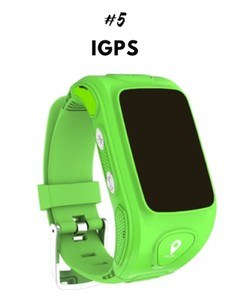 and the location of your child updates every 10 minutes. It features voice speaker, LCD Touchscreen, Microphone, and WiFi receiver.
iGPS wrist watch comes in three colors, black, blue and pink. You can set safe zones where your kid is allowed to be, and with the real time tracking, you can always be sure that he/she is not in danger. There is also an anti-lost alarm, so if he/she gets lost, with the two-way calling option, you can always call your child.
The iGPS phone is compatible with both iOS and Android Operating Systems. The wrist watch is adjustable, meaning that if can fit wrist that is 4.25" up to 7" wrist.
All in all, it is designed especially for your children, to provide a safe environment for them, and also for the parents, to always know that their children are not in danger.
#6 GizmoGadget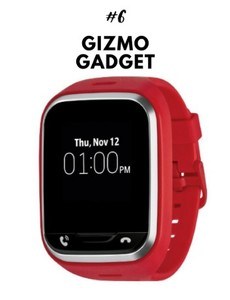 As a brand, GizmoGadget stands as some of the top rated smartwatches for kids. Last but not least, this phone watch is a great substitution for an actual smartphone, featuring calling, sending texts, tracking and some fun things the kid can do with it, such as fun sounds and voice changer.
The GizmoGadget watch is user friendly, so the kid will not have any problems making a call or texting you. It is the same with the caregivers app, it is very intuitive. There is an approved list of contacts that can make calls or send texts. The caregiver has the power to control everything that is happening on the watch through the GizmoHub app.
The GPS locator is very accurate, enabling you to track your kid and make sure everything is OK. The design is a bit bulky, but again, it depends on your child wrist. The GizmoGadget smartwatch is all about the safety of your kid, it is also waterproof and it definitely deserves your attention. It gives you and your kid confidence that everything is going to be OK. You will be obly one click away from hearing your kids voice or reading the text that school is almost finished. For more detailed instructions, check out the GizmoGadget full review and see if it fits your needs.
How Does the GPS Watch Work?
We already made it clear that the GPS watch can be find in many forms, GPS watch for kids, GPS bracelets, GPS watch for runners, GPS phone watch, activity tracker, all having one thing in common – the integrated GPS receiver. In collaboration with WIFI and GSM, the GPS watch can perform many activities, such as: voice calling, text messages, videos, playing games, taking pictures, geofancing, activity tracking, real time tracking etc.
The receiver that is built into the watch, picks up transmission and enables you to locate the person who wears the GPS Watch.
It works as a wrist phone, enabling you to call a person, or send a text a message or even make a video call, and also help you find the location you are looking for or be found if you ever get lost.Your kids GPS smartwatch is connected with an app on your phone, so you can track every activity of your kid, make a call, send a text message, and practically be aware of everything that is happening to your kid in real time. All you need to do is to insert a SIM card in the smartwatch and connect it with the app in your phone.
What are the Key Features of the Kids GPS Watch?
Many of the child tracker watches we mentioned in the text have different features, depending on the model and the manufactures. However, they all have some of the common features the GPS watch for kids should have.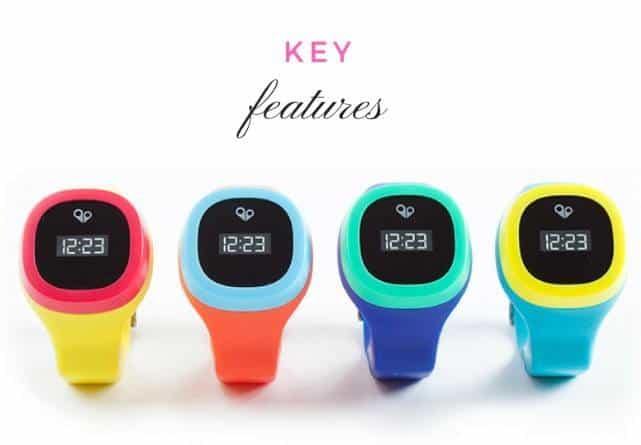 The parents will be always worried about where their kid is, so that is why the amazing features of the GPS tracker for kids is making it easier for both the parents and the children to stay in touch and communicate with each other all day long.
Some of the key features of the kids GPS tracker watch are:
Real-time tracking. Enables you to track your child at the moment, wherever it is, you can always be up to date with the location of your child.
 Safety zone setup. On some of the GPS watches we reviewed, you can set up unlimited safe zones, so you can always be sure that he/she is walking around safe zones.
 Two-Way Calling. You can always call your kid, he can always call you, no trouble there. You can also set up a video call.
 Text messaging. If you are in a meeting, and want to get in contact with your kid, you can always send a text and see if everything is OK.
 Activity Tracking. The kids gps phone watch provides a feature where you can track the activities of your child and see if he is active enough. It works as a pedometer, tracking your kids steps.
 SOS mode. If the kid is in any kind of danger, there is a SOS button on the side of the phone, so when your child pushes it, you will receive an alert on your phone, so you can call your child and see what is the problem.
 Silent Mode. Whether your child is sleeping or at school, you can always set up the watch phone on silent mode, so your kid does not get disturbed.
Games. Ranges from fun voices and sounds to taking care of a virtual pet.
What are the Pros and Cons of having a GPS Tracker for Kids?
First of all, make sure you understand how to operate a GPS Tracker Watch for kids. Purchasing a GPS tracker for kids is going to make your life easier for sure. Being able to track your child's activities, and to always be aware is he/she is OK, will definitely bring you a piece of mind. You do not need to worry about what your kid is up to, you just need to check your app and take a quick look.
Although all of this sounds perfect, some of the parents do not agree with this method of tracking down your child. They also do not like the fact that their kid is wearing an expensive watch on the wrist, that can cause additional problems.

There is no right or wrong, everyone has a right to raise their child according to them, the believes and values they cherish, so we are simply going to write down the pros and cons of owning a kids GPS phone watch:
Pros
Cheaper than a phone. The two-way communication feature enables you to stay in touch with your kid through the day. You do not want to be one of those parents who purchases phone for their kid, and all of the sudden when it reaches 10 years old, he will ask for a Bentley :). That is why the kids GPS phone watch is much cheaper and safer choice. The features are developed according to the kids and parent's needs, so all you need for a basic communication with your children in build in this device.
Learning and reward system. Some of the watches we reviewed feature a reward system. They are many fun things that the kid can do on the watch, so with any good thing your kid does, he collects points and instead of you taking count for all the good deed your child has done, the phone watch does that for you. So every now and then, you can reward your kid with a little treat for their good behavior.
Activity tracking. Facing today's fast living, we are all aware about the overweight problem that our children are facing. The development of the technologies forced them to spend much more time at home and in front of the PC, tablet or phone, instead of going out, playing with their friends or riding a bike. If you are worried that your kid is not very active, the tracker will show you exactly how many steps your child walked during the whole day, so you can do something about it.
Wearable. Since it is a watch that is wearable on the child wrist, you do not have to worry about falling out of the pocket or being left somewhere, like we usually do with our phones.
Panic button in movement. The GPS smartwatch for kids comes with a SOS button, so if they are in some kind of danger, or they are lost, they simply push the SOS button that alerts your phone and all the contacts that you set up previously, so whoever of those contacts is nearest to your child, can go and pick it up.
Cons
Expensive. Some parents do not approve of the GPS smartwatch, describing it as an easy way to spoil your kid, without gaining any particular benefits. Seeing some 4-year-old child wearing an expensive watch, can cause only problems. Some of the phones with many features on it are certainly much more expensive than the other, but that is why there are age recommendations for every watch, so if your kid is under the age of 4, you can simply buy a GPS tracking bracelet, which is cheaper, but you can still track your child.
Distracting. Some of the best GPS trackers for kids feature many games and fun things so do, so the parents think that the watch will only distract the kid and will not pay attention to the class. It is true, the kids get distracted pretty easily, but that is why you are the grown up, and you can find a way to tell your kid what is the best for him.
High monthly fees. Being able to communicate with your kid voice call him, text and see the exact location is certainly not free. The more the features, the more expensive the monthly fees. You can always set up the features according to your needs and possibilities.
Vulnerability Possibility. Although this is very far-stretched, some case studies has pointed out that some brands can be compromised by hackers if not set well. This of course, doesn't mean they aren't safe and someone will immediately go after hacking your GPS Watch device on your child, but still needs to be taken in consideration when choosing your brand.
So, Should I Go for it?
Finding the right GPS watch for your kid can be a bit challenging, since there are so many products on the market. That is why, we are going to guide you through our reviews about the top 5 GPS watches for kids, currently the best on the market.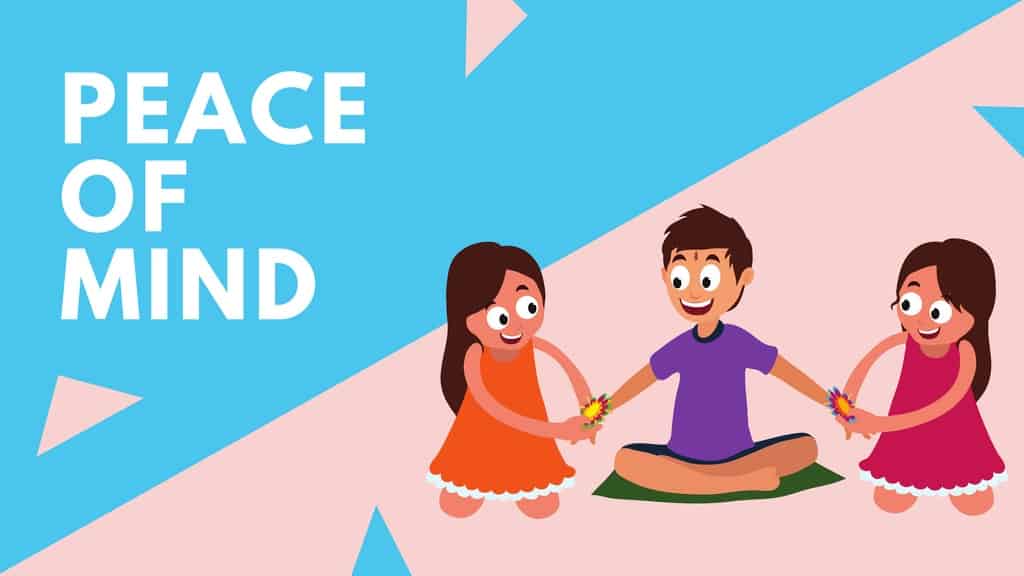 The in depth reviews, describing the features of the kid's trackers, can help you choose the best watch for your kid and for you. You can find helpful tips and customer experience about each of the kid's tracker watches.
There is no need to go from site to site, reading and comparing the smart GPS watches for kids – here you will find everything you need to know. Finding the best GPS kids watch will help you save time and be always aware about your kid's location.
To make things easier for you, there is no need to go to the store and waste time, we will provide you with the link for the best price for each of the GPS smartwatches for kids we reviewed. With the many choices of sellers, we are going to lead you to the best and most reliable seller, all that with the best price there is.
Therefore, the answer is yes, you should definitely give it a shot. The GPS watch for has proven as an efficient device, easy to use, easy to track. Your child will be safe, and you are going to be calm and stop worrying and imagining things that are actually not true. All that you need you know; you will have it in your app in real time.
So, do not waste more time, we are inviting you to read the full reviews and guides for the top5 GPS watches for kids. You will for sure benefit with less stress, less worries and the calmness you always wanted to have.