Introduction
In the modern world that we are living in, children must be under some form of supervision from adults. However, the same adults are sometimes busy with other jobs when their kids need to communicate with them.
The LG Gizmopal 2 is a wireless wearable phone for kids under the age of 7 years. This Verizon kids watch helps connect parents and kids throughout the day.
With connection to the gizmo app, parents can now pin point the location of their kids' right from their smart devices. Although Gizmopal 2 offers GPS tracking and phone calling, it is not ideal for small kids bearing in mind that it doesn't fit comfortably on tiny wrists.
Features and Design – Introducing the Gizmopal 2 Smartwatch

According to its design we can compare the Gizmopal 2 vs gizmo gadget. Gizmopal 2 uses the body of Gizmo Gadget and as a result attains a heavier, stiffer and bigger appearance. We looked at the new Gizmopal design and noticed that most of its space is wasted.
It also has a Gizmopal 2 band that easily be removed from the body and changed to any color that the kid prefers. Colors include pink, red, blue and purple.
Instead of a screen, gizmo watch for kids has low battery and active light calls. It has two buttons within the front which your kid will use to enjoy its features such as phone book, read out the time and enjoy making silly sounds.
Additional Features
Contact list. Gizmopal 2 can only call or even be called by four numbers. These numbers are controlled by the parent's phone via the gizmo app.This is great since your kid will avoid telemarketers, creepy calls or any unnecessary calls that will only distract him from his daily activities.
Geo-fencing.Parents can use the Gizmohub app to set geo-fencing commonly referred to as place alerts, so they can always know if the child is in a safe zone.
Notifications. Whenever your kid leaves the designated area, you will automatically receive a notification. However, the exact location of the kid will only be given upon request but not automatic.
Great speakerphone. This Verizon kids watch also has a loud and rather harsh speakerphone which I think was designed for short range conversations. Its network is excellent on Verizon's 3 G network.
Large battery. Another important feature is a larger than normal battery. This battery lasts up to 2 and a half hour of continuous talk. On standby mode, Gizmopal 2 battery can last up to a maximum of 4 days.
Water Resistant.Although the watch is not entirely waterproof, we found out that its splash resistant. Like others of its kind, it uses a combination of GPS and cellular tracking for a distance of 100 feet.
Auto Answer Feature.There is no chance that your kid can ignore your call. After a while, if your child does not pick up, the Gizmopal 2 will automatically answer you. Awesome, right? :)
GizmoPal 2 vs Gizmo Gadget

We found out that GizmoPal 2 is an upgrade of GizmoGadget. However, they still have some features in common that were needless to change.
Voice Calling – they both can take and make phone calls from a whitelisted set of numbers from the parent's gizmo app. The gadget carries up to ten numbers in the whitelist while Gizmopal 2 can make and receive call from a maximum of 4 numbers.
GPS Locator – this really comes in handy helping parents to locate their kids. This is simply done through the gizmo app. A parent can also set a boundary which the app will be notifying them once the watch goes beyond the boundary.
Size – We tried to compare the sizes of the 2 watches and found out that they were nearly the same size.
However, they are a little bit big for kids with small wrists. Kids can as well try Verizon kids watch which fit them more comfortably.
On the other hand, there are visible differences between the two watches. They include the following:
Text messages
In the gadget, the kid can receive text messages from whitelist numbers. They can also send messages which have been pre-composed via gizmo app. However, if the text message is not enough, the child can record a voice message and send it as a message.
Fitness Tracking
GizmoPal 2 has a step counter and a jump rope counter that allows it to be use as a fitness tracker. The previous version of the watch had no capability of tracking fitness.
Pricing
Although both watches have a two-year warranty, Gizmopal 2 is relatively cheaper than Gizmogadget. On the other hand, the LG Gizmodagdet replacement band ensures that the watch always fits comfortably to the kid's wrist.
Pros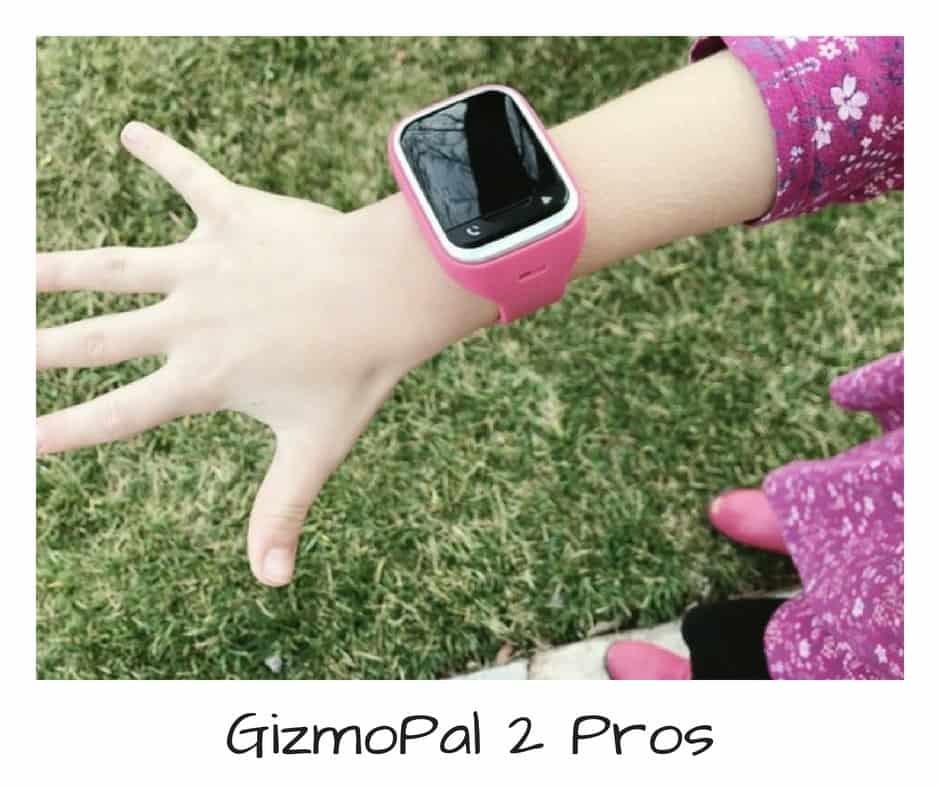 Affordable Price.The Gizmopal 2 watch is relatively affordable especially when compared to its previous version such as the LG Gizmogadget.
User Friendly.It is very easy to use due to its user friendly interface.
Two-way Communication. It allows two-way communication in a manner that the parent and the kid can effectively pass across information.
Fitness Tracker.It also has a fitness tracker. This means that the kid and the parent as well can track their fitness levels through the watch.
Replacement Band. It has a Gizmopal 2 band that easily fits into the kid's wrist.
Accurate Tracking. Gizmo Pal accurately tracks exactly which house they are at and sometimes you can even tell if they are in the front or back yard.
Cons
It is slightly big for a child's wrist; takes a little getting used to, but after a while it stands really good.
Can't wear at school due to the call button, but you can always turn it off during classes.
The watch has no games that kids can play except some simple sounds, which is not the end of the world. That way your kid will not get distracted and will focus on school and playing with real friends. :)
Gizmopal 2 Customer Reviews
This is fantastic!
"This phone watch is just great. While I was searching for the perfect tracking device, I bought all kinds of garbage, until I found this one. It was very easy to set up. I just downloaded the app on my phone and the watch and the app immediately connected."- Molly
Great tool to help with independence in your child
"I bought this for my daughter's birthday and she really loved it. The feature she enjoys the most is the voice call, so she can stay in touch with her aunt, grandparents and some of her friends. The feature I like the most is that I can track her and not worry all the time. I think we made the right choice, this is going to be a good substitution, since she is really young to own a smartphone."- Jake Mills
Overall Review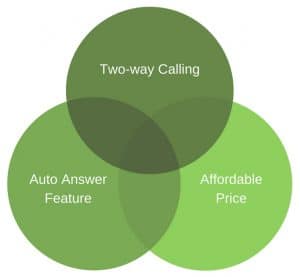 Bearing the many advantages of this watch, we think parents would be satisfied if they choose this tracker for their small children. Many of the trackers right now are dependent on 2G network and are not worthy of recommendation.
In addition, some trackers are also portable by attaching them to clothing but we don't think they have two way communications.
Gizmopal is ideal for kids between the ages of 4 to 7 years.They are not old enough to carry their own phone, an even if they do, there is a chance that the phone can be easily dropped or lost. That is why our Verizon GimoPal 2 Phone is designed. Its focus is on your kids safety and all the activities they are up to through the day.The GizmoPal 2 does exactly what it is suppose to, gets you connected with your kid when you need it to, with a device that is not easily breakable and it also fits their wrists.  It is really helpful during summer vacations and trips.
Auto answer is one of the withstanding feature of this phone watch, that parents will appreciate very much and will no longer feel ignored by their children. Thumbs up for this and many many other features the GizmoPal2 will provide you and will make your life easier.
The GizmoPal2 is the best way to keep your family safe and connected, and for very affordable price. We encourage you to give it a shot.