Introducing My Buddy Tag

My buddy tag GPS tracker is a Bluetooth enabled device that is pretty simple to use. Unlike many trackers this buddy tag does not require any monthly subscription fee.
We have extensively researched about this tracker and even evaluated many customers' reviews and almost everyone appreciates its pocket friendly nature.
My buddy tag can be used both for children with special needs especially when the parent does not want their son or daughter to go off in a far distance.
Also, my buddy tag enables safety when your child is out of range. You are just required to download the app and put the bracelet on your child. Once your child leaves the 80-120ft range, you are notified through the app and get your child before it is too late.
This product is best used when going outdoors mostly in crowded places.
Parents with many little children can use my buddy tag to ensure kids do not go too far away from their watch.
Key Features
Once you attach my buddy tag bracelet on your child's wrist, it guarantees peace of mind. This is because my buddy tag always alerts you each and every time your child is out of proximity.
The proximity distance is always adjustable and you can always set according to how close you want your kid to be. However, it cannot be used for very long distances.
My buddy tag also has a water safety bracelet which ensures that you are alerted when it is submerged into water. This protects your child from accidentally drowning.
A well fitted panic button on buddy tag enables the kid to alert you when he or she needs help.
My buddy tag also comes along with a free app compatible with various models of iPhone, Samsung Galaxy and Android.
You receive an Email on every notification about your child's last location.
My buddy tag also includes a GPS wristband for kids which is friendly and keeps your kid secure.

Overview
My buddy tag app is available for all iOS and Android users and enables you to precisely locate the tracker's location. Features such as geofencing function allows you to set up a small perimeter not exceeding 120ft and receive notifications each and every time your kid goes beyond this distance.
Surprisingly, you can also view your child's previous/recent location history via My buddy tag app. An alert is also given each and every time the battery is low.
Basically, the tracker solely relies on Bluetooth technology. Therefore, being a Bluetooth enable device, you cannot be able to track your child once he/she leaves the 120ft perimeter with My Buddy Tag. In addition, you must have your phone and app open in order to receive notifications.
This tracker is therefore ideal when you and your child are going to a crowded area or in a family activity such as visiting Disneyland. This device may not work for kids going to school, camps, or even faraway places.
Although I have already mentioned that my buddy tag is considerably easy to use and has a simple interface. It may be difficult when setting up the device for the first time. Other than that, the app is intuitive, interesting and surprisingly easy to use.
You can track multiple children via toggle settings for each kid.
Pros

Monthly fees. It does not have any. My buddy tag along with the companion app does not require any subscription plan you pay every month.
Fits all wrists. The my Buddy tag rubber band has many holes on it, so that kids of different ages can wear it on their wrist.
Tracker in disguise. My buddy tag looks like a bracelet, so no one can notice that it is actually a GPS tracker.
Comes in many colors. This GPS bracelet comes in many colors, suitable for both boys and girls, so they can choose the color they like the most.
Free app. The app you can download for free, is available for both Android and iOS platforms. There are many options on the app, suck as view recent history, see current location, set safety zones, see f battery is running low and many more.
Water resistant. My buddy tag is water resistant, so this feature can prevent your kid from drowning.
Budget-friendly. Last, but not least, My Buddy Tag is pretty affordable option, especially if you are a big family, so you can purchase one for each of your children.
Simultaneous tracking. You can simultaneously track many tags on the app in your phone, and the best of all, you can name every tag , so you will know which tag belongs to which child.
Cons
Operates on small area. My buddy tag connects with Bluetooth technology, so that limits the range of operating, up to 120 feet, depending on the phone you are using .
Some setup issues. Some of the tag users complained about getting the tracker into the band, but the rest is easy peasy. Check out the guide on the official MyBuddyTag page. Also here is a short video on how to easily do the setup.
My Buddy Tag Customer Reviews
A handy tool for parents with multiple little ones
"I bought Buddy Tag three weeks ago and used it ever since while shopping with my kids, at the playground and in the shopping malls. I have three kids, age 6, 3 and 1.5 and I bought this watch mainly for my wife, because the youngest one often catches her attention, and it's very difficult for her to keep them all in order.
The main feature why I bought this watch is the proximity alert, it is the main feature that allows us to track our 6-year-old when going out in crowded places. The app has an option to set the distance to far, medium and near and adjust it according to your needs. It is best to set the distance to medium, because the "near" option is too sensitive. When they are at the playground, I set the option "f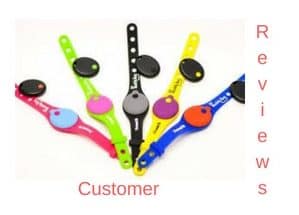 ar" so that the alarm wouldn't go on every time he gets too far from us. All in all, it is working pretty great, and my son can play freely while I still see him. We are not worried about going to Disneyland next month, because the buddy tag will be with us." -Mike Herbert
Great tracker, so glad I bought it
"The reason why I bought this bracelet, is because I have read the reviews and it said that it is water safety bracelet. I bought it and decided to test it. I dropped it into a cup of water, but the alarm did not go on. After that I tried dropping it in my sink, the alarm still did not go on. I called the customer support, and they explained that My Buddy Tag has to be on the hand for the alarm to go on and covered into enough amount of water. I put it on my son's wrist, and tried it in the bathtub and it really worked. It was super cool and am very grateful that this kind of watch exists, since we have pool in our house, so I want to be super that my son is OK."- Marcy
Overall Review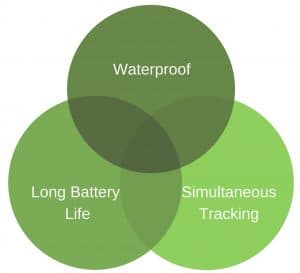 According to many of my buddy tag reviews, it has been established as comfortable to wear and easy to use. It contains an alarm that will never fail to alert you each and every time your kid wanders off to far from your presence.
My buddy tag also comes by with multiple options which mean that you can clip it in your pants, your pockets and also your backpacks.
We would therefore recommend buddy tag for parents with kids aged 3 – 6 years. It would also be ideal for parents with multiple kids or a kid known to be a runner in the family, so they cam simultaneous track all the kids, each one named in the app of the caregiver.
Although My Buddy Tag has the least tested functionality, it has the best value in the market. This is because of its decent and reasonable budget. We definitely recommend My Buddy Tag for large families, so that the parents can easily track all of them without worrying.