Features
All of the three have a built in 0.3MP webcam, and the quality of the video to my amazement was pretty sharp and bright on all of them. Card reader, LAN port for network connection by wire, VGA port for output on another monitor, headphones and microphone jacks, three USB slots they've all got that covered, but there are some unique features that can make big impact.
The MSI has done another smart move by throwing a Bluetooth adapter in, so you can connect your phone or handheld device and transfer your pics, mp3's or whatever data you choose to. There were rumors that a Turbo Mode can be turned on by pressing the Fn+F10 which boosts the Intel Atom N270 from 1.6GHz to 1.9GHz, but as it turns out MSI released only the first few models with the turbo mode, and now switched that functionality with an ECO Mode which can only be turned on while in battery mode and what this does now is it lowers the processor to 900MHz to save battery.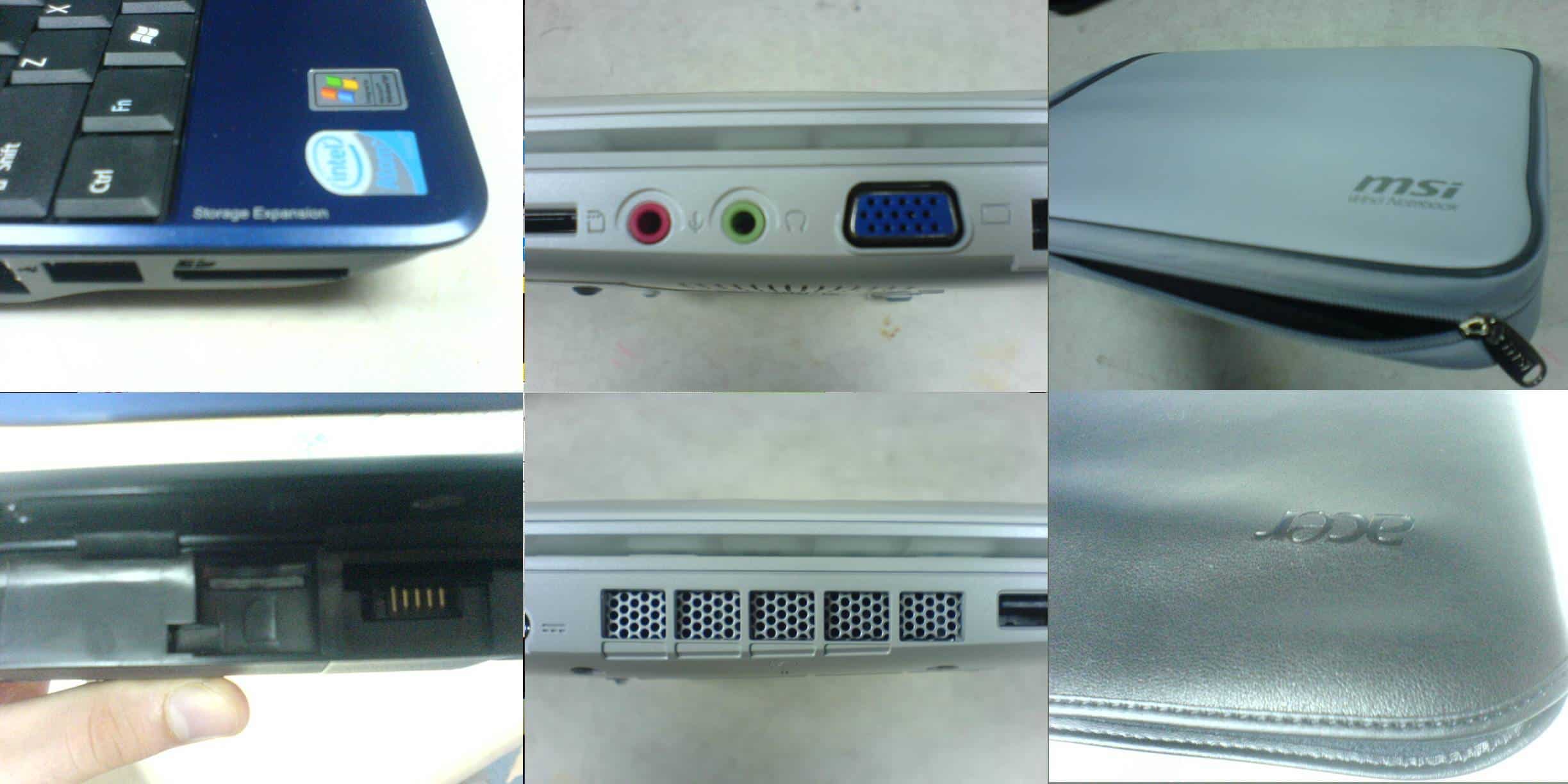 The Acer's answer on this is that has two multi card readers built in, so you don't have to swap back and forth your memory card with another one that you just took out from a camera or a phone. The one is for storage expansion, and the second for easy file exchange. I've noticed a strange dummy sim card slot just behind the battery, but as I said this is just a dummy, so its blocked and non-functional. According to Acer's announcement we should expect an upgraded model of Acer Aspire One with a sim card slot for 3G features in November 2008.
The older Asus model has also some unique features that should be mentioned. It still has a 56k modem built in, and has a Solid-State-Drive as a hard disk. The reason I'm mentioning this as a feature is because unlike Hard Disk Drives, the SSD's are faster, do not make any noise, consume less power and are highly reliable due to the low risk of mechanical failure. You can shake and quake this little buddy as much as you like and it won't fail.
If Acer had their Sim Card Slot working, I'm sure it would have been the victor. But then again having in mind the mobility as a prime factor, as surprising as this can sound, I will announce the Asus EEE PC as a winner in this category.
1st: Asus Eee PC
2nd: Acer Aspire One
3rd: MSI Wind U100