Overview
This is our first review. All kinds of comments, opinions and suggestions are greatly appreciated and mostly welcomed.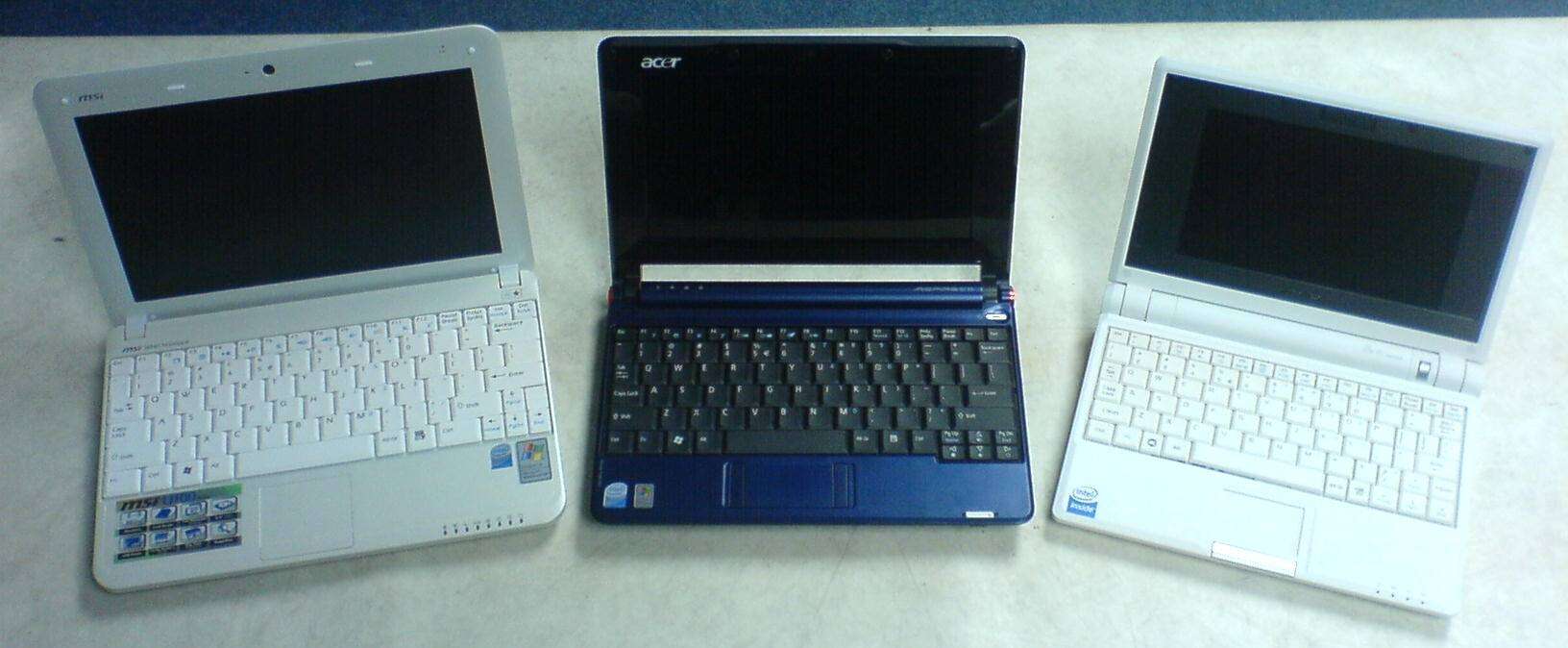 We managed to get our hands on two of the currently three available netbooks with the new Intel Atom processor, MSI Wind U100 and Acer Aspire One. We decided to compare the predecessor of them all, the Asus EEE PC 701 which came out in December 2007. Being an older and more of an experimental model, it is obvious that it is slightly out of the league, but we simply wanted you to see the difference and understand what is so revolutionary about these new models coming up.
On first look it is quite noticeable that the MSI Wind U100 is the biggest of them all, but the compromise on that is it carries a 10″ display, a nice large keyboard and they even managed to put some big air vents to carry away the excess heat. Even though the Intel Atom Processor heats much less than the Intel Celeron of the Asus EEE PC 701, MSI decided to implement their own hardcore tool even to this little guy, the Turbo Drive Engine Technology which overclocks the Intel Atom N270 from 1.6GHz to 1.9GHz (UPDATE: The Turbo Feature is no more, read on to find out more) .
The Acer Aspire One has a 8.9″ display, but that extra 1.1″ doesn't really make a difference because it has the same resolution as the MSI 1024×600 and have in mind that mobility is the key factor we are after, so with smaller size it fits better on a train or plane table for example. Again we have large keys, with better layout than the MSI, and Acer have built-in two card readers, so you can put one 16GB SD flash card for example which will make your total space 120GB+16GB=136GB if you really need more space, and use the other card reader to transfer your pictures or any data from your camera, but I still find the lack of Bluetooth a little imprudent.
The Asus EEE PC 701 or also known as Asus EEE PC 4G Surf or 8G Surf. It's about 6 months older than the previous two, and it's the first model which announced the netbooks era. So according to me it is kind of a test model into this sort of PCs. But considering the much lower price, with its solid-state-drive for storage and much smaller size it can still compete with those other two little beasts.