It could be challenging to type on the iPhone keyboard as it is small. However, the iPhone keyboard only qualifies as being the most optimal keyboard. But with it, you can make emails, captions, tweets and messages more accurate. Among the biggest disadvantage of the iPhone, the keypad is that it is quite small in size, which is not convenient to use.
Although you can adjust the keyboard to optimise the iPhone standard keyboard fully, so there must be a good alternative to eat that can be more accurate and convenient, so there is various type of keyboards available online that could be used to enhance the user's experience and make typing more enjoyable. Apart from this, Apple on keyboard provides some awesome benefits. So in this article, we will look at the top 5 keypads for iPhone14.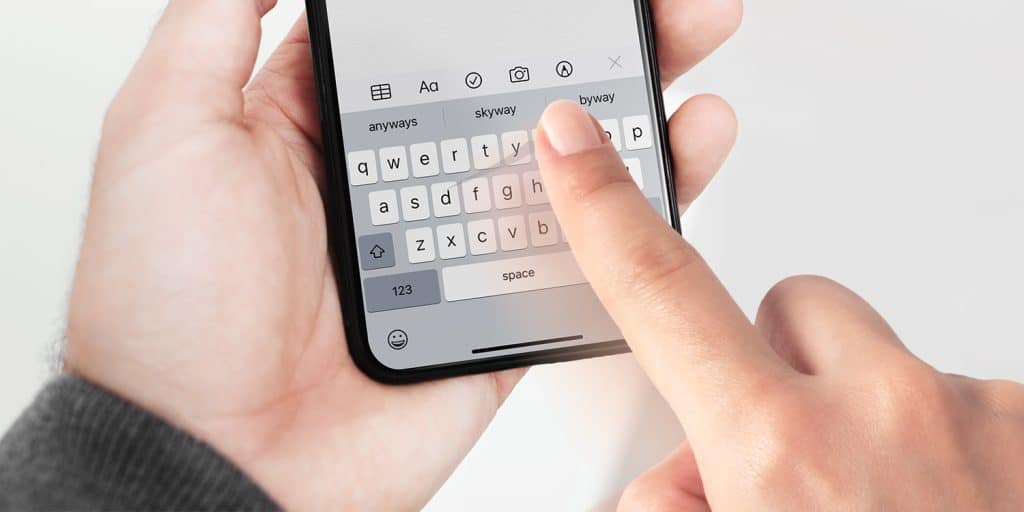 Best Keypad for iPhone to buy in 2022
We have gone through the latest keypads that could be utilised in 2022, which are easily available for Apple iPhone 14. Many of the features provided by the iPhone include adjusting themes, swipe typing, changing the key size and different emojis. So in this article, we will look towards the best alternative keyboards for iPhone 14. Some of them are available at no cost. But some includes premium subscription.
1. G board – the Google Keyboard
Topping the list is the G board by Google. G board keypad is available online on both Google Play and App Store. Google offers this keypad and includes everything needed in a good keyboard. If you want to send emojis or GIFs or search for information, sharing directions, you can find all this in a single platform, G board, by Google.
With the aid of G board, it's easier to send and search anything directly from Google, including videos, weather forecasts, sports, news, images and restaurant information. You can search for anything you like or any queries you want to solve. Google is there for you. Apart from this, with the application, you can also find some other amazing features. One special feature you cannot find in other keyboards is the Glide typing, which makes sending messages faster.
There is a fair share of functions between Google and iPhone. Surprisingly G board is better than even the default keyboard of the iPhone 14. It is easy to use, and typing is more accurate and convenient. Overall the implanted gesture typing is amazing. It also offers accurate auto-correction of words and sentences, which is quite helpful. Millions of languages are supported by the G board. Compared to the other keypads available for iPhone 14, you can easily assess voice dictation with this keypad.
If you wish to buy the Gboard, you can get it free from App Store or Google Play store. So with all these features, it is the best keypad for iPhone 14.
SPECIFICATIONS
Size: 85.5MB
Cost: Free
Compatibility: All iOS versions above 12
Advantages and disadvantages
| | |
| --- | --- |
| PROS | CONS |
| User friendly | Other versions of Ios cannot support it. |
| Integrated search | |
| Affordable | |
2. Fleksy
If you have a good typing speed, this one is for you. The default keypad of the iPhone 14 could be better and more accurate than the other keypads. It has also been awarded as the fastest keyboard by the Guinness book.
Fleksy is user-friendly and can be interacted with in several ways, so you can type using different fonts and styles. Various type of extensions is available to customise the fleksy keyboard. Apart from this, you also get a chance to choose from 50 different themes. Although most of the themes of the app are free to purchase online, to customise the theme, you need to pay $1. In this app, you can find almost 800 different types of emojis.
Different languages are available, for example, French, Russian, Spanish, English, Italian, Turkish, Dutch, Portuguese and many more. Apart from this, the application learns the pattern of typing, which enables the app to predict the words more accurately and fewer typo error occurs.
SPECIFICATIONS
Size: 154.2MB
Cost: Free
Compatibility: iOS 8 or above
Advantages and disadvantages
| | |
| --- | --- |
| PROS | CONS |
| Large file size | Not all features are there. |
| Faster | Some features are expensive. |
| You can select between different language layouts. | |
3. Grammarly
Best app for iPhone and also allow the checking of grammar. Grammarly is the most commonly used application for both Android and iPhone users. It allows you to check spelling mistakes, plagiarism and even grammar to make sentences accurately and quickly. It has also been called the free grammar assistant. But you may find certain limitations while writing as it corrects every line, and sometimes the passage can be changed.
Although it is accurate, sometimes it needs to be more accurate in what the person is writing. Apart from this, it accurately manages the writing by putting commas wherever required, adding words, or even changing the sentences To increase accuracy. Grammarly does more than merely point up errors. However, this programme gives explanations you can comprehend to study and advance.
Apart from this, it is available in both paid and free versions. However, the free version has some limitations. It can solve only 75% of the errors. Multiple languages option is also available on the website. For paid subscriptions, you have to pay dollars 3 per month.
It's quite easier to optimise. If you are ready, you only need to complete the selection process by adding a plugin for the extension. It is similar to Google Docs in Microsoft Word, where you can see the wrong words as underlined; similarly, Grammarly marks wrong words.
SPECIFICATIONS
Size: 205.6MB
Cost: Free, but you must get a subscription for advanced features.
Compatibility: All iOS versions above 12.2
Advantages and disadvantages
| | |
| --- | --- |
| PROS | CONS |
| Checks spelling | Only one language is supported, which is English. |
| Checks grammar | |
| Useful explanations | |
4. Thumbly
It is best for iPhones if you want to use it using one thumb. People who love to use only one term while typing should use thumbly. It is an amazing application which can be used with one thumb. The keys in the application are arranged so it can be easier to reach different keys using only one thumb.
But it doesn't mean it could not be accessible for people who use both ends. Surely it is possible to use it with both hands. Apart from this, you can also switch between the right and left-hand versions available on the keyboard. You have to select it to switch positions.
It also provides a decent auto-correction feature. But if you don't find it quite helpful, you can easily disable it by going to the app's general settings. Words which are not known can be highlighted. So you can easily add them to your dictionary so they won't get flagged again. Apart from this, you also get the full list of emojis.
SPECIFICATIONS
Size: 63.6MB
Cost: One-time payment
Compatibility: All iOS versions above 9.
Advantages and disadvantages
| | |
| --- | --- |
| PROS | CONS |
| Good for typing with one thumb | Supports only English |
| Supports one to two different hand styles | Not free |
5. Type-wise Custom Keyboard
It is best for iPhones as it has big keys in it. Only partially free for some features. You have to pay by taking the subscription. People face trouble while typing, especially on the iPhone, because of the size of the keys, which are too small. Type-wise is an amazing app consisting of large-size keys, and the layout is of a hexagon. It is used to type fast, resulting in a few typing errors. Apart from this, you can easily switch to a traditional keyboard.
It provides a smart autocorrect feature. Also, the company claims that nothing is stored while typing. The Type wise app consists of some paid features; if you want, you can download it for free. Multiple languages are available, which can be switched easily. For a subscription, you have to pay $2/per month. For a year-long subscription, you pay $9.49/ month.
SPECIFICATIONS
Size: 70MB
Cost: Free, but some features are paid
Compatibility: All iOS versions above 13
Advantages and disadvantages
| | |
| --- | --- |
| PROS | CONS |
| Large keys | The small size of the keys |
| Smart autocorrection feature | |
How to change and add the keyboards on iPhone?
If you wish to switch on the typing feature, including spelling checking, adding different languages, or changing the keyboard's layout, you can easily do it on your iPhone. You could type in a second language without switching keyboards when you install keyboards for many other languages. The languages that employ the most frequently are automatically switched between by your keyboard.
Summing Up
The default keypad of the iPhone is not easy to use as it has small keys and could be more user-friendly. You can add different types of keypads which are available online. Some of which are paid, and some are free. We have listed the best five keypads available, such as Grammarly, G board, Type wise and thumbily. All of them have specific features and offer certain advantages. So you can choose according to your needs.