Have you ever thought about how much you invest in updating your social media account passwords or mobile passwords? Or sometimes, you forget the password and have to create a new one. One simple question that comes to everybody's mind is, isn't it annoying to remember all the passwords to save your privacy? See what happens is that many people create Passwords to protect their accounts and privacy. So imagine that you can keep your device and social media accounts without entering any password. Isn't it will be a great idea? If you think it's a great idea, then one password is working on creating pass keys.
Passkey is a new way to unlock your device without entering any password. In simple terms, Passkeys allow you to sign in with just a straightforward approach. It works on different systems. Wherever you are living on the earth, you can use the Passkey. Recently one password has announced that it will release the Passkey by mid of 2023. But we have all the information on accessing the Passkey and its features. So grab your seat, and let's see what all 1 Password has for you.
What exactly are passkeys?
You must add a password and username when you want to log in to any applications or websites. People can access it on both Android as well as IOS devices. Some people get irritated by entering the password repeatedly, which is true because it's very annoying, especially when you have to call someone urgently. Nowadays, every single app on your phone is secured by a password. However, it's essential in terms of the privacy of an individual. What's more annoying is that the security questions on several websites are the mean of 2 step authentication process.
Passkeys are a better way to increase your device's safety without entering any password. So the method behind this is using face ID on the iPhone.
Any website you visit asks About your identification and proof. Then this message is received by our iPhone, and the face ID feature is activated. So if the face matches, iPhone sends the request to the website, and your identity is confirmed. So here, you can see that not even a single-step password is involved. Well, authentication is done only on the device. Not even a single website server asks for authentication. The website you are visiting trusts the iPhone authentication process. It is similar to the payment transmissions made using apples on the inbuilt payment method "pay transaction."
So the passkey standards were developed by FIDO Alliance. So any company which wants to support this standard can have their label. One company that has accepted the use of Passkey is apple, of course. The passkey feature is available in iCloud Keychain. Similarly, one password is also working on implementing universal sign-in options.
Demo of one password passkey!
Well, as we know, the one password is ready to launch Passkey in the mid of 2023. So before releasing the product, one password has launched an interactive demo video which explains how the Passkey works. One thing to note here is that the passkey demo is only available for Chrome users. However, the company has also stated that Firefox in safari users can also see it in the coming days.
Once you access the demo video, you will understand all the features and procedures of the one password. Although you are an iPhone user, you can download Google Chrome on your mobile phone. The video gives a better product demo and explains the login process. Once you go to the website login page, you will receive a notification on your iPhone. You have to verify yourself with the face ID feature. After that, the system will approve.
How did the Passkey work?
Pass key works on API, which is known as Feb authentication. API system developed with the FIDO alliance. The purpose of FIDO alliances is to make a password-free world. Additionally, the W3C, known as the world wide web consortium, collaborates with video to create new website guidelines and standards. Web authentication utilises private and public keys, also known as cryptography. They are used to verify the identity of the person using the device. So the purpose of the alliances is to eliminate the use of traditional passwords.
Private and public keys are linked to each other mathematically. That means there is no use in adding pins or pattern locks. It has a simple interface through which you can unlock the device. As you can see that the name suggests that the public key is utilised and shared among the public. You can store and see the public key for whatever website you wish to log in to. At the same time, private keys are much safer and more secure. Unlock the traditional password if you use the private key.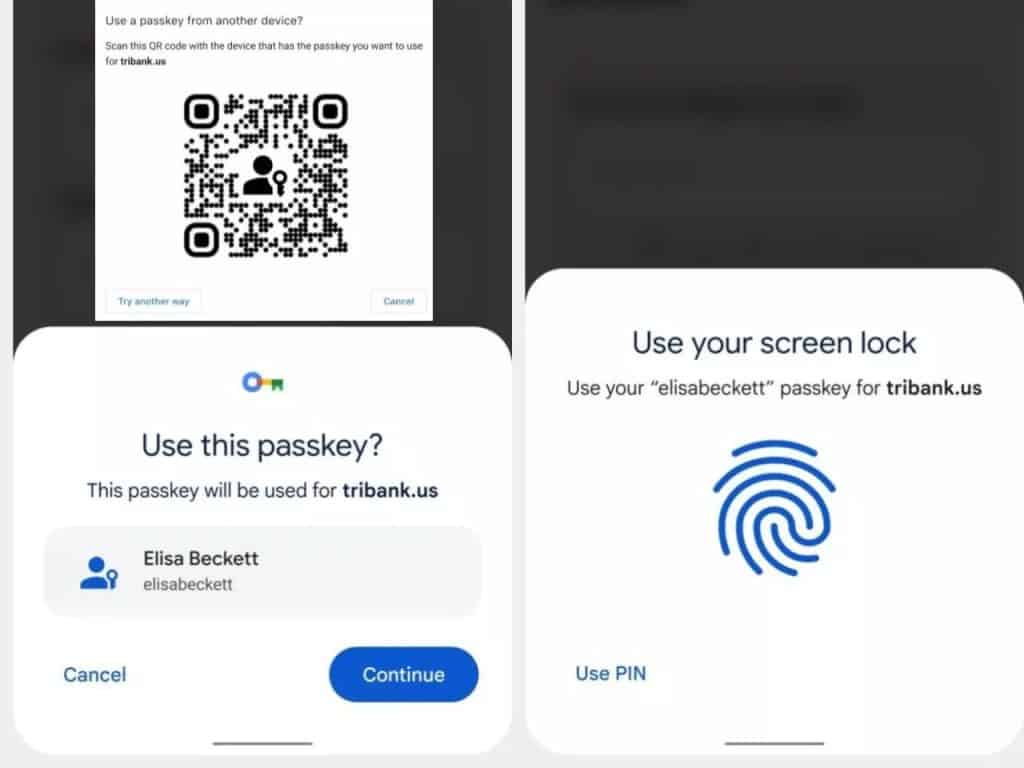 How is the Passkey different from the password?
If we compare the Passkey with the password, passkeys are unique and robust. When you enter the password, you need to memorise the password again and again. If you forget the password, you may need to change it again. Passkey utilises public key cryptography, which helps them to achieve high-security levels. A passkey consists of private keys on a device like a smartphone. You can not expose them to the external world.
Benefits of using pass keys
As we know that Passkey is the future of passwords. So below, we have listed the endless amount of features that the Passkey provides:
Passkeys are more vital by default. People don't need to manually create passwords or worry about forgetting them. Many people try to make random and long passwords that they forget later. You need to have an account. After that, allow the authenticator of your device to create secure private and public key pairs.
There is no need to type or remember any passkey. The most crucial benefit of using a passkey is that it does not work on any PIN or pattern. You must log in with the Passkey whenever you want to sign in to any account.
Passkeys offer adequate protection against phishing scams and social engineering. Criminals frequently develop phoney websites that look real to deceive you into providing your login information. By preventing you from ever sharing the credentials with sites you don't trust, the web-authentication safeguards you.
The Passkey cannot be shared with any website or app even if you sign in using the Passkey. In simple words, we can say that people don't need to worry that the website will steal their information. A passkey is the best way to have access to the account.
Suppose someone tries to breach the website server to find the public key. It won't be able to get into the account as it's tough to crack the public key.
Summing Up
Recently one password stated that it will release the Passkey next year in the mid of 2023. Passkey is a new way to unlock your device without entering any password. In simple terms, Passkeys allow you to sign in with just a straightforward approach. It works on different systems. So by next year, we all will be able to utilise the Passkey.