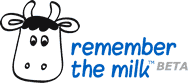 Is it not the worst thing when you get back home after a long days work, only to find out that there is no milk left? Wish that you had a simple way to keep an easy way to keep track of your tasks with times, dates, places and a map? And to top it off you must be able to use the system on your mobile, with your social networks and off-line. Well I have just the tool for you.
Remember the milk is the Internet's most powerful tool for managing your day. The biggest reason is that rtm is able to integrate with many of your other online services, as well as run on your BlackBerry, iPhone or iPod touch.
Not only is rtm able to integrate with you online services and your portable device but it allows you to add tasks via email and even your normal mobile phone!

Now at this point I was totaly hooked but then I found out about the amazing feature that allows you to pinpoint the location of your tasks on a neat little map! I often look out for a small café or restaurant so that on the way back I can treat myself to something nice for completing all the little, and not so little, things I needed to do.

The last and most useful feature is the ability to share. Share, send and publish tasks and lists with your contacts or the world (if you really must). Remind your significant other to do their tasks. There is a down side to this though. Mother keeps sending me chores to do while she is at work. I think she forgets that I have work to do as well. Even if I do work from home.
Coming soon to a browser near you. Me, Myself and Max.