ATTENTION: This case/solution applies only when this error was caused by partitioning with older versions of partition software which does not support vista partitioning. Although NTFS, vista partitions are different than XP, and require specific amount of space reserved before the primary partition, so most partition software applications available at this point, do not support Vista. These include: all versions prior Acronis Disk Director Suite 10.0 build 2160, all versions prior and including Norton's Partition Magic 8.0.. and since these two are the leaders, I shouldn't even mention others. That's why Vista has its own built-in tool for resizing partitions now.
This is one common problem that I see pretty often lately. It was a while ago when a customer brought me his new notebook with Windows Vista installed, and he wanted to resize the partitions, because his primary c: partition was 10GB by default (some genius installed it that way). Although Vista has unfriendly interface for PC Technicians, it does have some basic but pretty useful tools built in which XP lacked, like searching online for drivers, working imaging tool, fast and useful OS repair. So I figured it must have the option built in for resizing partitions, and guess what, I was right! Right click on "My Computer" -> "Manage" and then Disk Management. All of the installed drives can be seen there. With right click on the partition I wanted to resize and I saw the new option Shrink/Extend your partition. Great, but this was somewhat confusing, I wanted to extend it, when I realized the whole hard drive was a mess, there were five different partitions on a 160GB hard drive, of which only three were formatted. So Vista's tool wasn't helpful here, I tried to shrink and extend a few times, but I only made it worse, and since they contained some important data, I decided to go with my standard procedure. I insert my hiren's boot cd 9.5 and boot from it. I selected Acronis Disk Director 10 -> Manual mode. The image of the disk looked like shish kebab. It was so hard to determine what was what. I worked it out after some time, and when I was finally happy with the result I saw, I restarted my computer and boom! There it was: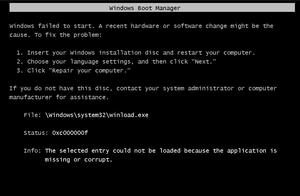 File: \windows\system32\winload.exe
Status: 0xc000000f
Info: The selected entry could not be loaded because the application is missing or corrupt.
There wasn't a solution through-out the internet, since Vista was considerably new at the time, so the only thing it came to my mind is a repair. BUT I only had a disk from Windows Vista Home Basic without the repair menu in it and I'm not sure why, but all of the notebooks do not include a windows disk with them even when you buy it with licensed OS. So I searched around and luckily found a download for only the recovery Vista DVD:
http://ashrafmahmud.blogspot.com/2008/07/windows-vista-recovery-disk-bootable.html
or here:
http://neosmart.net/blog/2008/windows-vista-recovery-disc-download/
FIX: These are only the recovery tools from windows vista.
Burn the one for your Vista(32bit or 64bit) to a disc
Boot from it(restart the computer, at boot time after the logo is displayed you should press a button which is specific to every PC(usually Del, F2, F10 etc) which should bring you to your BIOS. Navigate to the bot menu, and change the priority of boot devices to your CD/DVD Optical Disk.
After Vista Recovery CD is loaded choose Repair and it should detect the problem automatically. Something like: "Your windows installation requires repair" will come up to which you answer yes and you are done.
If this doesn't work, you could try choosing Command Prompt from the repair menu and then enter these commands:
bootrec.exe /fixmbr
bootrec.exe /fixboot
If I saved your day, please be kind and elaborate how did you do it exactly for the sake of other winload.exe sufferers.