Well, iOS 15 update is finally here, with all its features after being announced back in June. From a complete Safari browser UI overhaul and a new notifications design, all the way to the newest FaceTime feature called Shareplay which we'll talk about later.
Let's take a look at some of the more noteworthy iOS 15 features that will impact you as a user in a daily basis and possibly improve your overall experience with your iPhone.
What's New
New in iOS 15: Split Screen Multitasking – If you hold down on the icon with three horizontal lines at the bottom of the screen, you will see two additional icons appear on either side of your initial app. Now you can access other apps that are running in "split screen" mode.
For example, if you are viewing a web page in Safari, and you tap the Mail app icon, you will now have the option of having Mail read the message to you or displaying the keyboard so you can write a reply.
New in iOS 15: AirPlay 2 – AirPlay 2 is a significant update to Apple's wireless audio streaming technology that is included with all of the new devices that support iOS 15. With AirPlay 2, you can now send audio from multiple sources (like a TV, stereo, or headphones) to multiple destinations (like a pair of speakers or an array of headphones) and have them all play at the same time.
New in iOS 15: Screen Time – This parental control setting limits how long your child can use their iPhone or iPad for various activities. The settings include daily time limits for each activity, as well as weekly time limits.
Also, if your child has an iPhone, iPad, or iPod touch, they will also be able to see only the apps you approve of. Naturally, you will need to configure this feature before your child uses your device.
New in iOS 15: Focus: The new Focus feature helps you stay on track and maintain productivity by filtering notifications by urgent and not urgent in order to minimize distractions and let you do your thing. With time as the phone learns your usage patterns, it will suggest new Focuses to help you further improve productivity.
New In iOS 15: Picture-in-Picture – This feature lets you watch a video or TV show while using another app like Safari or Maps. Simply tap the screen where you want the PIP to appear and then tap the screen where you want it to disappear.
New in iOS 15: Siri Suggestions – When you ask Siri a question, she will now offer up questions and answers she knows about instead of the ones she knows about specifically. Conversely, when you tell her what you want, she will offer up suggestions instead of the one(s) she thinks you want. (Note: This only works with questions and answers stored on your device.)
For example, if you ask Siri to play some music, she might suggest other songs you could listen to instead of the one you asked for. Or if you ask her to call your mother, she might suggest people who could help you contact your mom instead of the person she thinks you want to talk to.
New In iOS 15: FaceTime – This FaceTime group video calling feature works over cellular networks or Wi-Fi. To use this feature, you will first need to make sure you are in a location with a good signal and that both you and the person you are calling have their video and audio turned on. Then, you will simply have to tap the green phone icon in the center of the screen to initiate a call.
New in iOS 15: Shareplay – Shareplay is a new feature built into FaceTime that lets you stay in touch with friends and family in a fun new way. Whether you're on a phone call with them or watching a movie or TV show together, you experience the same thing at the same time with synced audio and video and screen sharing capabilities. And the volume automatically adjusts, so you can keep talking while you watch.
New In iOS 15: FaceTime Spatial Audio – Helps you discern the direction of the person you're talking to. The chip also has the capability to translate languages in real time. FaceTime requires all participants to have an iOS device with at least FaceTime enabled. It works with any of the following devices: iPhone, iPad, iPod touch, or Apple TV.
­­New In iOS 15: Shared Photo Streams – This is a feature that has been around for a while, but it has been significantly enhanced with the introduction of iCloud Photo Library. With this feature, every photo you take with your device is automatically uploaded to iCloud and then shared with other people you choose. You can either let everyone see your photos or you can allow only some people to view them.
iOS 15 Supported Devices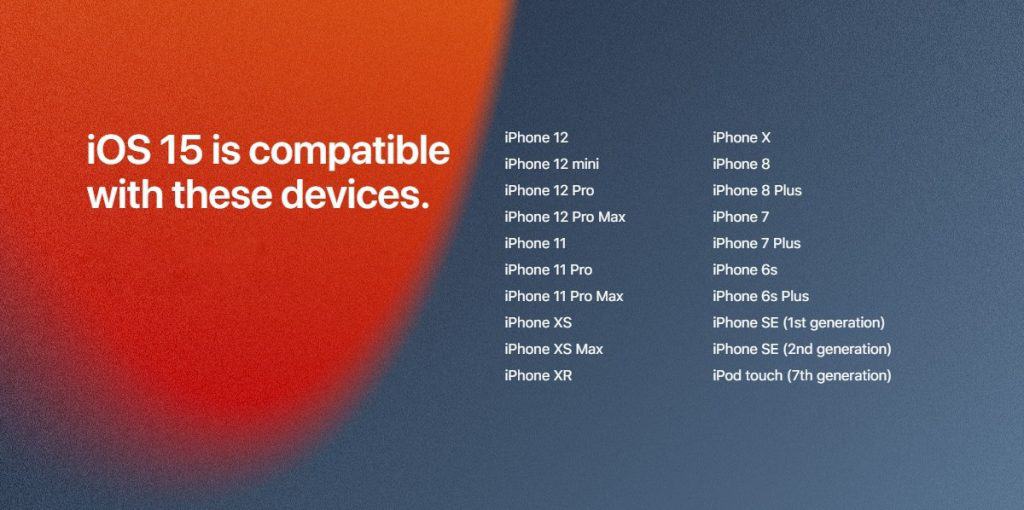 When it comes to supported devices, every iPhone starting with the 6s should be able to get the update, however, depending on the model you own, some features might not be supported.
Supported iOS 15 devices:
iPhone 6s
iPhone 6s Plus
iPhone 7
iPhone 7 Plus
iPhone 8
iPhone 8 Plus
iPhone X
iPhone XS
iPhone XS Max
iPhone XR
iPhone 11
iPhone 11 Pro
iPhone 11 Pro Max
iPhone 12
iPhone 12 mini
iPhone 12 Pro
iPhone 12 Pro Max
iPhone 13
iPhone 13 mini
iPhone 13 Pro
iPhone 13 Pro Max
iPhone SE (1st generation)
iPhone SE (2nd generation)
iPod Touch (7th generation)