In today's digital age, smartwatches have evolved beyond mere time-telling devices. They have become indispensable companions for fitness enthusiasts, adventurers, and tech aficionados. Among the myriad of features these gadgets offer, waterproofing stands out as a crucial attribute, especially for those who love to explore underwater realms or simply wish to have a device that can withstand accidental splashes. Waterproof smartwatches not only resemble traditional wristwatches in appearance but also boast the unique ability to function seamlessly even when submerged. In this comprehensive review, we dive deep into the world of best waterproof smartwatches, exploring the best options available in the market.
Apple Watch Series 8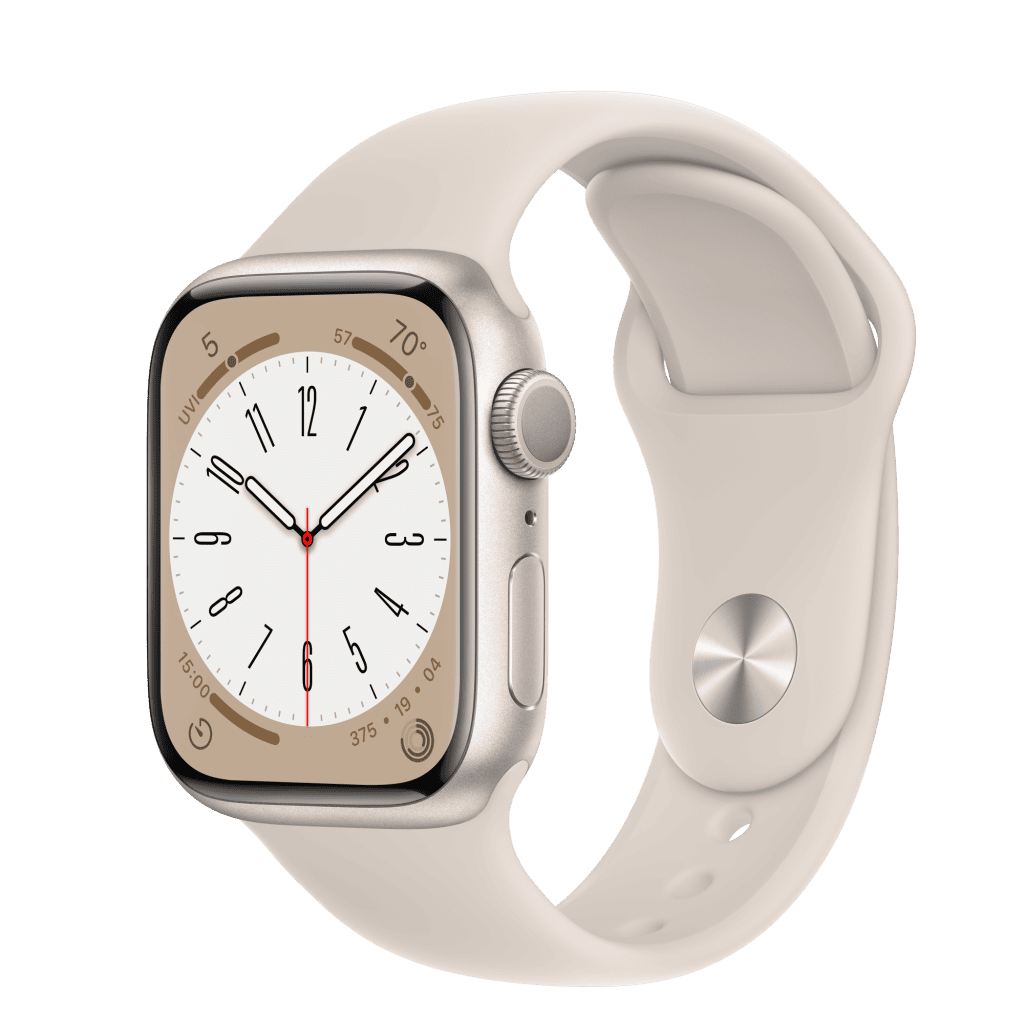 The Apple Watch Series 8 stands as a testament to Apple's commitment to innovation and excellence. This smartwatch, a jewel in the crown of Apple's wearable technology, offers more than just timekeeping. It serves as a comprehensive health and fitness companion, designed to cater to the modern individual's needs.
Features
Display: The Series 8 showcases a vibrant Retina LTPO OLED display. Every image, notification, and app icon pops with clarity, ensuring users enjoy a visually stunning experience.
IP & Waterproof rating: Apple ensures that the Series 8 is robust and resilient. With an IP68 rating, this watch offers dust resistance and can be submerged in water up to 100 meters without any issues. Whether you're caught in a downpour or taking a swim, the Series 8 remains unfazed.
Swimproof: Swimmers, rejoice! The Series 8 is not just waterproof; it's swimproof. Whether you're diving into the pool for some laps or enjoying a beach day, this watch remains your loyal companion.
Battery: Life's too short for frequent charging. That's why the Series 8 promises up to 18 hours of battery life, ensuring it stays active as long as you do.
Compatibility: This watch seamlessly integrates with iPhones, making it a perfect extension of the iOS ecosystem. Whether you're answering calls, replying to texts, or accessing apps, the Series 8 bridges the gap between phone and watch.
Fitness And Watch Functions: Your health journey finds a partner in the Series 8. It diligently monitors your heart rate, tracks your sleep patterns, and offers a suite of fitness tracking tools. Whether you're running, cycling, or practicing yoga, it's got you covered.
Other features: Safety comes first with the Series 8. It's equipped with fall detection, ensuring that help is summoned if you take a hard fall. Additionally, the ECG and Blood Oxygen apps provide insights into your heart and respiratory health.
Pros and Cons
| Pros | Cons |
| --- | --- |
| Comprehensive suite of health features | Premium price point |
| Flawless integration with iOS | Reliance on iPhone for maximum functionality |
| Elegant and modern design | Customization options could be broader |
Points to Consider
The Apple Watch Series 8 seamlessly blends style with functionality, making it a top-tier choice for tech enthusiasts. Its IP68 rating ensures durability in various conditions, while its comprehensive health features provide valuable insights. With flawless iOS integration and a modern design, it's a premium smartwatch that offers both elegance and efficiency.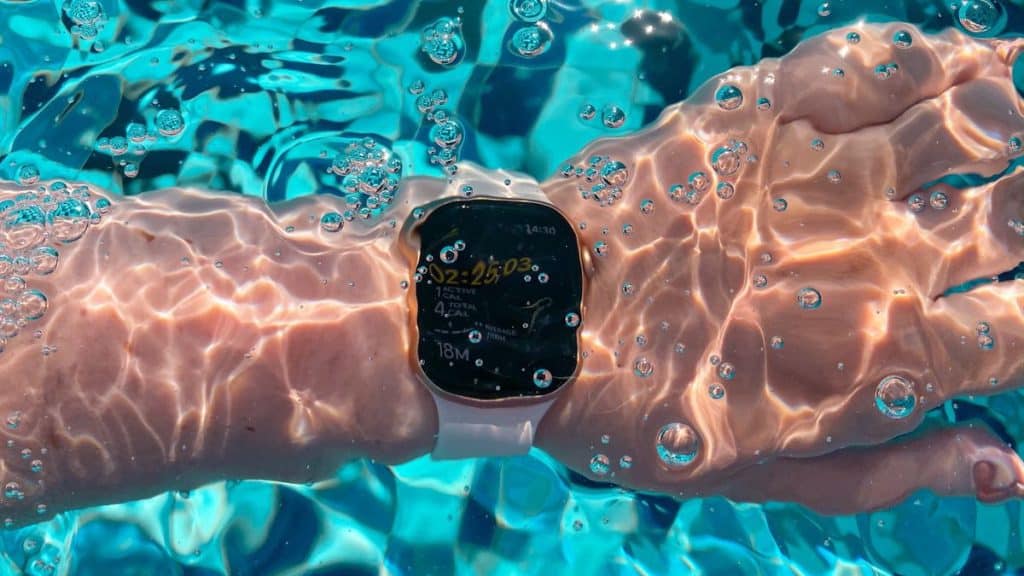 Huawei Watch GT 3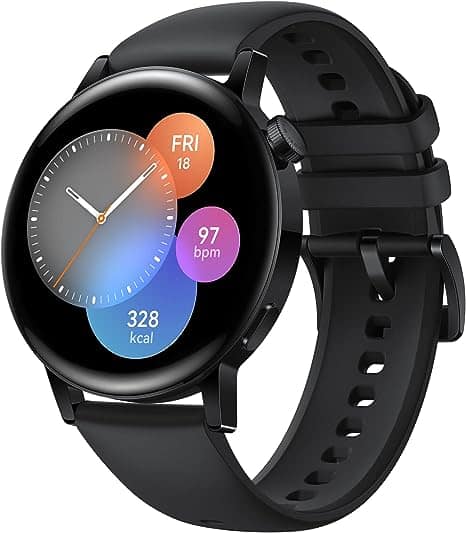 The Huawei Watch GT 3 stands as a testament to Huawei's commitment to blending traditional aesthetics with modern technology. This watch isn't just a timepiece; it's a statement of style and functionality.
Features
Display: At the heart of the GT 3 lies a vibrant 1.43-inch AMOLED display. Every image and notification comes to life with sharpness and clarity, ensuring you never miss a detail.
IP & Waterproof rating: Dive deeper into your adventures. With an IP68 rating and 10 ATM water resistance, the GT 3 confidently accompanies you, whether you're swimming laps or exploring the underwater world.
Swimproof: Whether you're taking a dip in the pool or challenging the waves at the beach, the GT 3 remains unfazed. It's designed to track your aquatic activities accurately.
Battery: Say goodbye to the daily charging routine. The GT 3 impresses with a battery life that stretches up to 14 days, ensuring you're always connected.
Compatibility: The GT 3 doesn't play favorites. Whether you're an Android enthusiast or an Apple aficionado, this watch seamlessly syncs with both platforms.
Fitness And Watch Functions: Your health and fitness journey finds a dedicated partner in the GT 3. From monitoring your heart rate to tracking your sleep patterns, it does it all. And with over 100 workout modes, it pushes you to achieve your fitness goals.
Other features: Life can get stressful, but the GT 3 has got your back. With its stress monitoring feature, it nudges you to take a break. And the SpO2 measurement ensures you're always aware of your blood oxygen levels.
Pros and Cons
| Pros | Cons |
| --- | --- |
| Extended battery life | Limited app ecosystem due to proprietary OS |
| Versatile fitness tracking | Optimal features may require Huawei phone integration |
| Elegant design | Third-party app support is limited |
Points to Consider
The Huawei Watch GT 3 emerges as a frontrunner for those who refuse to compromise. Its extended battery life means you're always in the loop, the versatile fitness tracking pushes you to be the best version of yourself, and its elegant design ensures you always step out in style. If you're seeking a blend of aesthetics, functionality, and affordability, the GT 3 deserves a spot on your wrist.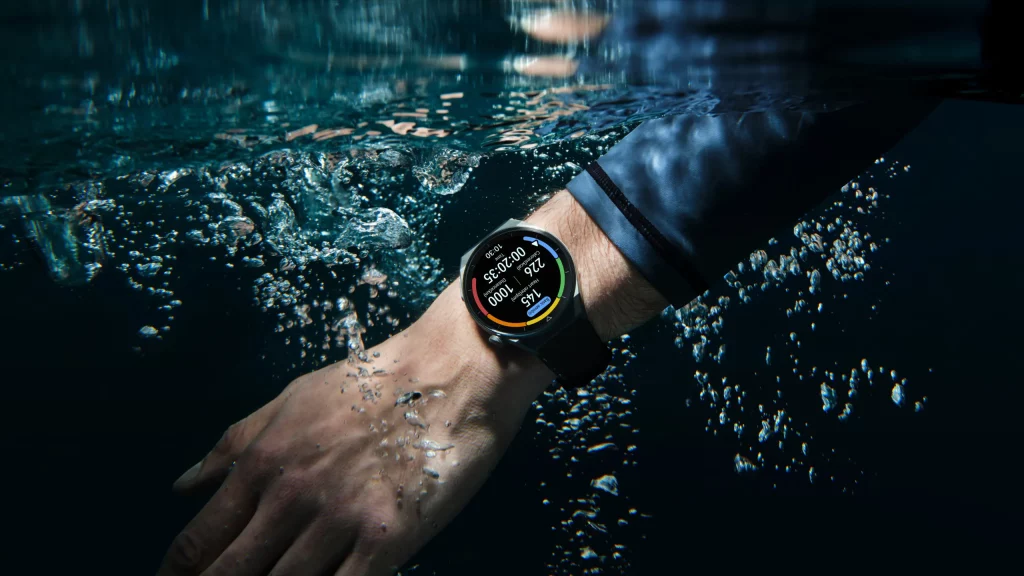 Amazfit T-Rex 2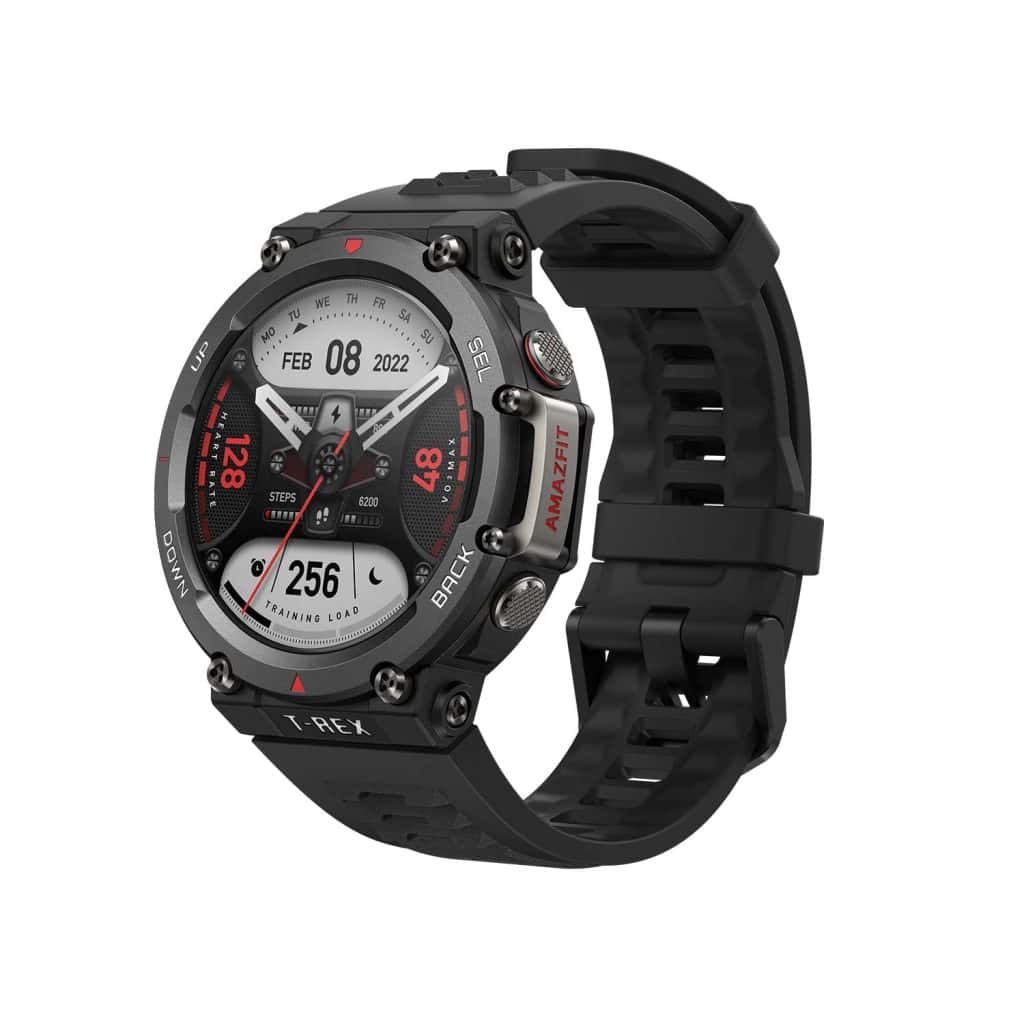 The Amazfit T-Rex 2 emerges as a beacon for adventurers and those with an active lifestyle. Combining a robust build with a myriad of features, it offers both durability and a rich functionality tailored for the outdoors.
Features
Display: At the heart of the T-Rex 2 lies a vibrant 1.3-inch AMOLED display. This screen ensures that users get crisp visuals, whether they're checking their notifications or monitoring their fitness metrics.
IP & Waterproof rating: The T-Rex 2 boasts an IP68 rating, ensuring dust resistance and protection against long periods of immersion under pressure. Furthermore, its water resistance allows it to handle depths up to 100 meters, making it a perfect ally for swimmers and divers.
Swimproof: Beyond its water resistance rating, the T-Rex 2 is fully swimproof. Whether you're taking a dip in the pool or swimming in open waters, this watch remains functional and accurate.
Battery: Battery life often becomes a concern with smartwatches, but not with the T-Rex 2. It boasts a battery life of up to 20 days, ensuring that users don't have to charge it frequently, even with regular use.
Compatibility: The T-Rex 2 offers versatility in compatibility. Whether you're an Android user or an iOS enthusiast, this watch seamlessly integrates with both operating systems.
Fitness And Watch Functions: Fitness enthusiasts will appreciate the T-Rex 2's comprehensive tracking capabilities. It comes equipped with 14 sports modes, catering to a range of activities from running to cycling. Additionally, it monitors heart rate and sleep patterns, providing users with insights into their health and wellness.
Other features: Beyond its primary functions, the T-Rex 2 offers additional features like PAI (Personal Activity Intelligence). This unique metric provides users with a personalized score based on their daily activity, ensuring they remain active and healthy. Moreover, the watch also monitors stress levels, helping users manage and maintain their mental well-being.
Pros and Cons
| Pros | Cons |
| --- | --- |
| Robust and durable | Some may find it bulky |
| Extended battery longevity | Limited advanced smart features |
| Diverse fitness tracking | Proprietary OS restricts third-party app integration |
Points to Consider
The Amazfit T-Rex 2 stands out for its rugged design, making it ideal for outdoor challenges. Its extensive fitness tracking and long battery life ensure reliability, while its IP68 rating offers peace of mind. Though it might not have all the advanced features of premium models, its value proposition is undeniable for those seeking a blend of durability and functionality.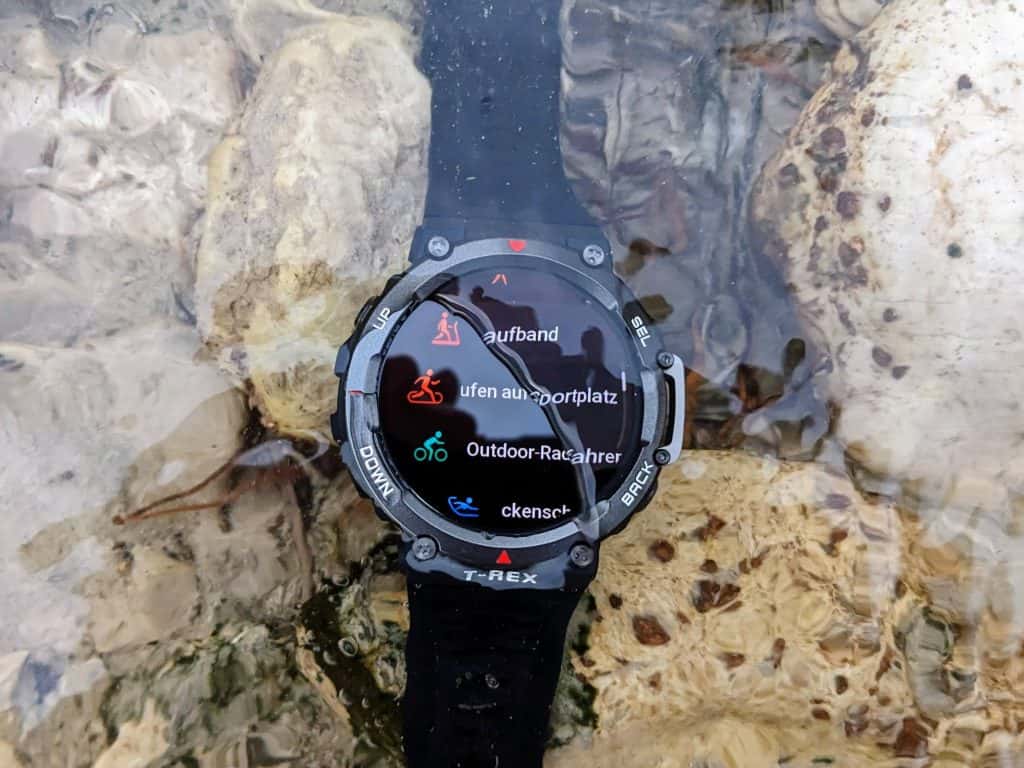 Garmin Fenix 7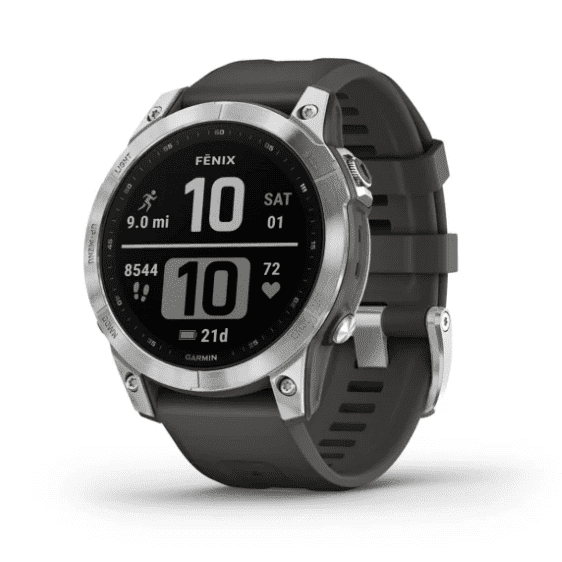 The Garmin Fenix 7 stands as a testament to Garmin's commitment to crafting multisport GPS watches that cater to outdoor enthusiasts. Designed for durability and precision, this watch is a reliable companion for those who venture into the great outdoors.
Features
Display: The Fenix 7 is equipped with a 1.3-inch (33.02 mm) diameter display. This sunlight-visible, transflective memory-in-pixel (MIP) screen ensures clear visibility even under bright conditions. With a resolution of 260 x 260 pixels and a color display, users are guaranteed crisp and vibrant visuals.
IP & Waterproof rating: With a water rating of 10 ATM, the Fenix 7 is more than capable of withstanding heavy rain, splashes, and even swimming.
Swimproof: Absolutely, the 10 ATM rating ensures it's suitable for swimming and snorkeling.
Battery: The Fenix 7 boasts an impressive battery life tailored to various modes:

Smartwatch mode: Up to 18 days
Battery Saver Watch Mode: Up to 57 days
GPS Only: Up to 57 hours
All Satellite Systems: Up to 40 hours
All Satellite Systems + Music: Up to 10 hours
Max Battery GPS: Up to 136 hours
Expedition GPS: Up to 40 days

Compatibility: The Fenix 7 is compatible with both iPhone® and Android™ devices, ensuring seamless integration with a wide range of smartphones.
Fitness And Watch Functions: The watch comes loaded with a plethora of features:

Daily Smart Features: Includes Bluetooth®, ANT+®, Wi-Fi® connectivity, smart notifications, music storage and control, Garmin Pay™, and more.
Safety and Tracking Features: Offers incident detection during select activities, assistance, LiveTrack, Group LiveTrack, and live event sharing.
Activity Tracking Features: Equipped with a step counter, move alerts, auto goal, calories burned tracker, floors climbed counter, distance traveled metric, intensity minutes, and more.

Other features: The Fenix 7 has a memory capacity of 16 GB, ensuring ample space for storing your data. It also supports the Garmin Connect™ Challenges app, MOVE IQ™, and TRUEUP™, among other features.
Pros and Cons
| Pros | Cons |
| --- | --- |
| Robust battery life | Might be bulky for some users |
| Comprehensive tracking features | Premium price point |
| Durable and water-resistant | Proprietary charger |
Points to Consider
The Garmin Fenix 7 excels in durability, making it ideal for outdoor enthusiasts. Its extensive battery life ensures longevity during adventures, and compatibility with major smartphones offers user flexibility. Whether you're hiking, swimming, or simply going about your day, the Fenix 7 is built to keep up.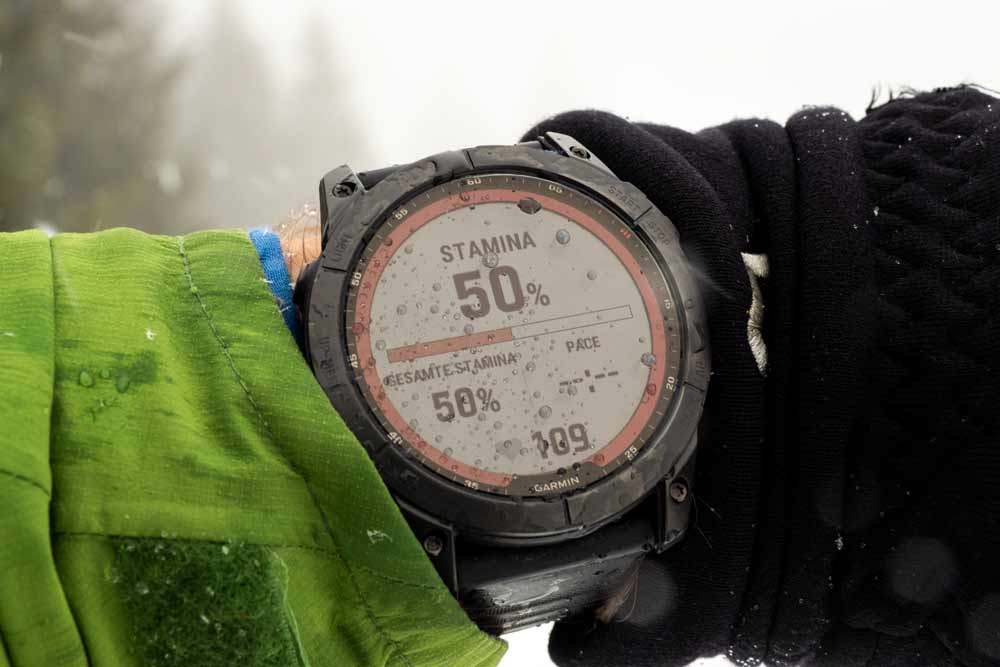 Apple Watch Ultra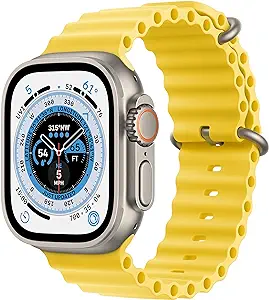 The Apple Watch Ultra stands as a testament to Apple's commitment to innovation and design. Engineered for adventurers and athletes, this watch is a fusion of robustness and cutting-edge technology.
Features
Display: The Apple Watch Ultra presents an expansive Always-On Retina display, shining at a brilliant 2000 nits—double the brightness of other models. This enhanced screen optimally showcases detailed watch faces and metrics, and with the Wayfinder face, it smoothly transitions to Night Mode in low-light conditions.
IP & Waterproof Rating: Engineered for water adventures, the Apple Watch Ultra carries an impressive 100ATM rating. This isn't just a splash-proof watch; it's dive-ready. With water resistance up to 100 meters and an EN13319 certification, it stands out as a top-tier waterproof smartwatch.
Swimproof: Yes, without a doubt. Whether you're diving into a pool or catching waves, the Apple Watch Ultra is your reliable aquatic companion.
Battery: The battery life of the Apple Watch Ultra doesn't disappoint. It delivers up to 36 hours of regular use. And in low power mode? It extends up to a whopping 60 hours, keeping you connected throughout your escapades.
Compatibility: Staying true to Apple's seamless integration, the Watch Ultra perfectly syncs with the iOS ecosystem.
Fitness And Watch Functions: Precision is key with its dual-frequency GPS, ensuring spot-on location tracking—a must for accurate distance, pace, and route mapping. The Workout app offers comprehensive metrics, allowing simultaneous viewing of up to six metrics. Added features like Heart Rate Zones, Running Form, and Track Detection elevate the training experience.
Other Features: Innovation shines through with the Action button, providing swift access to multiple functions. In emergencies, the Siren feature can emit an 86-decibel sound, audible from up to 600 feet or 180 meters away. For diving enthusiasts, the Depth Gauge offers real-time depth measurements up to 40 meters and even provides water temperature readings.
Pros and Cons
| Pros | Cons |
| --- | --- |
| Exceptional waterproof rating (100ATM) | Premium price point |
| Precision dual-frequency GPS | Requires integration with the Apple ecosystem |
| Comprehensive fitness and safety features | Slightly bulky 49mm case might not suit all |
Points to Consider
The Apple Watch Ultra is a marvel of engineering, designed for those who refuse to compromise. With its rugged design, extended battery life, precise GPS capabilities, and a plethora of health and safety features, it's not just a watch; it's a companion for all your adventures. Whether you're scaling mountains, diving into the deep, or simply going about your day, the Apple Watch Ultra ensures you do it in style.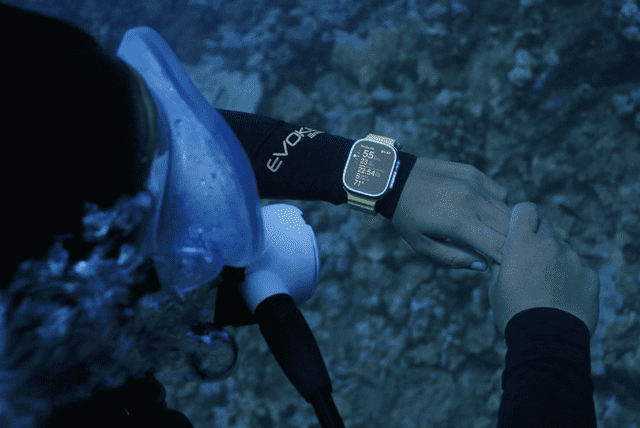 Final Verdict
Waterproof smartwatches blend style and durability. Whether you're a diver, a swimmer, or someone who values a resilient gadget, there's a perfect watch for you. As technology continues to advance, these devices are set to become even more versatile, ensuring that you can track your progress, stay connected, and enjoy a plethora of features, both on land and underwater.