Update: Here's the benchmark I did last night and it is consistent with the general data available.
I was thinking about posting a benchmark for all the three browsers, for the sake of the tradition. But since within hours there are going to be tons of it i figured it's going to be dead work. I installed the three browsers anyway, just to get the feel of their performance with naked eye. As expected Google's Chrome justified my expectations. It is lightweight, fast, simple, pretty good for first public beta. Well i found a few bugs myself. It wont scroll up with thouchpad :S which is pretty weird, misses a home button which i use alot, and maybe some javascript issues. Java is not supported yet but i believe that's going to be fixed in the next versions.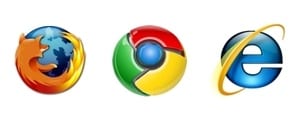 So after using them around my feel was that Internet Explorer 8 will again fall behind the cunning and functional Firefox and even the rookie Chrome. And i was right in general. I stumbled on the lifehacker.com
benchmark, one of the first on the web. They tested with latest beta's – Firefox 3.1b,
Internet Explorer 8 beta 2 and Chrome 0.2. Turns out that FF has best cold start, lesser memory, Chrome – best hot start, fastest CSS draw IE8 – best javascript engine, weird and slow css draw.

New thing about Chrome is that every tab runs in different process which makes it suitable during a busy session. If some of the tabs crashes the whole browser stays intact and you may prevent some text/work loss :)
Here are the Chrome about:pages.
Check out the about:internets page
about:memory
about:stats
about:network
about:internets
about:histograms
about:dns
about:cache
about:plugins
about:version
Are really that many people migrating to Chrome ? Tell us what you think.