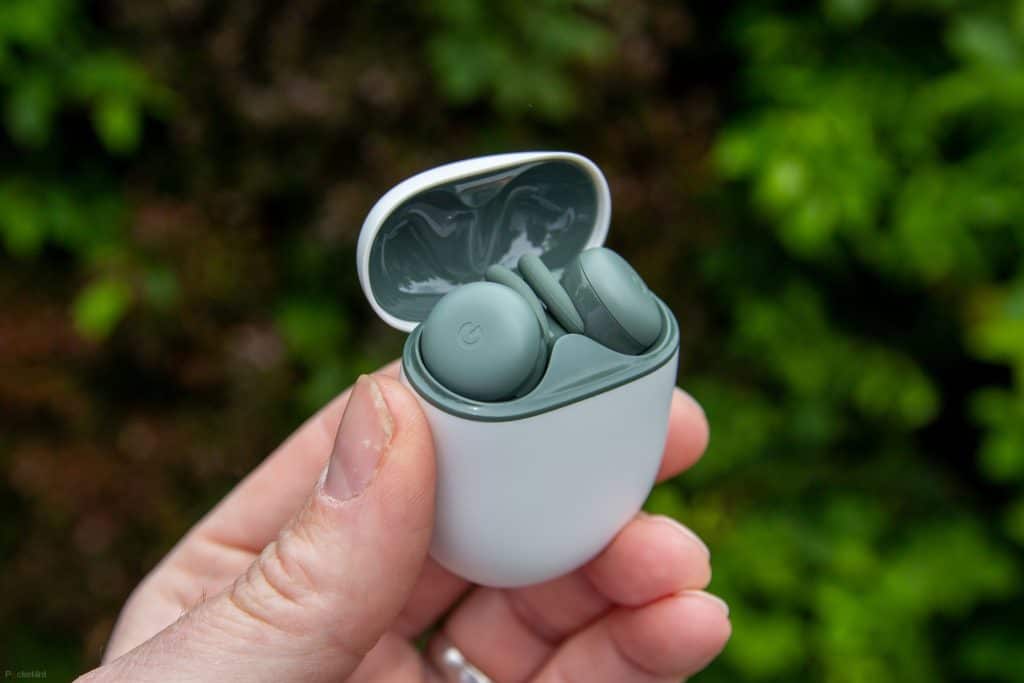 Revealing the best Google Pixel Buds
When it comes to earbuds, then some brands come to mind. Such as Samsung, Air pods, and many more. Although the Air Pods only work with IOS devices, therefore it becomes essential to something to have for Android. There are several true wireless earphones available one such product is the Google pixel buds.
The Google Pixel buds A series are true wireless earphones, the first wireless device launched by the company Google. This is the best pick for people who love to listen to the best quality music, and it works very well with all Android devices. At a very reasonable price, it has many incredible features, such as touch controls, comfortable fit, and easier to use. So, let's look at the feature of this earbud in this Google pixels buds a-series review.
What's inside the Google Pixel Buds A-Series?
With excellent execution, the Google Pixel A-series buds come with a charging case of Tamagotchi-esque along with lightweight earbuds and wings which resemble bug antennae. It is among the best aesthetics when it comes to budget-friendly products. The earbuds case is in beautiful white color in which you will find earbuds. The earbuds are available in many colors. But olive is among the most popular color chosen by people. Google pixel buds amazon is present at $99. Now let's take a deep glance into its features and specifications.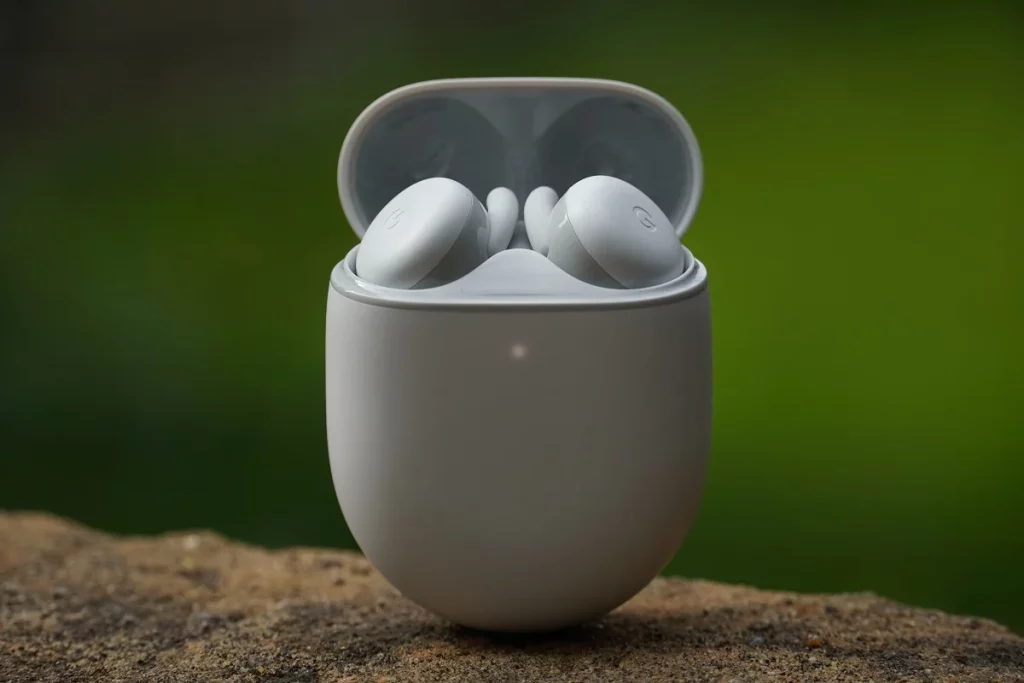 Google Pixel Buds A-Series
Specifications
Touch control: Some earbuds are not easy to use as they do not have touch control. But the Google buds from A-series come with touch controls, making them used conveniently. You can play/ pause the track you are listening to by tapping. Also, by the touch control, you can turn on Google Assistant. For this, you have to press the G-logo, which is there on the earbuds. The Google pixel link with the google assistant easily.
Microphones: The Google pixels buds have two different mics to pick the voices. Voices come from sounds that are more or less likely how they would have sounded in real life. The buds also block the outside of noise without a noise cancellation feature.
Weigh: The earbuds from Google Pixel A- series are quite small, making them lightweight too. Also, the case in which the earbuds are kept is lightweight so that you can easily carry them inside the pocket. Not only case the size of the earbuds are also quite small.
Voice Controller: The Google pixel buds work well with Google Assistant, and to activate the feature of Google Assistant, you have to say "Hey Google" after wearing the earbuds, and it will turn on. It allows you to see through upcoming notifications and calls easily and even helps to check the weather. Apart from this, several other amazing features like language and translation exist.
Battery Life: The Google Pixel has a very good battery life of up 5 hours. The case of earbuds adds extra power of 19 hours. The audio quality is quite great for earphones of this range.
Works with the Pixel app: One of the amazing features of Google pixel buds is that you can access your devices like smartphones by downloading the Pixel app. The Pixel Bud application is easily available on iOS and the play store. Once you download it on your phone, this pops up whenever you connect the Pixel buds with an Android phone. Seamless integration with Android mobiles is one of the best-selling points.
With the help of the Pixel app, you can easily track the earphones' location, activate several features like Bass Boost, touch controls and even activate the in-ear detection feature. When you activate the Find Device feature, it allows you to track your earbuds with GPS tracking.
Adaptive sound: It is among the best feature of this bud. It is quite different from the noise cancelation feature. This auditory making is done, which means when you are in a crowded place with many people chattering around, the earbuds will increase the volume on their own so that the outside sound reaches your ears. Also, when you are in the woods will, fewer people around the volume will decrease.
Advantages and disadvantages
| | |
| --- | --- |
| PROS | CONS |
| Best sound quality. | The adaptive sound may be distracting. |
| Lightweight and comfortable to wear. | No active noise cancellation feature |
| Great touch controls | |
| It can be integrated with Pixel mobile app. | |
| IP ratings are available. | |
Best pick For
It is good for those who want to purchase wireless earbuds at a lower price. For casual listening, the earbuds are good as they have good sound quality. Also, it's recommended not to wear them in heavy rain as they are not waterproof. These buds are quite good and easy to carry.
So, we have seen the Google pixel buds review. Now is the time to see one of its best competitors of the same brand, Google Pixel Pro.
What's inside the Google Pixel Buds Pro?
The Pixel Pro very closely resembles the Google Pixel A-series. However, the latter was released in 2020. Google Pro is new and comes in many colors, such as Coral, Charcoal, Fog, and Lemongrass. The big difference between this two is that Google Pro is Google's first-ever earbuds with a noise-cancellation feature.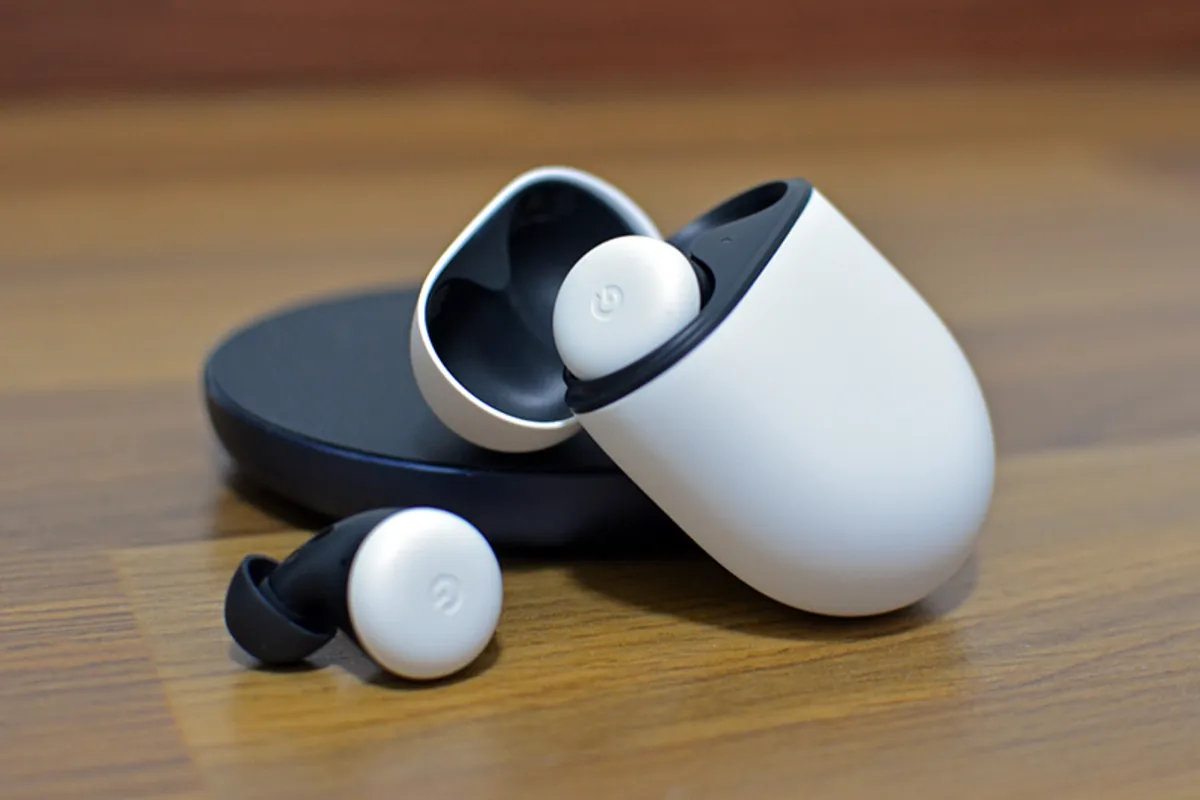 Specifications
Design: The Google buds Pro is small in size and has a sleeker design. You will also find tips for different sizes to give you more comfort. Compared to Google Pixel earbuds A-series it has more features like it has added new sensors which can detect the pressure of the earbuds in the ear to provide more comfort. Also, the buds get deep inside the ears so that they won't fall easily from the ears.
Weigh: In terms of size and weight, the Google Pixel buds Pro is heavier than the Pixel buds from A-series it weighing around 6.2 grams in contrast to the Pixel a-series, which weighs around 5.02 grams. In terms of size also, the pro buds are bigger in size.
Audio: It has better sound quality than the a-series, and the noise cancellation feature is also there. It is among the major difference between the two earbuds from Google. The reason for purchasing this product is its outside noise cancellation feature that allows you to listen to music without interruption. The sound coming from the outside is reduced by noise cancellation.
Transparency mode: This feature allows you to hear what's going around and easily talk to anyone. It pauses the music and allows you to listen to your surroundings. Along with it, Google Pixel buds Pro also features spatial audio features. Also, with this Volume, EQ is there, automatically turning the volume too high or low.
Connectivity: It can connect with Bluetooth5.0. Multipoint connectivity is also there by which it can be connected with two different Bluetooth devices simultaneously. You can connect it to any device, like a laptop. Table or even TV. It also features a fast feature. With this, it can connect with devices within 3 seconds. Also, you can control the Google Pixel Pro with the mobile app. You can easily pair pixel buds with Bluetooth.
Battery Life: It has a better battery life than Google Pixel a buds. It has a battery power of up to 11 hours. If you do not use the noise cancellation feature, it can continuously work for even 31 hours. If you enable the noise cancellation mode, it can also work for 7 hours non-stop. One more difference is that the Google Pixel Buds A-series does not charge wirelessly; instead of it, the a-series requires a USB cable for charging.
Advantages and disadvantages
| | |
| --- | --- |
| PROS | CONS |
| Good audio quality. | Heavier and size is quite big. |
| Multipoint connectivity allows it to connect with two different Bluetooth devices. | Expensive |
| Good touch controls | No Codec support |
| It can be integrated with Pixel mobile app. | EQ setting is not easy to perform. |
| Competent ANC. | |
Best pick For
It is good for those who want to hear music without any background noise interruption and those who do not use iPhones. Also, the Google pixel buds amazon is available at $199.
Comparing the Google Pixel Buds, A-series with Pixel Pro
Google Pixel Buds
Google Pixel Buds a-series
Google Pixel Pro
Buy if you are looking for
Best Sound Quality
Best Audio Quality
Controlled with the Pixel app
Noise cancellation
Good connectivity with Bluetooth
Good battery life
Good touch controls
Uses Bluetooth 5.0
Lightweight and comfortable
Multipoint connectivity
Earbuds are small and easy to carry
Avoid for following reasons
The adaptive sound is quite distracting.
Pricey
Sensors are quite sensitive.
Not durable
Bulky
EQ setting is not easy.
Things you should consider before choosing the right Earphones
Wireless earbuds are among the coolest gadgets and are very high in demand. Thus, looking for a few things before buying becomes extremely important. Look for the price of the earbuds. Choose the right codec. Often some codec does not provide high resolution. For apple, users watch for AAC support. Battery life is one of the important aspects to consider while buying the right earbuds for you. If you are buying google earbuds, check for google pixel buds reviews.
Final Thoughts regarding Google Pixel Buds
In conclusion, we have seen many features in this Google Pixel Pro A-series review. They have comfortable designs, decent sound quality, and far longer battery life than the industry standard. The Google Buds A-Series is the smartest people will ever find in this market and include superb Google Assistant support, which is the cherry on top.