In the dynamic world of gaming, audio plays a pivotal role in enhancing the overall experience. As the gaming landscape continues to evolve, so does the need for high-quality audio solutions. While traditional gaming headsets have been the go-to choice for many, there's a rising trend towards lightweight, less obtrusive options. Enter the realm of wired earbuds for gaming. These compact audio powerhouses are not only convenient but also deliver crystal-clear sound, ensuring you never miss an in-game cue. In this guide, we delve deep into the world of the best wired earbuds for gaming in 2023, offering insights, reviews, and top picks to help you make an informed decision.
Turtle Beach Battle EarBuds: Battle-Ready Sound Precision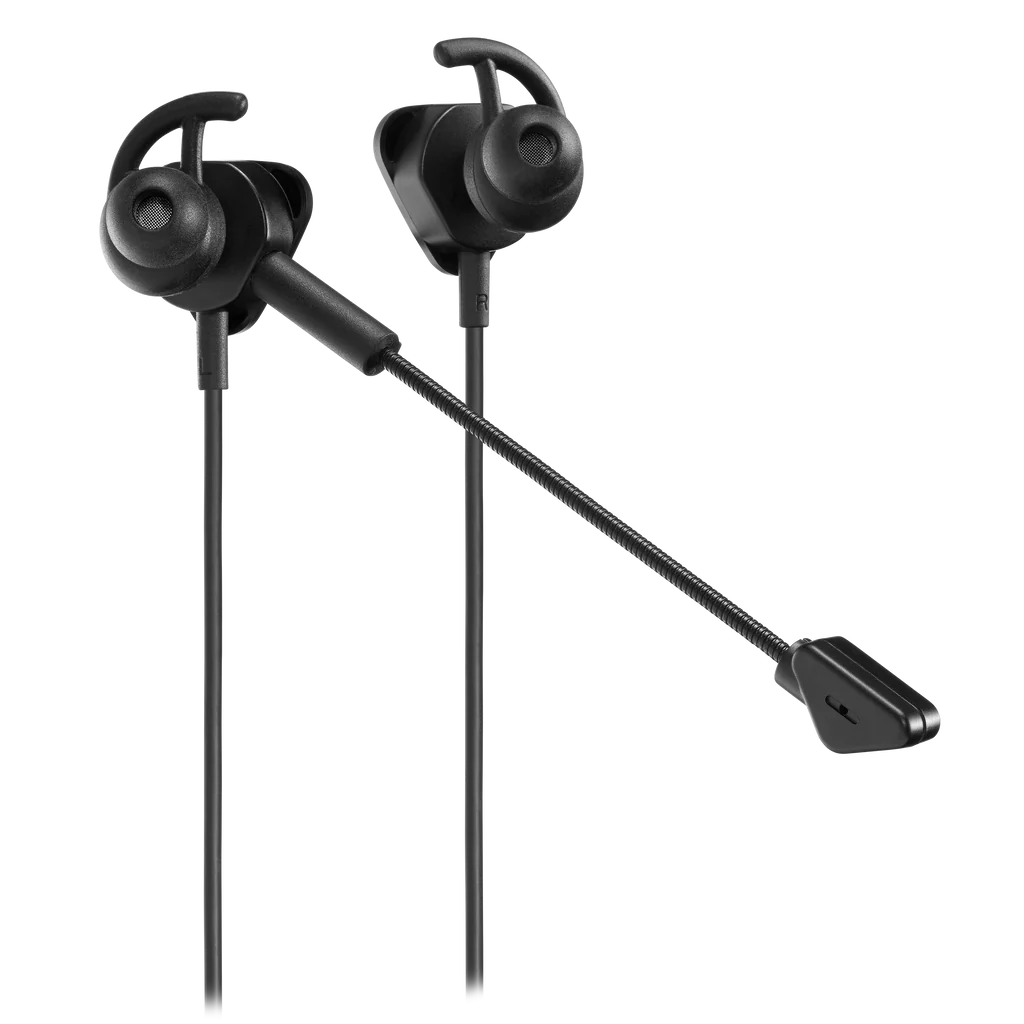 Turtle Beach, a brand revered in the gaming community, presents the Battle EarBuds. These earbuds stand as a testament to the brand's dedication to delivering unparalleled audio experiences. Designed for gamers who seek comfort and clarity, the Battle EarBuds promise an immersive gaming session every time you plug them in.
Features
Driver Size: The Battle EarBuds come equipped with a 10mm driver, backed by Neodymium Magnets. This combination ensures that every sound, from the faintest whisper to the loudest explosion, gets delivered with precision and clarity.
Speaker Size: With a speaker size of 10mm, these earbuds produce sound that is both clear and powerful. Whether you're tracking enemy footsteps or listening to in-game dialogues, the audio remains crisp and detailed.
Speaker Frequency Response: The earbuds boast a frequency response ranging from 20Hz to 20kHz. This wide range ensures that you hear every note, every beat, and every sound effect just as the game developers intended.
Microphone Specification: The Battle EarBuds feature a dual microphone setup. They come with a removable unidirectional microphone, perfect for in-game chats and team strategies. For those moments when you don't need the external mic, there's a built-in inline microphone that ensures you're always heard.
Connections: Compatibility is key for gamers. Recognizing this, Turtle Beach has designed the Battle EarBuds with a 3.5mm audio connection, ensuring they work seamlessly with all devices.
Other Features: The earbuds come with inline controls that put the power in your hands. Adjust the volume with the master volume wheel, mute the mic when needed, and use the multifunction button on supported devices for added convenience.
Pros and Cons
| Pros | Cons |
| --- | --- |
| Wide frequency response | May not fit all ear types |
| Dual microphone setup | Limited color options |
| | No noise-cancellation feature |
Points to Consider
The Turtle Beach Battle EarBuds stand out for their versatility and audio clarity. The dual microphone setup ensures clear communication, while the wide frequency response guarantees an immersive audio experience. The inline controls add a layer of convenience, making these earbuds a top choice for gamers on the go.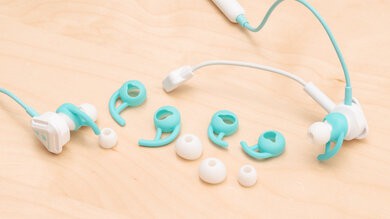 SteelSeries TUSQ: Audiophile's Gaming Delight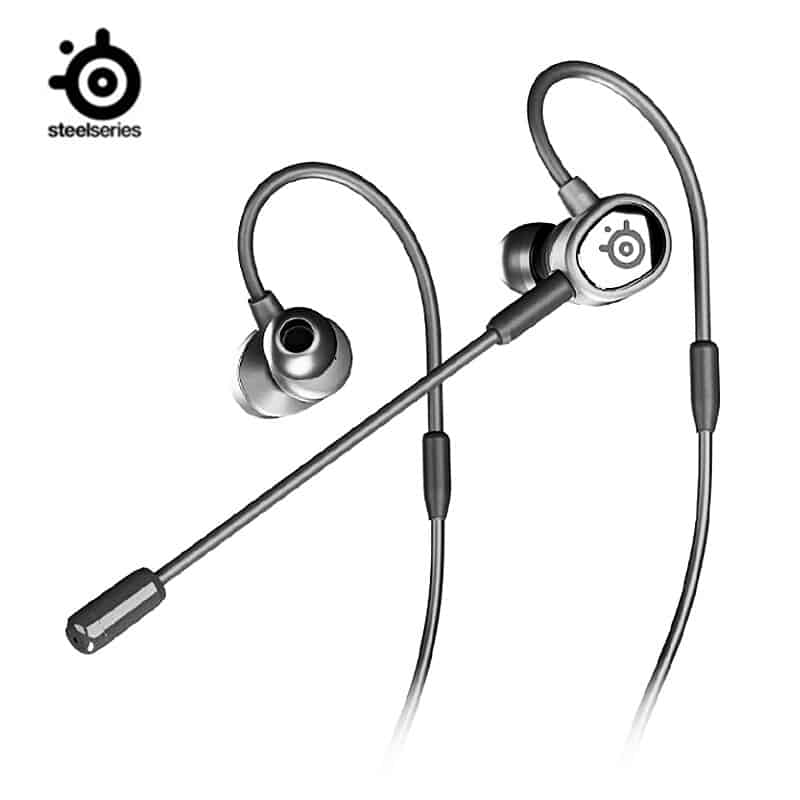 SteelSeries, a titan in the gaming industry, presents the TUSQ earbuds. Crafted specifically for mobile gaming, these earbuds stand out with their versatility and feature-rich design. They embody SteelSeries' dedication to quality, ensuring gamers receive an unparalleled audio experience.
Features
Driver Size: TUSQ is equipped with dynamic composite sound drivers. These drivers are meticulously designed to reproduce every nuance of sound, ensuring gamers don't miss any in-game details.
Speaker Size: As in-ear canalphones, TUSQ is crafted to fit snugly within the ear canal. This design not only offers an immersive audio experience but also minimizes external noise interference.
Speaker Frequency: With a broad frequency range of 20–20000 Hz, TUSQ captures a wide array of sounds. This ensures gamers can hear everything, from subtle footsteps to intense explosions.
Headphone Sensitivity: At 102 dBSPL @ 1 kHz, 1 mW, TUSQ guarantees the perfect audio balance. Gamers can enjoy optimal volume levels without any distortions.
Headphone Total Harmonic Distortion: With a distortion rate under 1%, TUSQ promises pure, unaltered sound. This low distortion ensures that gamers receive authentic audio feedback.
Microphone Specification: TUSQ's standout feature is its dual microphone system. It includes a detachable boom microphone for crystal-clear voice chats. Additionally, an in-built microphone serves as a handy backup, ensuring uninterrupted communication.
Connections:

Connector Type: TUSQ utilizes a single 3.5mm, 4-pole plug, ensuring compatibility across a wide range of devices.
Cable Length: Measuring 1.2 m or 4 ft, the cable offers ample length for gamers to move freely.
Cable Material: Made of durable rubber, the cable is designed to withstand the rigors of intense gaming sessions.

Other Features: TUSQ's lightweight around-the-ear suspension ensures hours of comfortable gameplay. Its multiplatform functionality allows gamers to switch between different gaming systems seamlessly.
Pros and Cons
| Pros | Cons |
| --- | --- |
| Dynamic sound drivers for superior audio | Might not fit all ear types comfortably |
| Dual microphone system for clear communication | Priced slightly higher than some competitors |
| Ergonomic design ensures prolonged comfort | Limited color options available |
Points to Consider
The SteelSeries TUSQ impresses with its dynamic sound drivers, delivering unmatched audio clarity. Its dual microphone system ensures crystal-clear communication, essential for team games. The ergonomic design promises comfort for extended gaming, and its universal connectivity means seamless gaming across platforms. In short, TUSQ is a top-tier choice for discerning gamers.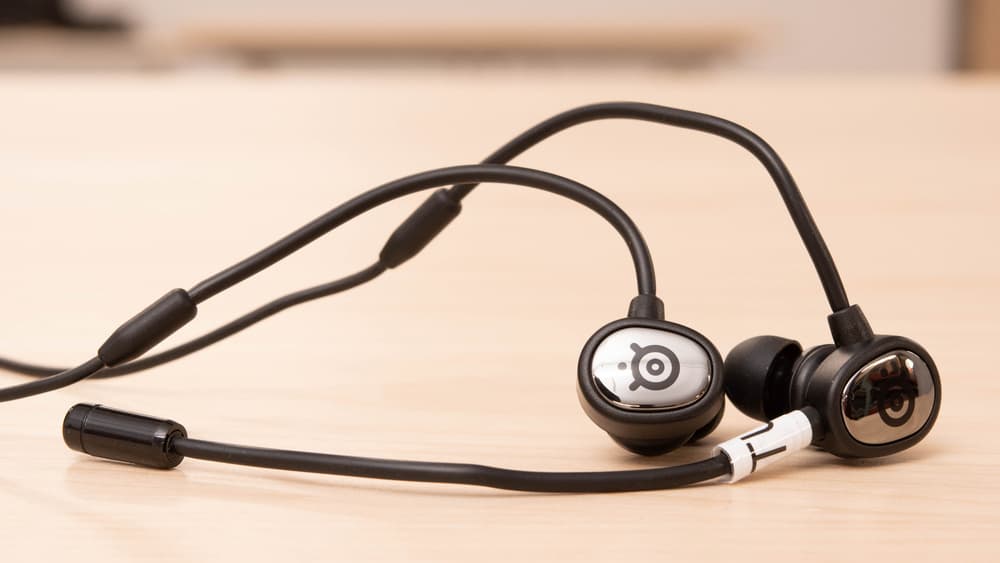 1MORE Triple Driver: Triple the Thrill in Every Beat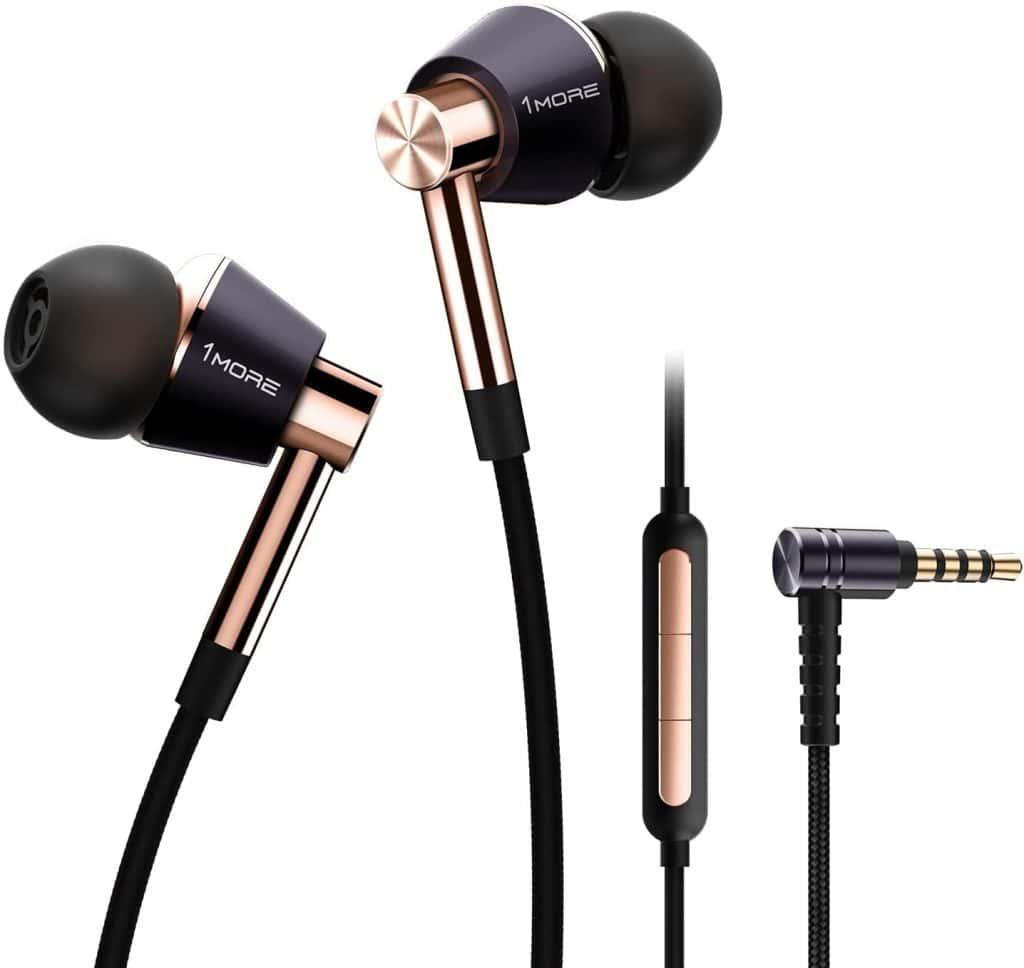 The 1MORE Triple Driver Earbuds stand as a testament to superior audio quality, blending innovative design with impeccable sound clarity. Crafted for the discerning audiophile, these earbuds promise an immersive audio experience, whether you're gaming, listening to music, or on a call.
Features
Driver Size: The Triple Driver, as the name suggests, boasts three drivers that work harmoniously to produce a sound that's clear, detailed, and rich in bass. This combination ensures that every note is heard, from the highest treble to the deepest bass.
Speaker Frequency: The earbuds have an impressive frequency range of 20-40,000 Hz. This wide range ensures that you hear every detail, be it the subtle nuances in a game or the intricate layers in a music track.
Headphone Sensitivity: With a sensitivity of 99 dB at 5 mW, these earbuds guarantee that the sound output is always clear and loud enough, ensuring you never miss a beat.
Impedance: With an impedance of 32Ω, the Triple Driver earbuds strike a balance between power and efficiency, ensuring a consistent audio output across devices.
Connections:

Plug: A versatile 3.5 mm plug ensures compatibility with a plethora of devices, from gaming setups and PCs to mobile devices.
Length: The 1.25 m wire length offers sufficient freedom, be it at a gaming station or on the go.
Wire Material: Crafted with enameled copper wire, the earbuds promise durability and consistent sound transmission.

Other Features:

In-line Remote Control: Manage your sound experience effortlessly with the integrated in-line remote, be it volume adjustments, track changes, or call management.
Executive Standard: Adherence to the GB/T 14471-2013 standard emphasizes their commitment to quality.
Pros and Cons
| Pros | Cons |
| --- | --- |
| Three drivers for superior sound | Might be pricier than other models |
| Wide frequency range | Not suitable for those who prefer wireless earbuds |
| Sleek design | Limited color options |
Points to Consider
The 1MORE Triple Driver Earbuds are a blend of style and performance. The three drivers ensure an audio experience that's unparalleled, making them perfect for gaming, music, and calls. The wide frequency range captures every sound detail, and the in-line remote control adds a layer of convenience. Whether you're a gamer, a music enthusiast, or someone who values clear call quality, these earbuds are a perfect choice.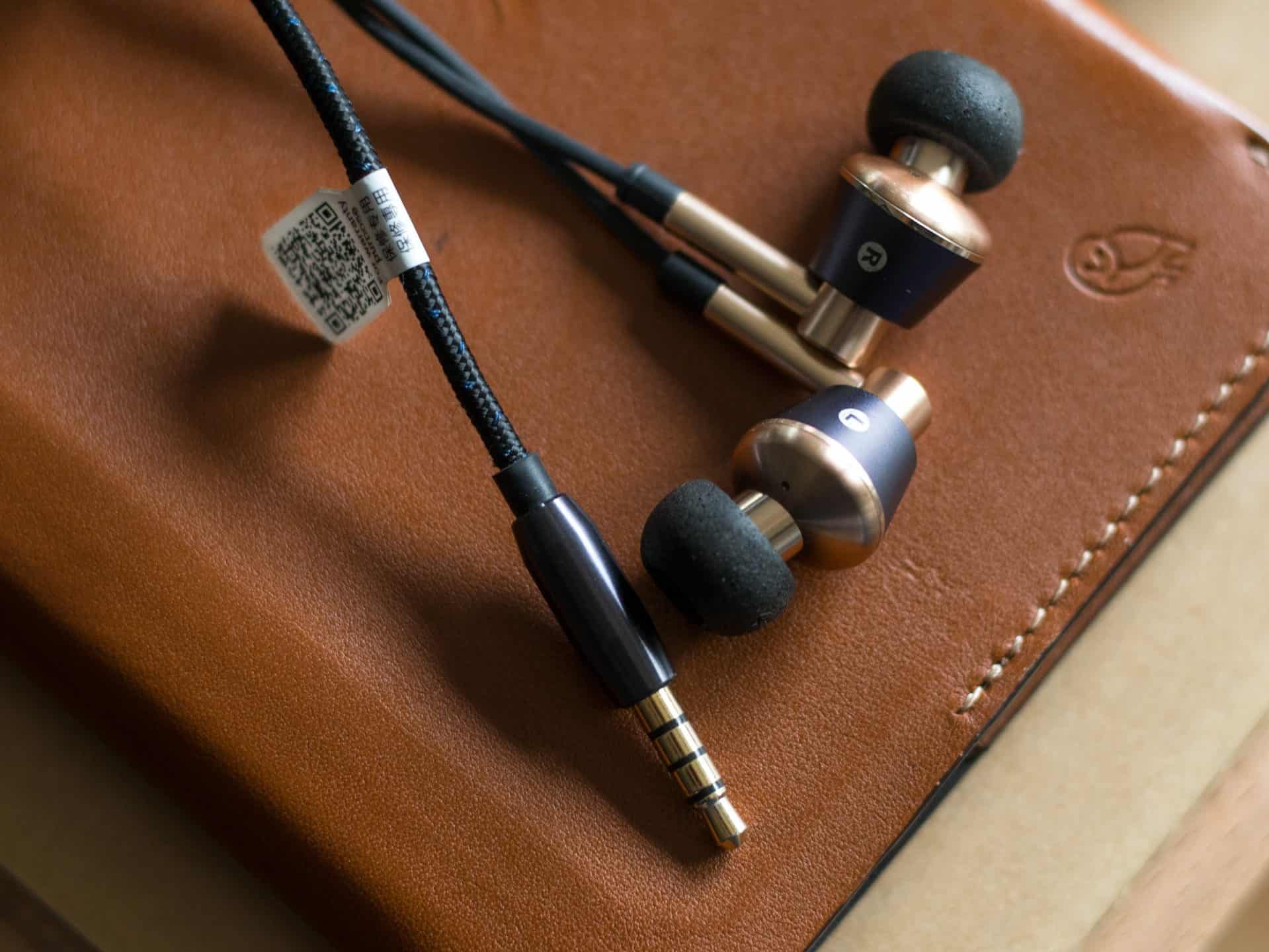 JBL Quantum 50: Dive Deep into Sonic Realms
JBL, a brand synonymous with premium audio quality, introduces the Quantum 50 earbuds, meticulously designed for gamers. These earbuds are not just about delivering sound; they're about enhancing the gaming experience. With the Quantum 50, JBL promises an immersive audio journey tailored for the gaming community.
Features
Driver Size: 8.6mm drivers powered by JBL QuantumSOUND Signature.
Speaker Size: In-ear design for optimal sound isolation.
Speaker Frequency: 20 Hz – 20 kHz, ensuring a broad spectrum of sound, capturing both high and low frequencies with clarity.
Headphone Sensitivity: 97db, offering a balanced sound output without any distortion.
Impedance: 16 ohms, ensuring efficient sound reproduction and a deep bass response.
Microphone Specification: Inline Voice-Focus microphone optimized for multi-player gaming, ensuring clear voice communication.
Connections: 3.5mm audio jack, making it versatile across various gaming platforms.
Other Features:

JBL QuantumSOUND Signature: Ensures you hear every detail, from the faintest footsteps to the loudest explosions.
Absolute Control: A full-featured inline controller with a separated volume slider, mic mute, and a multi-function button for managing calls and music.
Twistlock™ Technology: Offers unmatched comfort and stability, ensuring the earbuds stay in place even during intense gaming sessions.
Multiplatform Compatibility: Whether you game on PC, Mac, Xbox, PlayStation, Nintendo Switch, mobile, or VR, the JBL Quantum 50 seamlessly integrates.
Pros and Cons
| Pros | Cons |
| --- | --- |
| Superior audio quality with JBL QuantumSOUND Signature | Might require an adapter for certain devices |
| Comfortable fit with Twistlock™ technology | Limited color options |
| Versatile multiplatform compatibility | Inline controls might take time to get used to |
Points to Consider
The JBL Quantum 50 is a gamer's delight, combining JBL's renowned audio expertise with features tailored for gaming. Its Twistlock™ technology ensures comfort during extended play, while the multiplatform compatibility eliminates the need for multiple earbuds across devices. The inline Voice-Focus microphone enhances multiplayer interactions, making the Quantum 50 a comprehensive choice for gaming enthusiasts.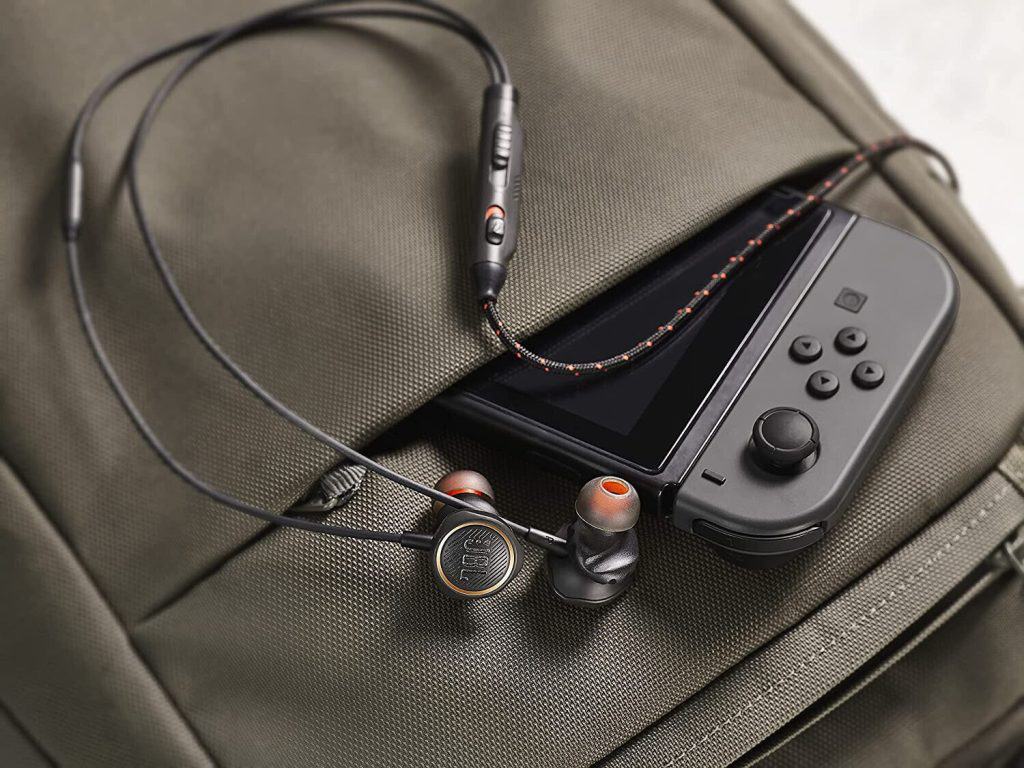 Logitech G333: Tech-Savvy Soundscapes for Gamers
Logitech, a brand synonymous with precision and quality, introduces the G333 Gaming Earphones. Designed for the avid gamer, these earphones are not just another pair in the market. They are a testament to Logitech's commitment to delivering high-quality audio products tailored for an immersive gaming experience.
Features
Driver Size: The G333 boasts two dynamic drivers, a 0.23 in (5.8 mm) and a 9.2 mm, ensuring a balanced sound profile.
Speaker Frequency: With a frequency response ranging from 20Hz to 20KHz, these earphones promise to deliver crisp highs and deep lows, capturing every in-game detail.
Impedance: The impedance is set at 24 Ohms ±20%, ensuring consistent sound quality across various devices.
Headphone Sensitivity: Rated at 101.6±3 dB @ 1 kHz SPL, the G333 ensures that the audio output is neither too loud nor too soft, striking the right balance.
Microphone Specification: The earphones come with a 4 mm ECM mic, with a sensitivity of -42 dB, ensuring clear in-game communications.
Connections: The G333 is versatile and compatible with a multitude of platforms, including PC, mobile, Xbox, PlayStation, Nintendo, and more, thanks to its 0.1 in (3.5 mm) connector and the included USB-C adapter.
Pros and Cons
| Pros | Cons |
| --- | --- |
| Dual dynamic drivers for balanced sound | Might not fit all ear types |
| Wide frequency response | Non-detachable microphone |
| Versatile connectivity options | Limited color options |
Points to Consider
The Logitech G333 is a standout choice for gamers due to its dual dynamic drivers that deliver a balanced sound profile, capturing every in-game nuance. Its versatile connectivity, with both a 3.5 mm connector and a USB-C adapter, ensures compatibility across various platforms. Additionally, the in-line microphone offers clear communication, essential for team games, while its design prioritizes user comfort for extended play sessions.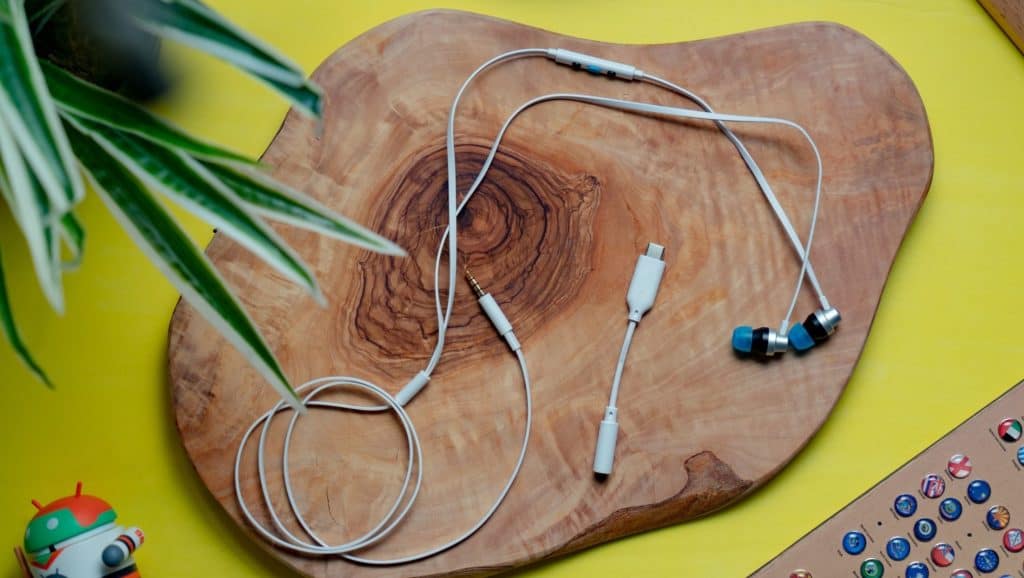 Conclusion
The gaming industry is evolving, and so is the equipment that accompanies it. Wired earbuds are becoming increasingly popular among gamers due to their convenience and portability. The earbuds listed above are some of the best in the market, offering a blend of comfort, durability, and impeccable sound quality. Whether you're a casual gamer or a professional, these earbuds will elevate your gaming experience.