In the realm of gaming, the right monitor can elevate the experience from ordinary to extraordinary. Presenting our curated list of the best 1440p 240Hz gaming monitors for 2023, each handpicked for its performance, clarity, and ability to immerse players into the gaming universe. Dive in to explore the monitors that are setting new benchmarks in the industry.In the realm of gaming, the right monitor can elevate the entire experience, merging clarity with fluidity. As technology advances, the demand for sharper resolution combined with faster refresh rates has grown. A 1440p 240Hz gaming monitor strikes this balance, offering gamers a crystal-clear display while ensuring smooth, lag-free gameplay. This guide delves into the best monitors available in 2023, providing insights to help you make an informed choice.
| Monitor Name | Refresh Rate | Screen Size | Panel Type | Response Time | Adaptive Sync |
| --- | --- | --- | --- | --- | --- |
| Samsung Odyssey G7 | 240Hz | 27 inches | VA | 1ms | AMD FreeSync Premium Pro + Nvidia G-Sync |
| Alienware AW2721D | 240Hz | 27 inches | IPS | 1ms | AMD FreeSync Premium Pro + Nvidia G-Sync |
| Asus ROG Swift PG279QM | 240Hz | 27 inches | IPS | 1ms | Nvidia G-Sync |
| LG Ultragear 32GQ850-B | 240Hz | 32 inches | IPS | 1ms | AMD FreeSync Premium Pro + Nvidia G-Sync |
| AOC AG274QZM | 240Hz | 27 inches | IPS | 0.5ms | AMD FreeSync Premium |
Samsung Odyssey G7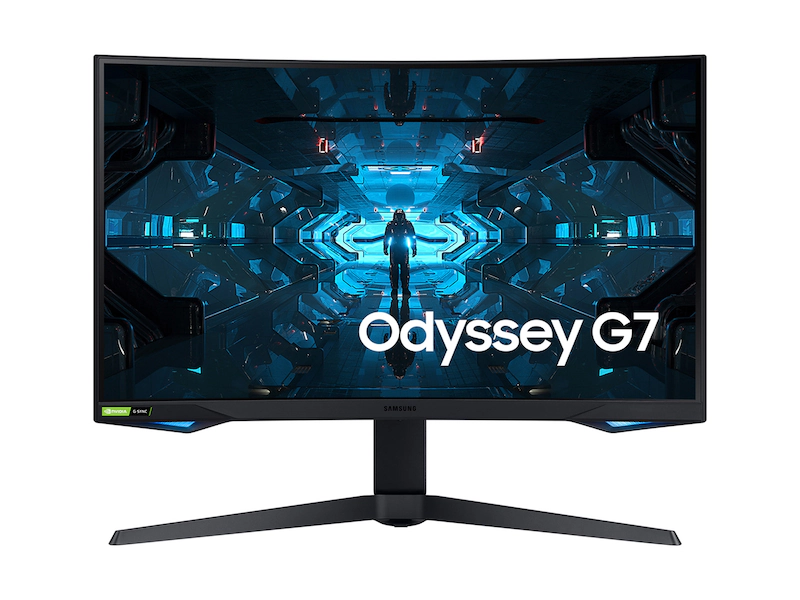 The Samsung Odyssey G7 stands out as a remarkable choice for gamers, offering a blend of performance and visual prowess. Recognized as one of the finest 1440p 240Hz gaming monitors, it promises an immersive experience that few can rival.
Features
Experience gaming like never before with the Samsung Odyssey G7's advanced features.
Refresh Rate and Resolution:
The G7 boasts a refresh rate of 240 Hz, ensuring fluid motion and swift gameplay. Its 1440p resolution guarantees sharp imagery, attributed to its high pixel density. Whether you opt for the 27-inch or the larger 32-inch variant, you're assured of this clarity. Interestingly, the 32-inch model, while having the same pixel density, offers a 1080p resolution. This combination, with the expansive screen size, results in even more striking visuals.
Curved Screen:
One of the G7's standout features is its 1000R curved screen. This curvature is designed to match the human eye's natural field of view, providing a more comfortable and immersive viewing experience.
Panel and Contrast:
The monitor employs a VA panel, renowned for its impressive 2500:1 contrast ratio. This ensures inky blacks and vivid colors, enhancing every frame. Unlike some IPS panels, the G7's VA panel doesn't suffer from the notorious IPS glow. This means darker scenes in games or movies appear richer, making it perfect for dimly lit environments.
Color Accuracy:
With a DCI-P3 color gamut coverage of 95%, the G7 might not be the most saturated monitor in Samsung's lineup, but it strikes a balance. It delivers vibrant colors, ensuring games and media look lively and true-to-life.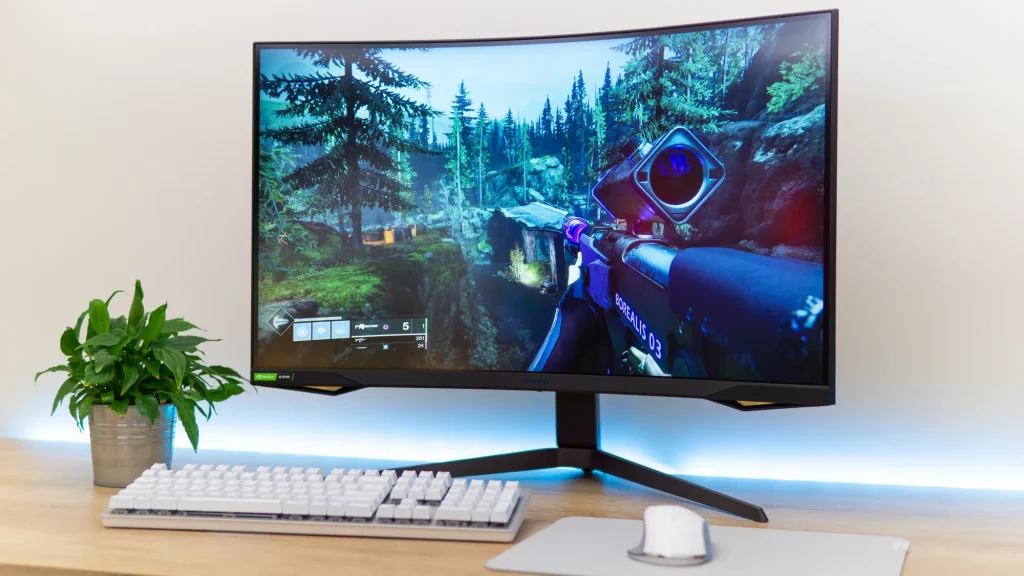 Adaptive Sync Technologies:
Gamers despise screen tearing – it can break immersion and even affect gameplay. Thankfully, the G7 comes equipped with both Nvidia G-SYNC and AMD FreeSync technologies. These ensure a tear-free gaming experience, syncing the monitor's refresh rate with the graphics card's frame output.
HDR Support:
The G7 supports DisplayHDR 600, enhancing the dynamic range of content. This means brighter whites, deeper blacks, and a more detailed picture overall. However, it's worth noting that the monitor has limited dimming zones.
Viewing Angles:
While the VA panel offers fantastic image quality, it does come with a caveat. The viewing angles aren't as expansive as those found on IPS panels. Some users might notice slight gamma and contrast shifts when viewing the screen from extreme angles.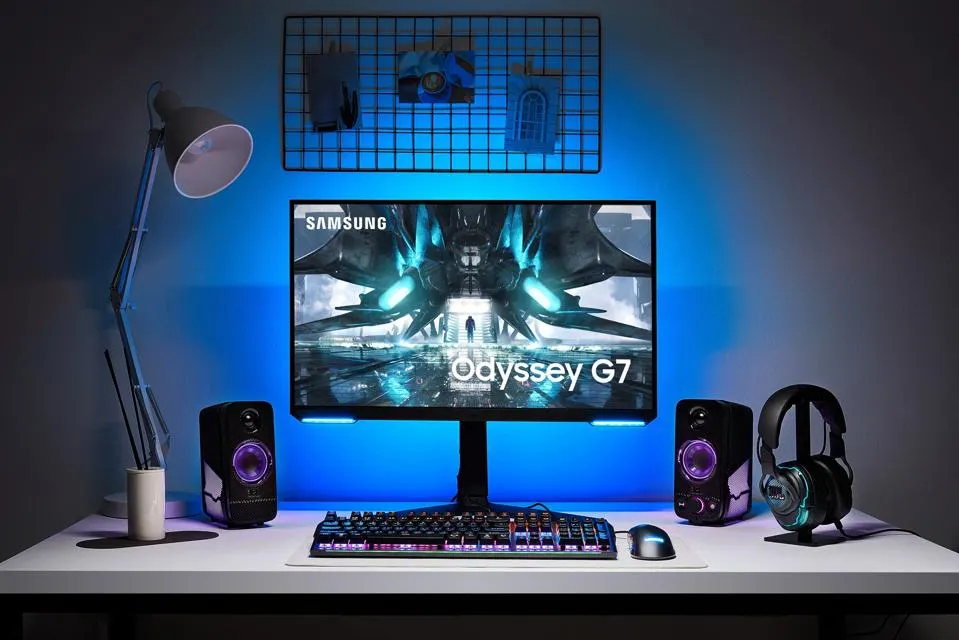 Connectivity and Ports:
Samsung ensures that users have a plethora of connection options. The G7 features HDMI 2.0, USB 3.0, DSC 1.2, and DisplayPort 1.4 ports. Additionally, for those who prefer private listening, there's a headphone jack.
Pros and Cons
| Pros | Cons |
| --- | --- |
| High refresh rate and resolution | Limited viewing angles due to VA panel |
| Impressive contrast ratio | Some gamma and contrast shifts at certain angles |
| Supports both G-SYNC and FreeSync | Limited dimming zones for HDR |
| Multiple connectivity options | – |
Points to Consider
The Samsung Odyssey G7 is a testament to Samsung's commitment to delivering top-tier gaming monitors. It combines performance, visual fidelity, and a suite of features that cater to both casual and hardcore gamers. Whether you're diving into a competitive esports title or enjoying a cinematic single-player game, the G7 promises an experience that's both smooth and visually captivating.
Buy Now
Alienware AW2721D
Introduced in 2021, the Alienware AW2721D quickly rose to prominence as the most sought-after 1440p 240Hz monitor of its time. Its meteoric rise in popularity can be attributed to its stellar display that promises and delivers exceptional performance, presenting visuals that are both sharp and vibrant.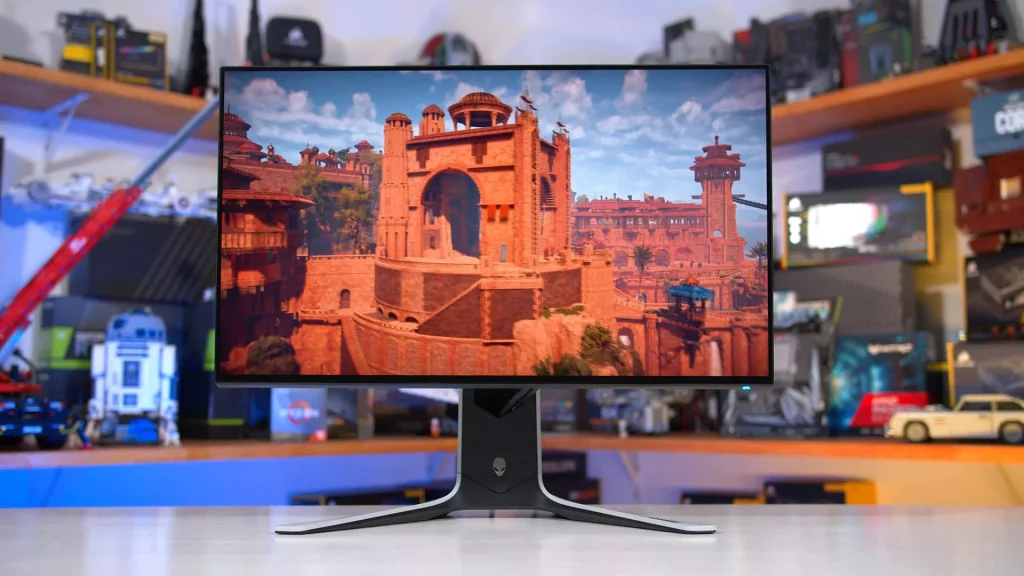 Features
Dive into a world of vibrant colors and swift gameplay with the Alienware AW2721D.
Nano IPS Technology:
At the heart of the AW2721D lies the Nano IPS technology, a revolutionary feature responsible for the monitor's outstanding color reproduction. This technology ensures that users experience visuals that are not only sharp but also rich in color, making every frame come alive.
Brightness and HDR:
With a peak brightness level of 600 nits, the AW2721D stands out in delivering unparalleled HDR performance. This brightness ensures that every detail, whether in the darkest shadows or the brightest highlights, is visible with clarity.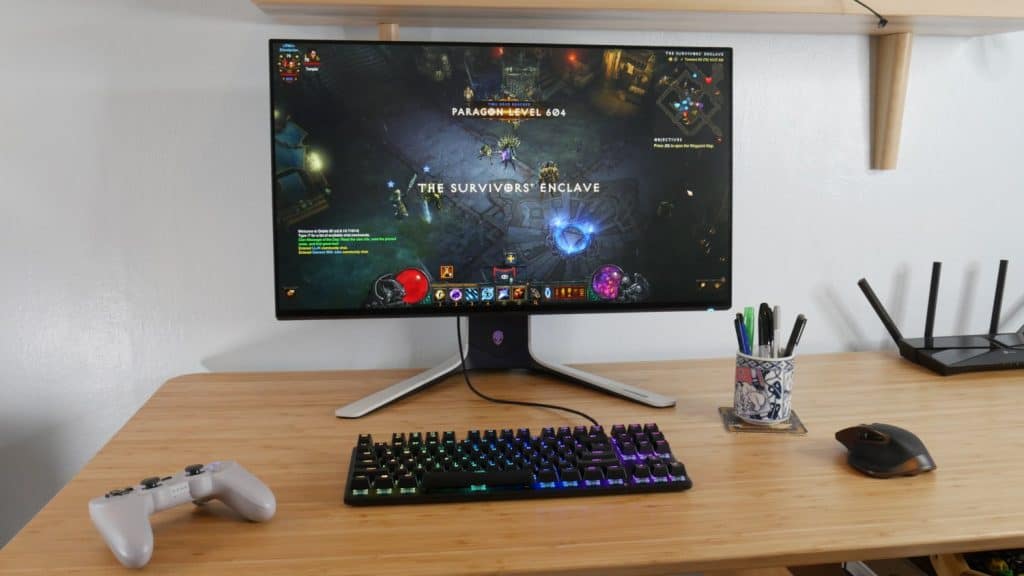 Color Accuracy and Vibrancy:
Covering 95% of the DCI-P3 color gamut, the monitor guarantees that the colors you see on screen are as accurate and true-to-life as possible. This wide color coverage ensures that whether you're gaming, watching movies, or working on graphics, the colors are always on point.
Enhanced Gaming Experience:
The AW2721D is not just about visuals; it's built for gaming. With a swift response time of 1 ms, games load faster, ensuring that players always have the upper hand. Moreover, the monitor effectively eliminates common issues like ghosting and smearing, ensuring smooth gameplay.While QHD resolution significantly impacts game visuals, the inclusion of an IPS panel in the AW2721D takes it a notch higher. This panel ensures richer colors, making in-game environments and characters appear more lifelike. The monitor even offers an overclocking capability, allowing users to push the refresh rate up to an astounding 280Hz.
Design and Aesthetics:
Beyond its performance, the AW2721D is a visual treat in itself. Its panels are designed to perfection, exuding an elegance that complements any gaming setup. The monitor proudly showcases Alienware's iconic Legend 2.0 design, bathed in the mesmerizing Lunar Light colorway. This design is further accentuated by the AlienFX lighting on its rear, adding a touch of futuristic flair.
Connectivity and Ports:
Alienware ensures that users have all the necessary ports at their disposal. Beyond the standard ports, the AW2721D also features USB ports, allowing gamers to seamlessly connect their peripherals. This inclusion ensures that whether it's a gaming mouse, keyboard, or headset, connectivity is never an issue.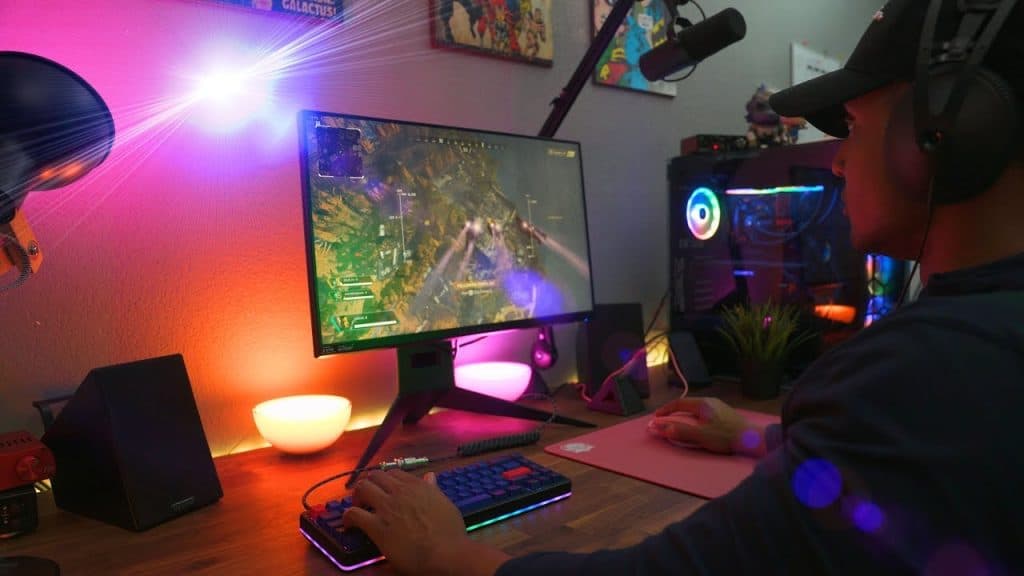 Pros and Cons
| Pros | Cons |
| --- | --- |
| Exceptional Nano IPS display | Premium price point |
| Impressive 600 nits peak brightness | |
| Covers 95% DCI-P3 color gamut | |
| Ultra-fast 1 ms response time | |
Points to Consider
The Alienware AW2721D is more than just a monitor; it's a statement. It promises and delivers top-tier performance, ensuring that every game played is an experience in itself. While its price might be on the higher side, the plethora of features and the unmatched performance it offers make it worth every penny. Whether you're a professional gamer or someone who just wants the best visual experience, the AW2721D is the monitor to consider.
Buy Now
ASUS ROG SWIFT PG279QM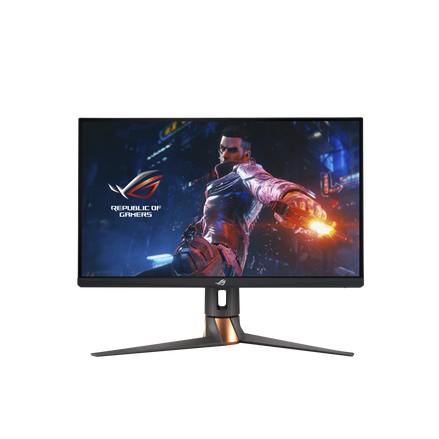 The Asus ROG Swift PG279QM stands as a testament to Asus's commitment to delivering top-tier gaming equipment. This 27-inch monitor, part of the renowned ROG lineup, combines cutting-edge technology with aesthetic brilliance, offering gamers an unparalleled visual experience.
Features
Experience unparalleled visual clarity and smoothness with the ASUS ROG Swift PG279QM.
Display and Resolution:
The PG279QM showcases a 27-inch OLED panel, offering a resolution of 2560×1440 pixels. This ensures that users experience sharp visuals with impeccable clarity.
Color Accuracy and Vibrancy:
With OLED technology, the monitor delivers perfect inky blacks and incredibly vibrant colors. It boasts a 99% DCI-P3 color gamut, ensuring color accuracy with a Delta E value of less than 2. This makes it not only great for gaming but also for tasks that demand color precision.
Brightness and HDR:
The monitor shines brightly with a peak brightness of 1,000 nits, making it one of the brightest options available. This level of brightness enhances visibility in various lighting conditions.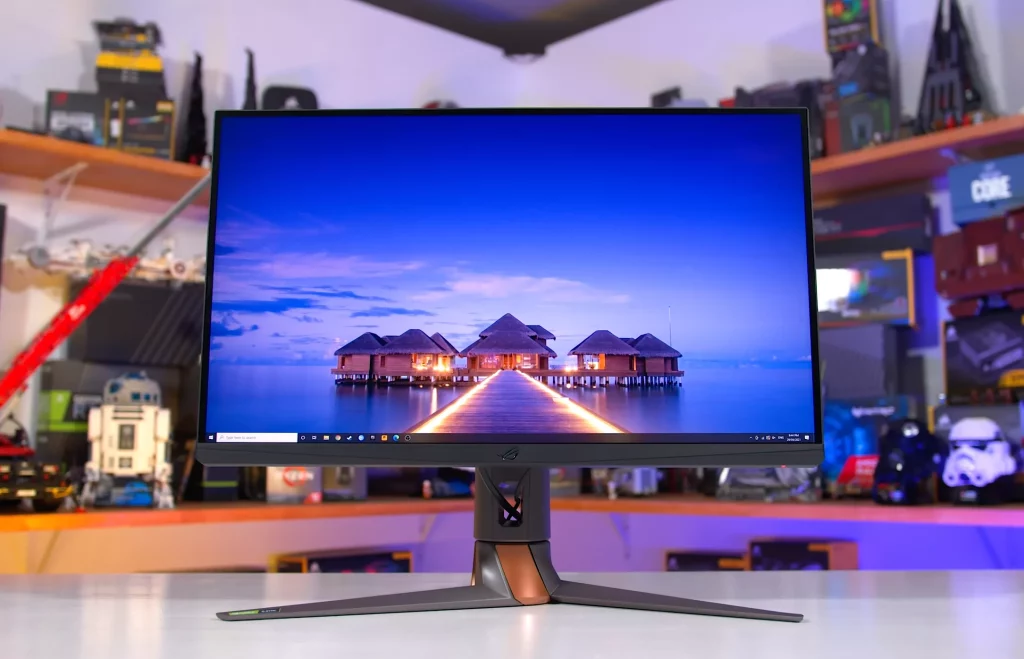 Response Time:
One of the standout features is its swift 0.03 ms response time. This ensures that users won't experience ghosting or motion blur, even in the most intense gaming scenarios.
Cooling Mechanism:
Asus has integrated a heatsink into the monitor. This ensures consistent performance, even during extended gaming sessions, by preventing any potential overheating.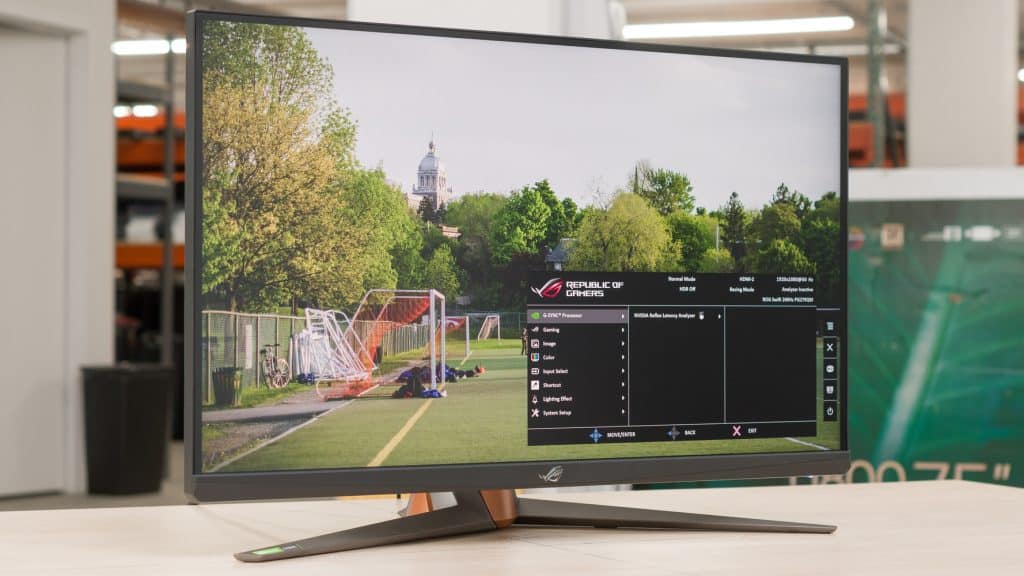 Connectivity and Ports:
For the best gaming experience, users should utilize the DisplayPort connector. While the monitor does feature an HDMI 2.0 port, the DisplayPort ensures that gamers can harness the full potential of the monitor's features.
Pros and Cons
| Pros | Cons |
| --- | --- |
| Low input lag | Quite expensive |
| Good picture quality and clarity due to higher pixel density | Does not have a good colour performance |
| G-Sync support ranges between 1 Hz to 240 Hz | Lack of some OSD features required for gaming |
Points to Consider
While the Asus ROG Swift PG279QM offers a plethora of features that cater to gamers, it's essential to consider its limitations, especially if HDR performance is a priority. However, for those seeking a monitor that excels in design, color accuracy, and gaming performance, the PG279QM stands as a solid choice.
Buy Now
LG UltraGear 32GQ850-B
The LG UltraGear 32GQ850-B stands as a pinnacle of gaming monitor technology, blending Nano IPS panel precision with advanced gaming features. Designed for both avid gamers and content creators, it promises an unparalleled visual experience.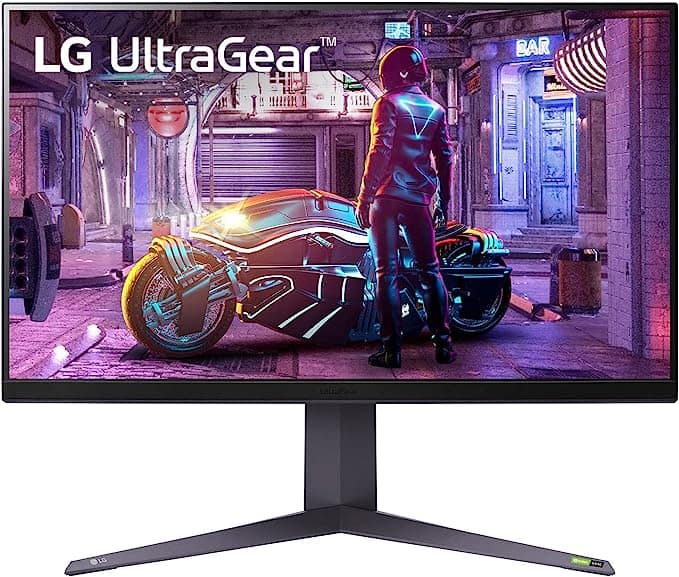 Features
Discover a new dimension of gaming with the LG UltraGear 32GQ850-B's immersive features.
Nano IPS Panel
The LG UltraGear 32GQ850-B boasts a Nano IPS panel. This advanced technology ensures that the monitor displays colors with utmost accuracy. Furthermore, this panel delivers swift response times, making it ideal for dynamic gaming sessions and intricate content creation tasks.
HDR Certification
This monitor proudly carries the VESA DisplayHDR 600 certification. This means you can expect brighter whites, deeper blacks, and a broader color spectrum, enhancing your visual experience whether you're gaming or watching high-definition content.
Adaptive Refresh Rate Technologies
Gamers will appreciate the monitor's support for both AMD FreeSync Premium Pro and Nvidia G-Sync. These technologies work to eliminate screen tearing and stuttering, ensuring smoother gameplay. With these features, your gaming sessions become more immersive and visually pleasing.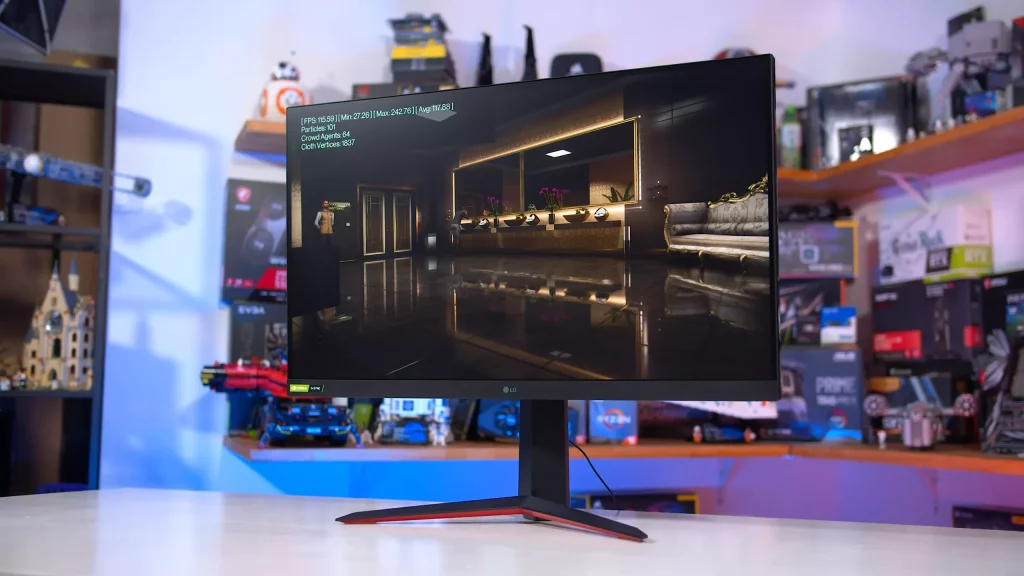 Dynamic Action Sync
LG has incorporated the Dynamic Action Sync feature, which actively reduces input lag. This ensures that your in-game actions and reactions are almost instantaneous, giving you an edge in competitive gaming scenarios.
Overclocking Capabilities
While the monitor naturally supports a refresh rate of 240Hz, LG provides users with the option to overclock it to an impressive 260Hz. This higher refresh rate can offer an even smoother visual experience, especially in fast-paced games.
On-Screen Display (OSD) Features
LG has revamped its OSD features to cater to gamers. The monitor provides specialized game modes that adjust the panel's colors and settings based on the specific game you're playing. This means optimal visuals tailored to your gaming genre, whether it's a first-person shooter or a detailed role-playing game.
Built-in FPS Counter
For gamers who like to keep an eye on their performance, the LG UltraGear 32GQ850-B comes equipped with a built-in FPS counter. This feature actively displays your game's frame rate, allowing you to monitor and optimize your gameplay in real-time.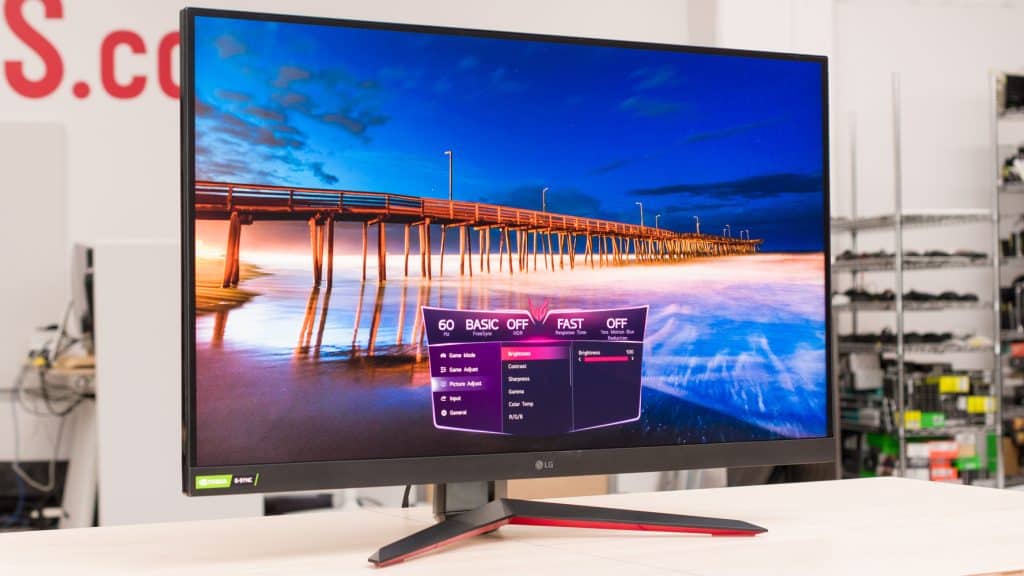 Pros and Cons
| Pros | Cons |
| --- | --- |
| Nano IPS Panel for accurate colors | Premium price point |
| VESA DisplayHDR 600 Certified | 32-inch size may be too large for some setups |
| Supports AMD FreeSync Premium Pro and Nvidia G-Sync | |
| Overclockable to 260Hz | – |
Points to Consider
LG UltraGear 32GQ850-B is a powerhouse of a monitor, designed with gamers and content creators in mind. Its blend of advanced technologies and user-friendly features makes it a top choice for those seeking a premium visual experience.
Buy Now
AOC AG274QZM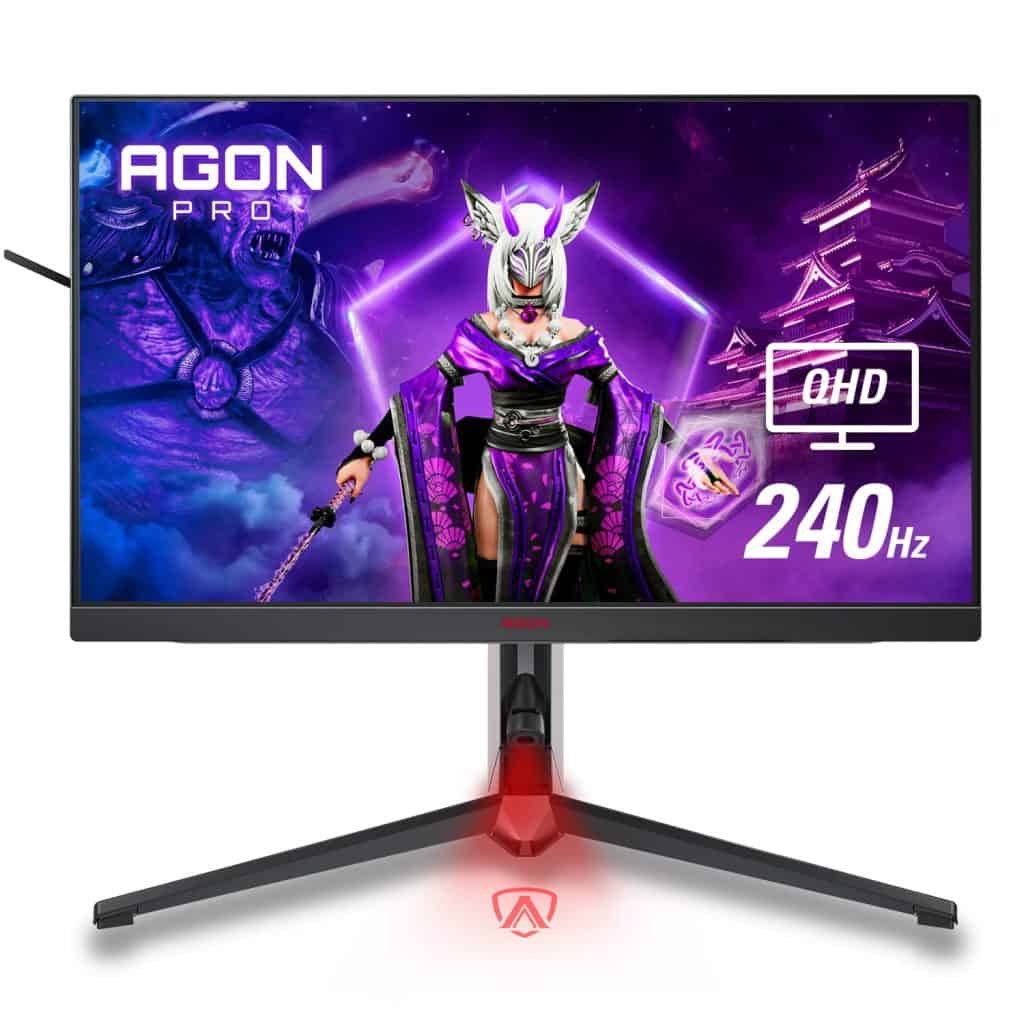 The AOC AG274QZM stands out as a top-tier gaming monitor, especially for those who prioritize both performance and visual quality. With its advanced features and impressive specifications, this monitor is designed to provide an unparalleled gaming experience.
Features
Elevate your gaming sessions with the AOC AG274QZM's cutting-edge specifications.
Panel Type and Advantages:
The AOC AG274QZM boasts an IPS panel, known for its wide viewing angles and accurate color reproduction. IPS panels are renowned for delivering vibrant colors and clear images, making them a favorite among gamers and professionals alike.
Response Time and Performance:
Speed is of the essence in gaming, and the AOC AG274QZM doesn't disappoint. It offers a swift 0.5ms MPRT response time, ensuring minimal ghosting and lag. This rapid response time places it at the forefront of its class, ensuring smooth gameplay even in fast-paced scenarios.
Color Accuracy and Coverage:
AOC has gone above and beyond to ensure that gamers don't have to sacrifice color quality. The monitor claims to provide 120% sRGB coverage, which is impressive for a VA panel. Moreover, it covers 90% of the DCI-P3 color gamut, ensuring vibrant and true-to-life colors.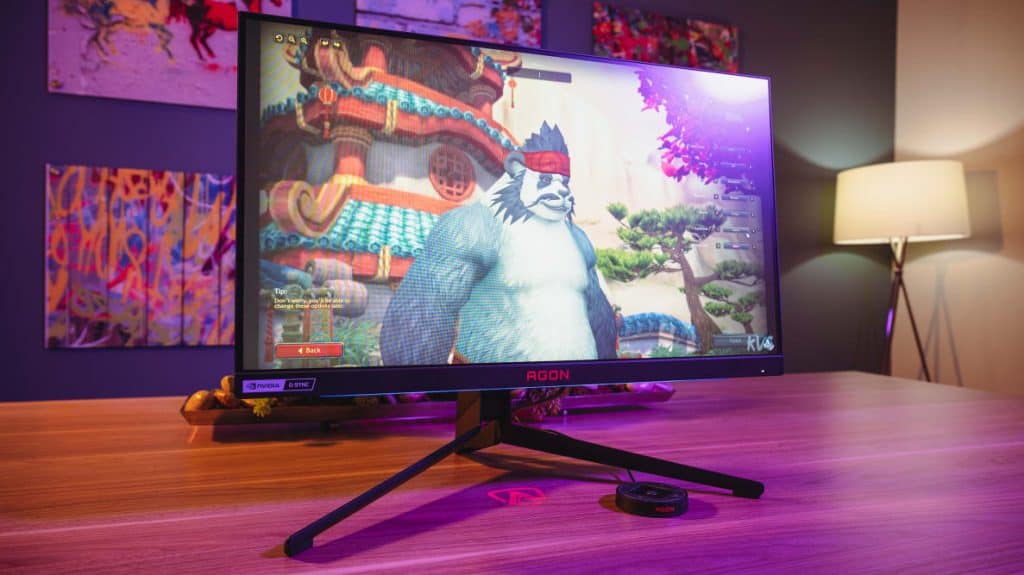 Design and Immersion:
The AOC AG274QZM is not just about performance; it's also about the experience. It features a 1000R curved panel, which, when combined with its almost bezel-less design, offers an incredibly immersive gaming experience. The curvature of the screen draws you into the game, making every session more engaging.
Comparison with IPS Panels:
While the AOC AG274QZM offers impressive color accuracy, some users might still lean towards the benefits of an IPS panel. IPS panels are known for their superior color accuracy and wider viewing angles. However, with the advancements AOC has made with this monitor, many users might find it a worthy alternative without breaking the bank.
| Pros | Cons |
| --- | --- |
| 1000R curved panel offers an immersive experience. | Some users might prefer the color accuracy of IPS panels. |
| Almost bezel-less design enhances the visual appeal. | Curved design might not be everyone's preference. |
| Impressive 120% sRGB and 90% DCI-P3 color coverage | |
| | |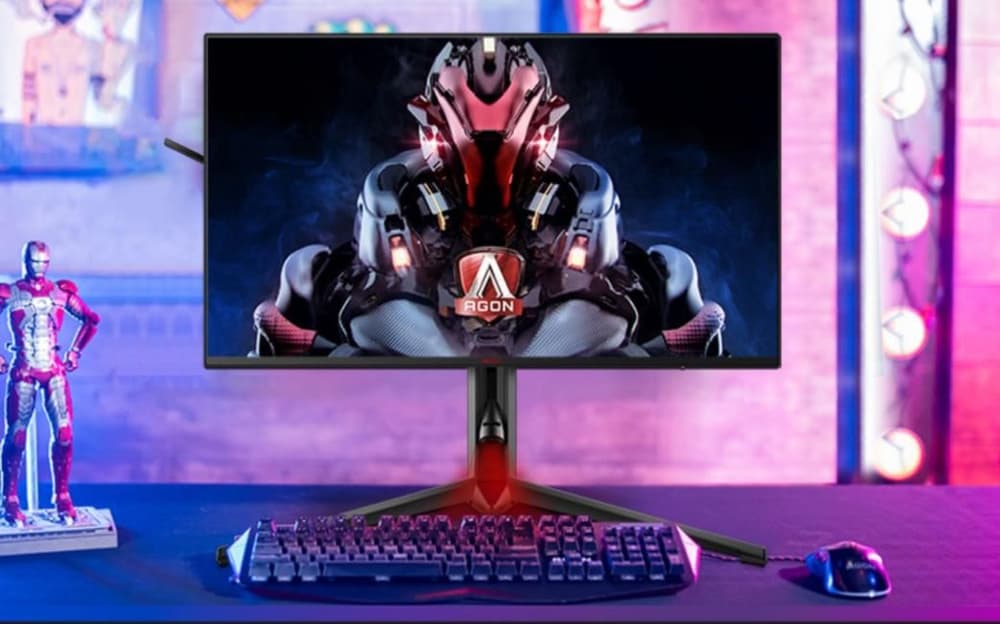 Points to Consider
The AOC AG274QZM is a testament to how VA panels have evolved over the years. Offering a blend of performance, color accuracy, and immersive design, it stands as a strong contender for those seeking a high-quality gaming monitor on a budget.
Buy Now
Final Thoughts
In conclusion, the gaming monitor market in 2023 offers a plethora of options for every type of gamer. Whether you prioritize performance, visual quality, or both, there's a 1440p 240Hz monitor out there that will meet your needs. When selecting a monitor, consider factors like panel type, adaptive sync support, and additional features to ensure you get the best gaming experience possible.