Several websites and channels are running over the Internet, which will give you health care guidance. Are you sure that what you are reading online is prescribed by real doctors? Well, most of you don't even know that real doctors do not write the online blogs or channels you find. People especially prefer going through different YouTube channels to take guidance regarding health issues. As per recent studies, almost 45% of channels are not run by real doctors. So YouTube has put some effort into limiting the misinformation regarding health spreading through fake channels.
YouTube has already put some effort into making finding a real doctor easier for users. So that users can differentiate and identify real videos that are reliable and made by only healthcare professionals who are certified. Healthcare professionals, including Wellness gurus and professional doctors, can share their videos through a panel made separately for real doctors. So that people can only get information from verified healthcare doctors. So let's see what all YouTube has brought towards your health.
What's the so-called big plan for YouTube regarding health?
From today onwards, the most extensive online video streaming app, YouTube, will let healthcare professionals apply for verification. In this, all the nurses and doctors can verify for getting showcase and label for their videos. YouTube will place it in a particular healthcare section which people can see in search results. On Thursday, the announcement regarding the verification of health professionals was made by the global head of YouTube, Dr Garth Graham. He mentioned in his blog that we are moving towards extending our efforts in health products to individuals' health care. Previously this feature was available only for organisations such as government agencies and universities. YouTube has put so many offers to rein the use of medical misinformation.
Most notably, during the pandemic, people spread much misinformation. But this time, it has come under fire for taking its time putting the issue's solutions into action. At that time, only people living in Germany and U.S.A. could get their application verified from YouTube healthcare sources. Although YouTube has promised to open the registration process to all the other countries left in the upcoming days. Most notably, countries in Asia and Europe will get a chance to register.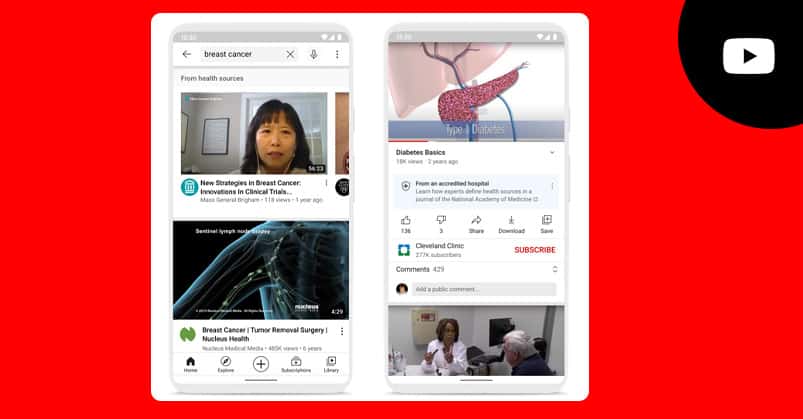 What's the status of YouTube's health source?
YouTube has recently announced that doctors and nurses can get their license to run their channels on YouTube. After this, they can sell their healthcare products online by making videos and sharing only truthful information. The feature of healthcare was previously launched, including the health source panel that will help users to identify videos from only authorised sources. Apart from this, users can also find a health content shelf highlighting videos uploaded through sources if they search for any health-related topic.
The shelf will contain all the videos related to health information so people can easily navigate online. It will also help them to evaluate the upcoming health information. Before that, only health departments, government entities, hospitals and educational institutes could use this feature. As per the new guidelines issued by YouTube, the feature of healthcare sources will be available to a wide range of healthcare professionals.
How to apply for a YouTube Health source?
Only those healthcare professionals with a degree can apply for this certificate from YouTube. You can check the guidelines below, taken from the latest YouTube announcement.
For verification, the applicant needs to have license proof.
Follow the practices for the health information given by National Academy for Medicine or WHO.
Must have a YouTube channel with good standing.
So all the people who want to register their channel must be eligible according to the above guidelines. After that, they will get a licence to apply for verification and start their channel. In 2 to 3 months, verified channels will apply for the other process and be provided with a healthcare source information panel. After that, the videos will appear in YouTube health source search results. YouTube will make a health content shelf containing all the videos from verified health professionals. People in the U.S. are already registering themselves from the 27th of October, 2022.
YouTube has promised it will soon be available for other medical specialists and marketers who provide healthcare information. Till then, only certified doctors and nurses can apply for verification.
Why did YouTube care about health?
The primary purpose of making a separate platform for healthcare professionals will be to help people be more engaged, empowered and informed towards their health. It will help people to find factual information and reliable content from professional health experts. However, one thing to note here is that only some health professionals with a license share proven, harmless and safe content. So users need to verify that the online content must be accurate and healthy. It is also ways recommended to take the help of real doctors. Additionally, advertisement agencies working with healthcare professionals must check their licensing.
Youtube bring two "New features."
To ensure that the users can find only credible information related to health. YouTube has decided to roll out new features related to health searches: health content shelves and Health information panels. In this section of the health information panel, you will find videos only from authorised sources. Only reliable and credible information surfaced on YouTube. At the same time, the health information panel will appear between the button row and video titles. People can also find medical badges of professionals. Apart from this, d video will also contain short descriptions which will appear from medical institutes and accredited hospitals.
How do the feature of YouTube source Health work?
Vidhi YouTube health information panel users can learn about the authorised videos. It helps viewers to identify videos coming from authoritative sources. Healthcare channels accredited by government entities and Health Organizations will get health labels. So that people can differentiate between accredited and non-accredited videos. It will help users evaluate the health information source and distinguish between credible health providers on YouTube.
Apart from this, YouTube has also added the feature of a health content shelf. So when you are browsing online on YouTube then, you will find only authorised source videos, highlighted by the health content shelf. Viewers have to search for any health topic, and they will find the authoritative video related to it. For instance, if you are searching for a specific health issue, such as breast cancer or heart disease. You will find a content shelf which will give you many options of videos per the relevant topics you have searched for. All the videos will come from accredited government entities and Health Organizations. This shelf's purpose is to provide separate and highlighted videos in the YouTube search bar.

What will qualify someone to be a YouTube Health Source?
As per the YouTube support page, if you are looking for the application process to get a license. You can get your license from YouTube if you are a nurse, psychologist, licensed doctor, registered nurse, and family therapist. So before making your channel, all applicants must get a license. Also, the legit script, a 3rd party app, will coordinate with the license verification process. It will work closely with license-providing bodies such as the federation of the medical board, U.S.A. Moreover, all channels should follow the monetisation policies apart from getting license verification.
Apart from this, to get the license, the applicants should contain valid public watching hours, which should be more than 2000 in the last 12 months. The main focus of the channel should be based on healthcare information. Finally, users who want to be a part of health sources should not contain any active community strikes. If you are accepted-then, it doesn't mean you will work under YouTube's health information source for the rest of your life. On the support page, you will find that channels can get reassessed periodically. So, there are chances after that you will lose access to the health feature benefits of YouTube.
Information stored by YouTube about your searches
If you wish to remove any search from your YouTube history, you can go to the data settings on YouTube. There you will find the option of deleting the search history. If you find any issue related to the health feature, you can send feedback on the official website of YouTube. Plus, if you wish to give any suggestions.
Submit feedback through the more button present in the panel
Send feedback to YouTube using the option of menu from the profile picture.
You can report it to YouTube if the health panel contains an incorrect label.
Summing up
YouTube has finally added the feature of health source information, helping users find accredited and licensed health professionals. So doctors, nurses and psychologists can verify and get the license from the official site YouTube. Although this feature is only available in Germany and U.S.A. but sometimes later it'll be available to other countries as well.