The OnePlus Watch is the brand's first-ever smartwatch, officially released and available to buy in the US and UK on April 14th, 2021. There were several leaks around the first smartwatch from Oneplus in regards to the operating system such as that it would not have Wear OS as an operating system (which is Google's Android version for a smartwatch) but instead its own, proprietary operating system.
Design, Pricing and Colors
The OnePlus Watch features a round design, simulating the look of a traditional premium watch. It has a 46 mm stainless steel body with a glossy finish and features a 2.5D curved 1.26-inch AMOLED screen which is colorful and bright enough to be used both indoors and outdoors without a problem. And with all that in mind regarding the design, it's both unisex and minimal in design, enabling you to combine it with any outfit regardless of the occasion.
The OnePlus Watch is priced at $159 and released in black and silver. There's also a cobalt special edition of the watch made out of cobalt yet to be released.
Features
Being the first wearable under the OnePlus brand name, the OnePlus Watch seeks to integrate into the life of existing OnePlus users and potential new ones by offering exactly what any other smartwatch is. But to say the least, some things are just badly executed, meaning they don't work the way they are supposed to.
However, in a nutshell, the watch does everything that any other smartwatch does. That is tracking any type of physical activity like swimming, hiking, running, cycling, tracking your sleeping (for some reason sleep data doesn't sync), counting your calorie intake, and measuring your blood oxygen levels.
Hyping the long battery life, countless features, and the available price point may have contributed to making this wearable one of the most desired options, but, to address the elephant in the room, it doesn't live up to the brand's "Never Settle" slogan.
You can receive your phone notifications on your watch and in addition answer or make calls. With its 4GB of internal space, you can crank up to 500 songs if you want to listen to your favorite tracks and music during your workouts. The smartwatch is compatible with most Bluetooth wireless headphones on the market today meaning you won't have to carry your phone during your workout sessions.
The full list of features on the OnePlus smartwatch are the following:
1.26 inches in size (46mm)
AMOLED screen at 326 ppi
4GB of RAM
402 mAh battery
fast charging
battery life up to 2 weeks
bluetooth & GPS connectivity
IP68 rating
notifications, calls & music
heart-rate monitor
blood oxygen measurement
stress detection
calorie counter
over 110 training modes
The battery is one of the standout features on the OnePlus Watch, with its 402 mAh capacity, which can give you up to two weeks of battery life. In addition, just a short five-minute charge can give you battery life for the whole day, and 20 minutes of charging provides enough battery to use for a whole week. That's one of the only things that are great on this watch. The watch can also be submerged up to 5 meters and is also IP68 certified for water and dust resistance.
If you love working out or doing any type of outdoor activities then the OnePlus watch will measure and track every workout and activity, having more than 110 different types of training, including automatic detection of running training.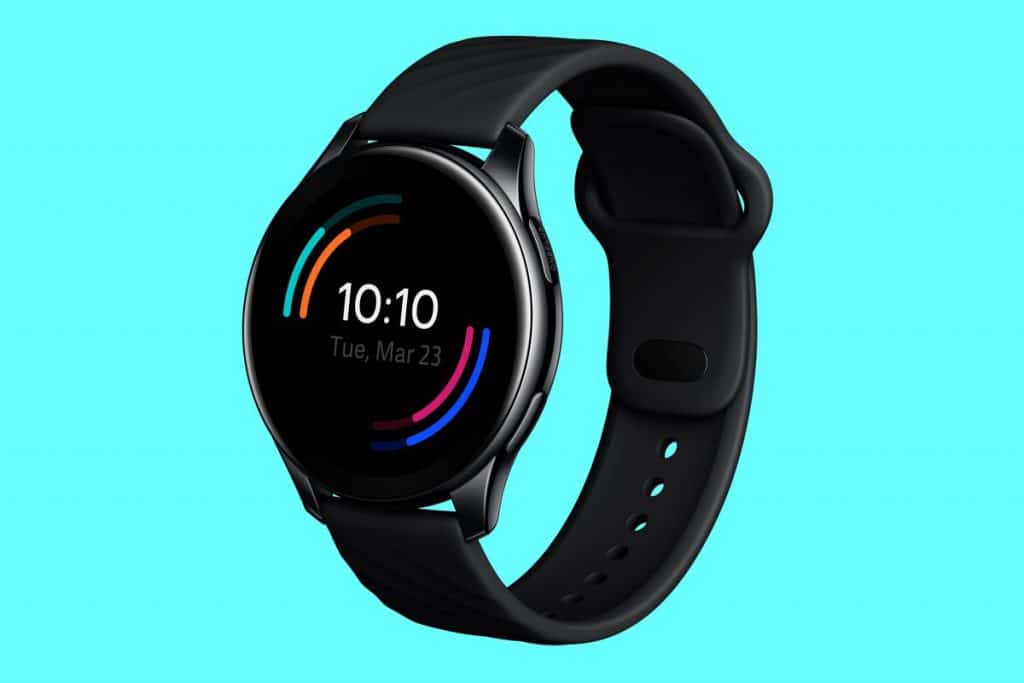 The clock is able to will monitor the most intense workouts. In addition, it will record a number of data about your activity (pulse, distance, calories, speed, and SWOLF efficiency for swimmers, blood oxygen saturation, stress detection, sedentary alerts, and rapid heart rate alerts). To track your workout and get access to your workout and activity data you will need to install the OnePlus Health app.
One of the most interesting features is that it can be connected to a branded TV. The OnePlus Watch can then act as a remote control for that TV, so you can choose the content you want to watch directly from your watch. If you receive a call, it will turn down the TV volume automatically. Also, if you fall asleep on the couch, the watch will detect it and turn off the TV automatically.
Conclusion
It might not be the best wearable out there, but it's a decent watch to have if you plan on getting into the OnePlus ecosystem that they are trying to create with the release of additional smart accessories like the smartwatch being the first one.