Meta, the most famous tech giant, has a lot to offer its customers, especially AI. Meta, the parent company of Facebook, has recently released a new AI model known as Galactica. It is specially made for scientists to write scientific papers and essays quickly. So Galactica makes scientific papers and essays that summarise a given topic with complete citations and detailed information from Wikipedia articles.
Apart from this, you can utilize it for mathematical calculations. It can perform difficult to complex calculations within a second. If you have any query related to specific molecules, then it can answer it. It helps researchers and scientists combine, store and give reasons for scientific knowledge. As per Galactica's official website, people can utilize it to look towards other literature, ask scientific queries, learn about different scientific quotes, and this can do many more things.
Although this AI software has many benefits, it failed to impress scientists. So the company has to close it down within the first three days of its release. So in this article, we will be looking towards the reason for the shutdown of Galactica.
What exactly is Galactica?
So today, we will look towards a new AI system by Meta, known as Galactica. Meta released Galactica on the 15th of November 2022, claiming that it will help in scientific research, especially those that take a long time to complete. When it was released, the head of the meta stated that the new AI model is composed of an extensive language system that can combine stores and give reasons about different scientific knowledge. In contrast to being a search engine, language models can mix up scientific knowledge. Galactica, in this way, can be utilized to uncover all the buried information, make links across different study pieces and share the revelations of scientists.
Additionally, the Galactica provides essential information based on the connection between different pieces of knowledge. It can do several things, including creating articles to respond to enquiries, literature reviews based on various scientific topics, and giving lecture notes if you choose a course. With a suitable language model, it is possible to complete everything mentioned above.
But due to backlash from many people, the matter stops the language model. But before the Galactica. Some people have tried it to generate literature reviews, wiki entries, or read research papers on different subjects. The output generated by this system is startlingly coherent. Everything given in the production was wrong. However, the writing still was filled with gravitas and confidence.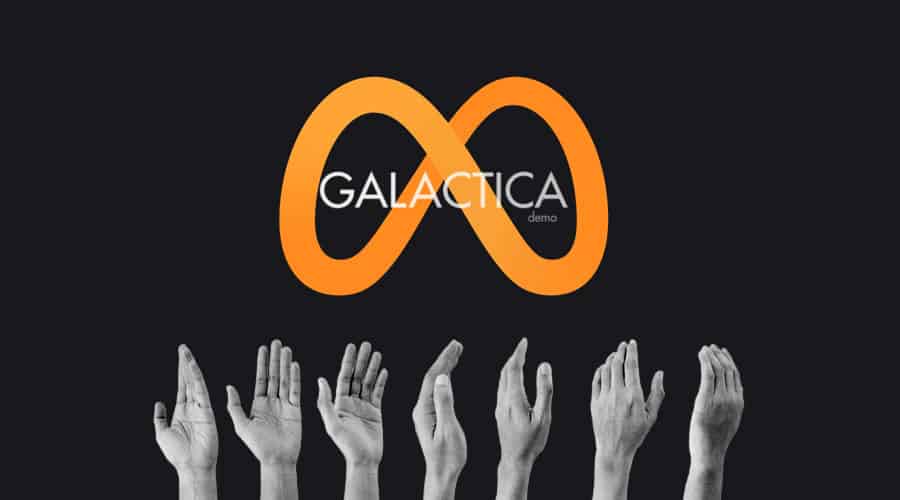 Features of Galactica AI
As we know, Galactica is an AI 2 specially designed to help scientists in their research. But it offers many benefits apart from helping in writing. Some of the fantastic features of galactic are listed below:
Predict citations
Generate molecules
Reasoning
Predict LaTeX
Generate documents
Predict protein annotations
The language model from Meta consists of more than 360 Million citations and references of around 50 million. Galactica contains information that is standardized from multiple sources. It will allow you to see the citation included and locate the relevant literature. Galactica AI system has various sources. Some of the areas are listed below:
Machine learning
Science
Math
Computer science
Biology
Physics
Why did the Galactica AI language model didn't last for long?
As per the report by CNET, Meta company released the demo version of Galactica on the 15th of November, which was on Tuesday. Galactica is known for being one of the largest AI systems ever created. The large model of Galactica is used to summarise and read many messages and to predict future words while writing a sentence. Most importantly, they are used to writing a paragraph. There are many AI systems that are available for writing. For example, Open AI's GPT-3 is known for writing the entire article, which sounds convincing to humans.
As compared to the other large models, the Galactica is designed for scientific purposes. But when people utilized it, scientists found it biased and toxic. Although it performed many of the tasks better than the other large models still, it could be better. One of the famous biology professors, Carl Bergstrom, who works at Washington University, studies the whole mechanism of Galactica and how the information flows through it. And he called Galactica the random bullshit generator. Carl also stated that Galactica has no motive and can only recognize strings and words, producing information that sounds a bit convincing and authoritative.
Still, most of the time, it's not correct. It is the primary concern, which is why Meta must pull down the Galactica.
Summing Up
Galactica is an AI system that Meta created to write a research paper. It didn't last for more than three days as it could not fully satisfy the scientists' needs. But it does not mean that it will not come back again. Meta pulled it back to reexamine and evaluate the AI system and produce better results.