In the era of digitalization, smartwatches have become an essential gadget, offering a blend of smartphone capabilities with the convenience of a wristwatch. Slim smartwatches, in particular, have gained popularity due to their lightweight and thin design, making them comfortable for extended wear. They come equipped with a touchscreen display, enabling users to access various apps, make calls, receive notifications, track fitness goals, control home devices, and send text messages. Some models even offer GPS tracking, contactless payment, and voice control. This article presents a detailed review of the top slim smartwatches available in the market today.
Pebble Time Round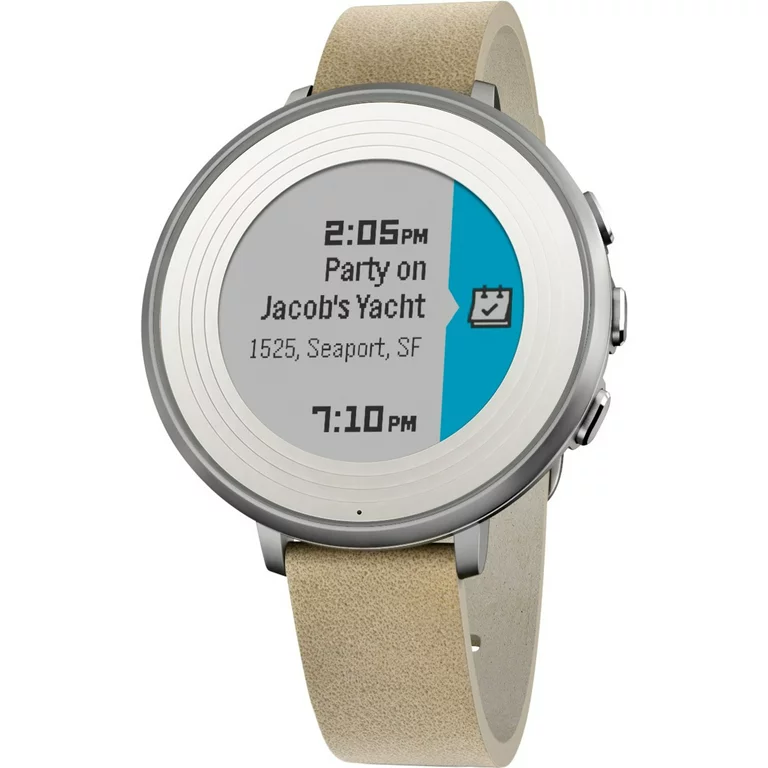 The Pebble Time Round stands as a beacon of innovation in the smartwatch landscape. As one of Pebble's signature creations, this watch seamlessly marries style with functionality. Its reputation? A game-changer in the world of wearable technology.
Features
Thickness: Dive into the world of slim smartwatches, and you'll find the Pebble Time Round leading the pack. Measuring a mere 7.5mm, this watch challenges conventional design norms, setting a new standard for sleekness.
Display: Now, let's talk visuals. The Pebble Time Round showcases a 1.25-inch e-paper display. What does this mean for you? Crystal clear readability, even under the blazing sun. Moreover, its energy-efficient design ensures minimal battery drain, allowing you to stay connected longer.
Battery: Speaking of power, the Pebble Time Round doesn't disappoint. Despite its svelte profile, this watch promises a robust battery life of up to 2 days. So, whether you're heading to a weekend getaway or a business conference, your watch remains a reliable companion.
Compatibility: Here's the best part. The Pebble Time Round isn't picky about its partners. Whether you're team Android or team iOS, this watch integrates effortlessly, ensuring you stay connected across devices.
Fitness and Watch Functions: While the Pebble Time Round might not boast the extensive fitness capabilities of some of its competitors, it covers the essentials. From tracking your daily steps to monitoring your sleep patterns, it's got you covered. Plus, its user-friendly interface ensures you have all the information you need, right at your fingertips.
Pros and Cons
| Pros | Cons |
| --- | --- |
| Ultra-sleek design | Might lack some advanced fitness features |
| Impressive 2-day battery life | Relies on a proprietary charger |
| Seamless compatibility across platforms | Not designed for underwater adventures |
Points to Consider
So, why does the Pebble Time Round hold a special place in our hearts? Firstly, its design. Elegant, sleek, and modern, it's a watch that complements every outfit. Secondly, its user-friendly interface ensures that even if you're new to the world of smartwatches, you'll feel right at home. Lastly, its compatibility. In a world where brand loyalty is paramount, the Pebble Time Round bridges the gap, ensuring you stay connected, no matter your device preference.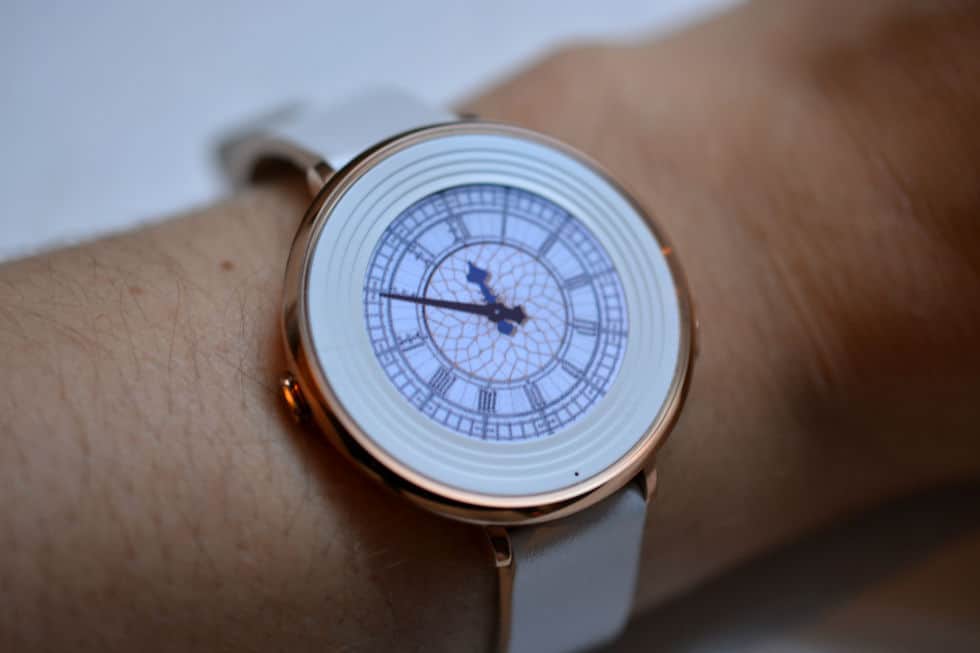 Buy Now
Apple Watch Series 8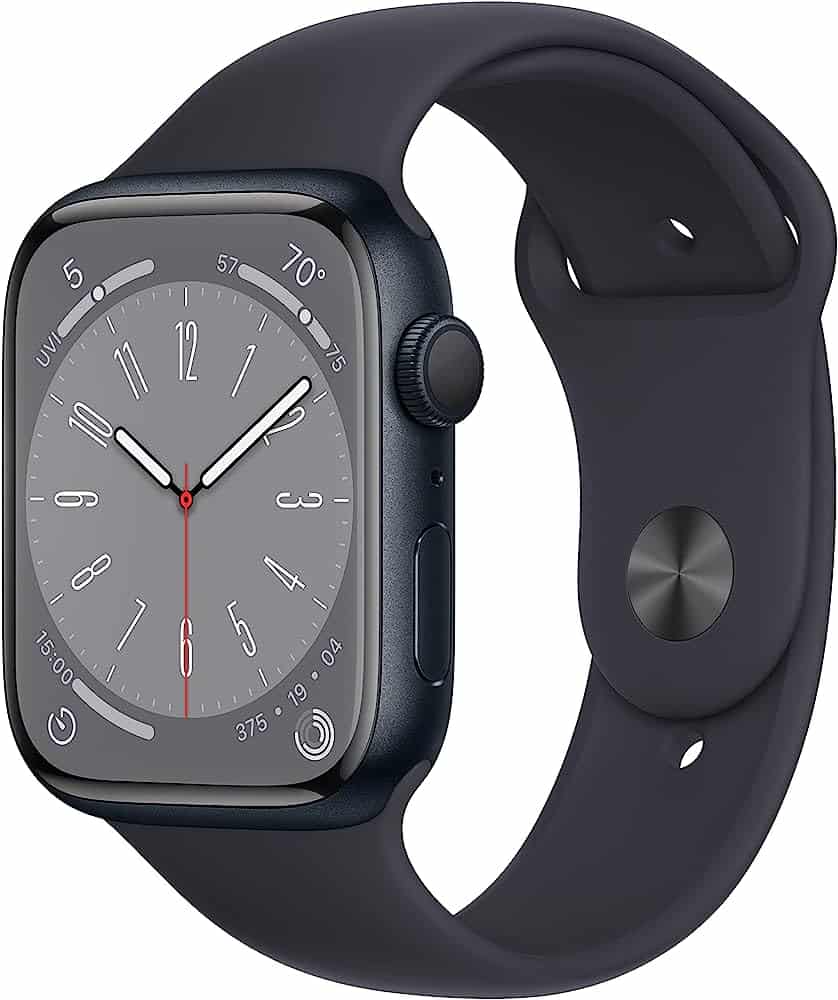 The Apple Watch Series 8 stands as a beacon of innovation in the realm of smartwatches. Apple, with its unwavering commitment to excellence, has crafted this watch to be both a style statement and a technological marvel. Every iteration of the Apple Watch brings with it a promise of enhanced features and the Series 8 delivers on this promise spectacularly.
Features
Thickness: Apple never compromises on aesthetics. The Series 8, while exuding elegance, maintains a slim profile. The exact dimensions subtly vary based on the chosen model, but each one showcases Apple's dedication to sleek design.
Display: Apple equips the Series 8 with a Retina LTPO OLED display. This isn't just a screen; it's a visual experience. Every image pops, every text appears sharp, and the responsiveness is unparalleled. Whether you're glancing at your fitness metrics or checking an urgent notification, the display ensures clarity and vibrancy.
Battery: Apple understands the importance of longevity. The Series 8 offers up to 18 hours of battery life. This duration, of course, hinges on individual usage patterns. Whether you're making calls, tracking workouts, or simply checking the time, the Series 8 consistently delivers power-packed performance.
Compatibility: The Series 8 seamlessly integrates with the iOS ecosystem. It's more than just a watch; it's an extension of your iPhone. Every app, every notification, every call – the Series 8 brings the world of iOS to your wrist.
Fitness and Watch Functions: Health and fitness take center stage with the Series 8. From monitoring your heart rate to tracking your blood oxygen levels, this watch is a health enthusiast's dream. The comprehensive workout tracking system ensures that whether you're running, swimming, or practicing yoga, the Series 8 captures every move.
Pros and Cons
| Pros | Cons |
| --- | --- |
| Advanced health and fitness metrics | Designed exclusively for iOS |
| Vibrant Retina display | Premium pricing |
| Seamless integration with the Apple ecosystem | Battery duration can vary with intensive use |
Points to Consider
The Apple Watch Series 8 isn't just a product; it's an experience. Its health-centric features combined with the robust iOS integration make it a must-have for anyone invested in the Apple ecosystem. The watch's design, functionality, and performance set it apart. It's not just about telling time; it's about enhancing life, one tick at a time.
Buy Now
Garmin Vivomove Sport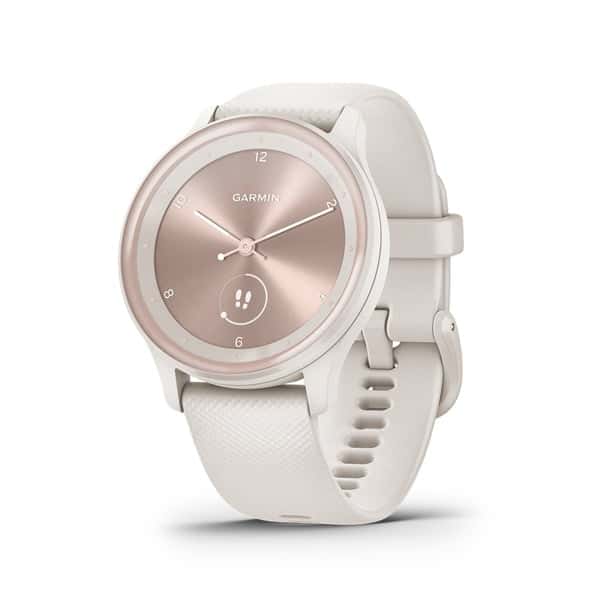 The Garmin Vivomove Sport is a hybrid smartwatch that seamlessly merges the classic aesthetics of an analog watch with the advanced functionalities of a modern smartwatch. Designed for those who appreciate the timeless appeal of traditional watches but don't want to miss out on the benefits of smart features, the Vivomove Sport is a testament to Garmin's commitment to innovation and style.
Features
Thickness and Design: While the exact thickness isn't explicitly mentioned, the Vivomove Sport is crafted with a focus on sleekness and elegance. It boasts metallic colored accents, giving it a premium feel. The lightweight design, combined with a comfortable silicone band, ensures it's suitable for both work and leisure. Moreover, it's compatible with industry-standard 20 mm quick-release bands, allowing for customization.
Display: One of the standout features of the Vivomove Sport is its hidden touchscreen display. This innovative design ensures the watch retains its classic look, with the display only lighting up when interacted with. The hands of the watch dynamically move away when you interact with the touchscreen, offering a blend of tradition and modernity.
Battery: The Vivomove Sport doesn't compromise on battery life. It offers up to 5 days in smartwatch mode and can function an additional day as a traditional analog watch.
Compatibility: Designed to be versatile, the Vivomove Sport pairs seamlessly with both Android and iOS devices.
Fitness and Watch Functions: The watch is equipped with a plethora of health and wellness features. It monitors your body's energy levels throughout the day, samples your heart rate constantly, and even has a Pulse Ox sensor to check blood oxygen saturation. Additionally, it tracks stress levels, offers mindful breathing exercises, and provides advanced sleep monitoring, breaking down light, deep, and REM sleep stages. On the fitness front, it comes with connected GPS for accurate tracking during outdoor activities, preloaded sports apps, and general fitness tracking capabilities.
Pros and Cons
| Pros | Cons |
| --- | --- |
| Hybrid design with hidden touchscreen | Limited advanced smart features |
| Comprehensive health and wellness tracking | Pulse Ox not available in all countries |
| Up to 5 days of battery life | Requires pairing with a smartphone for some features |
| Lightweight with customizable bands | Price point may be a consideration for some |
Points to Consider
The Garmin Vivomove Sport is a perfect blend of tradition and technology. Its unique hidden display ensures that it stands out in a crowd, while the extensive health and wellness features make it a valuable companion for those looking to monitor their well-being. Whether you're heading to a business meeting or going for a jog, the Vivomove Sport is designed to be your reliable partner.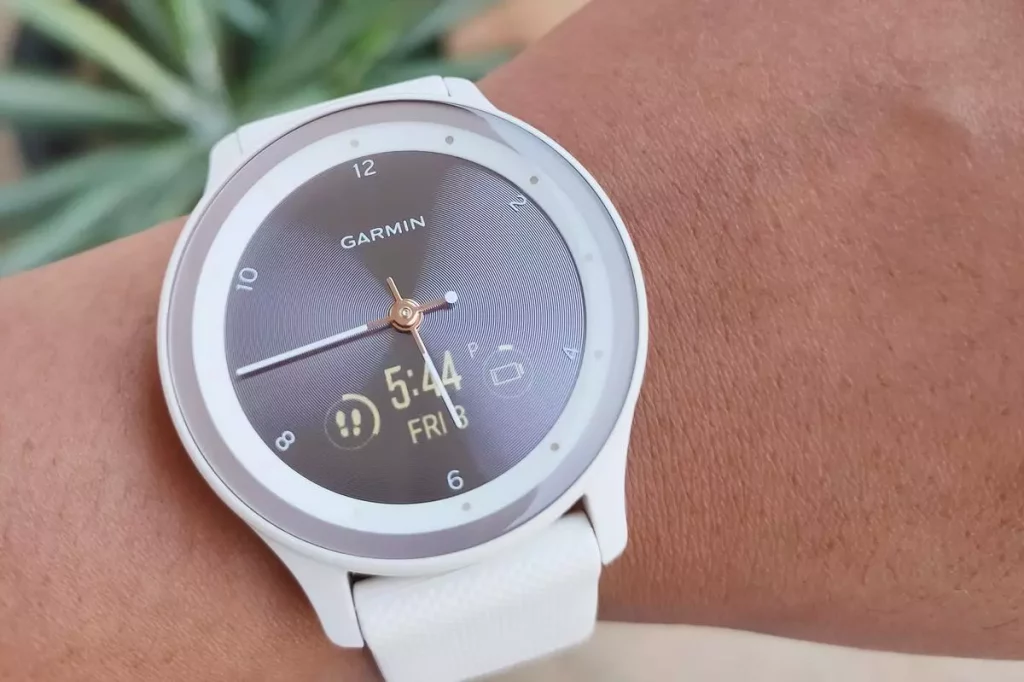 Buy Now
LG Watch Style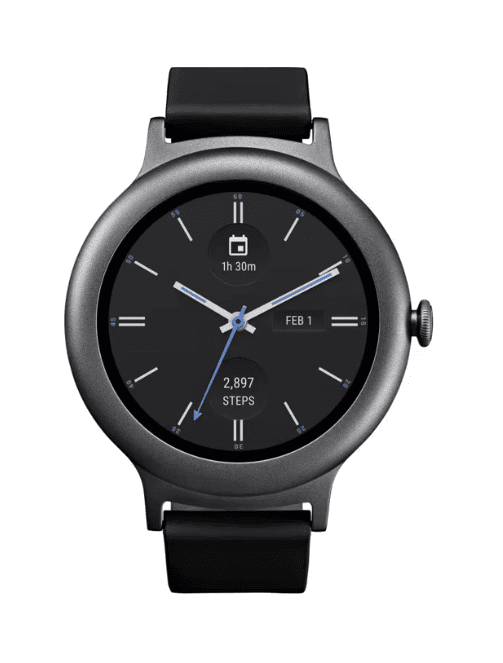 The LG Watch Style stands out as a sleek and sophisticated smartwatch, designed in collaboration with Google. Its design is not only aesthetically pleasing but also ensures that wearers enjoy a comfortable experience throughout the day. The watch's slim profile, combined with its feature-rich capabilities, makes it a top contender in the world of smartwatches.
Features
Thickness: With a thickness of just 10.8mm, the LG Watch Style boasts a slim design that doesn't compromise on its feature set. This thin profile ensures that the watch sits comfortably on the wrist, making it ideal for extended wear.
Display: The watch is equipped with a 1.2-inch P-OLED display that offers vibrant colors and sharp visuals. This ensures that all your notifications, apps, and other functionalities are easily readable, even in bright outdoor conditions.
Battery: While the exact battery life can vary based on usage, the LG Watch Style is designed to last through your day. However, it's worth noting that continuous use of certain features might require more frequent charging.
Compatibility: One of the standout features of the LG Watch Style is its compatibility with both Android and iOS devices. This means that regardless of your smartphone choice, you can seamlessly integrate and enjoy the features of this smartwatch.
Fitness And Watch Functions: Running on WearOS 2.0, the LG Watch Style offers a plethora of features. From voice-activated Google Assistant to a fully functional Play Store, users have access to a wide range of apps and functionalities. Fitness enthusiasts can benefit from the built-in fitness tracking capabilities, ensuring they stay on top of their health goals.
Pros and Cons
| Pros | Cons |
| --- | --- |
| Dust and water-resistant | No GPS or Google Pay |
| Compatible with both Android and iOS | Battery life can be improved |
| Integrated Play Store offers a range of apps | |
| Stylish design paired with a budget-friendly price | |
Points to Consider
The LG Watch Style stands out due to its versatility, seamlessly integrating with both Android and iOS platforms. Its slim and sophisticated design ensures it's not only a tech accessory but also a fashionable one, suitable for various occasions. Powered by WearOS 2.0, it offers a rich array of features and apps, enhancing the user experience.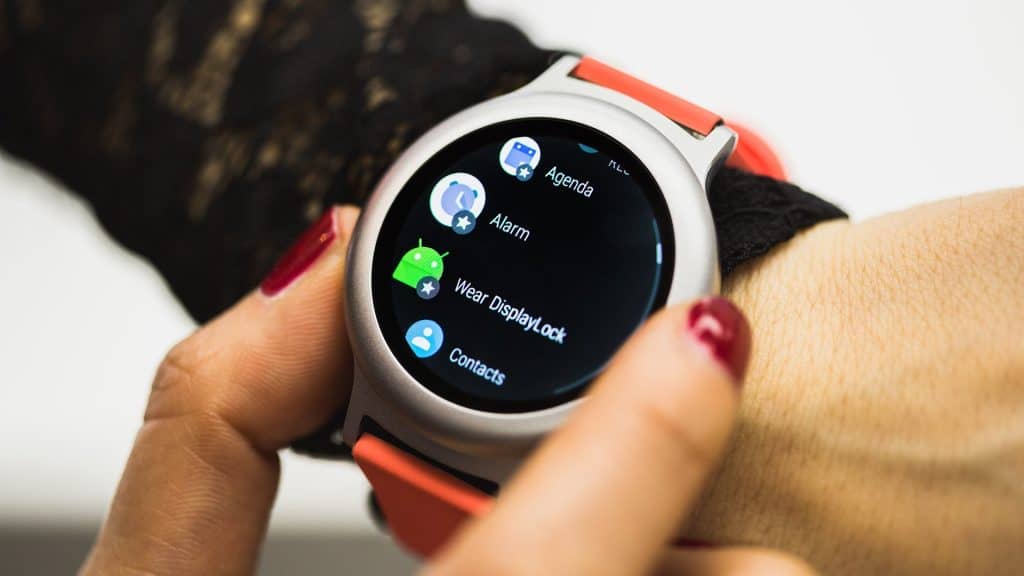 Buy Now
Motorola Moto 360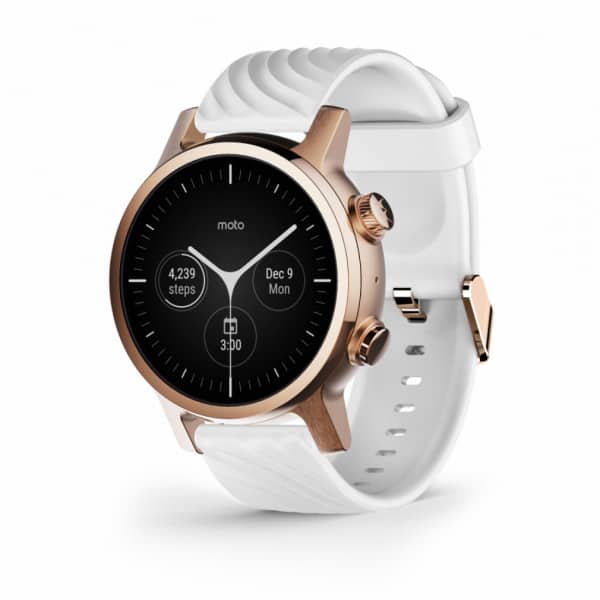 The Motorola Moto 360, first introduced in 2014, marked a significant shift in the smartwatch industry. It was one of the pioneering watches to embrace a circular design, setting it apart from the square or rectangular designs that were prevalent at the time. This watch seamlessly combines aesthetics with functionality, making it a top choice for tech enthusiasts and fashion-forward individuals alike.
Features
Thickness: With a thickness of 11.4mm, the Moto 360 strikes a balance between sleekness and the space needed to house its advanced features. This design ensures that the watch remains comfortable on the wrist while still looking modern and stylish.
Display: The Moto 360 boasts a circular display that complements its overall design. This display is not just about aesthetics; it provides users with an intuitive interface that's easy to navigate, ensuring that all the watch's features are just a tap or swipe away.
Battery: While the exact battery life can vary based on usage, the Moto 360 is designed to last throughout the day. This ensures that users can take advantage of all its features without constantly worrying about recharging.
Compatibility: The Moto 360 is versatile in terms of compatibility. It can sync with various devices, enhancing its functionality and ensuring that users remain connected, whether they're using an Android device or another platform.
Fitness And Watch Functions: Beyond telling time, the Moto 360 offers a range of fitness and watch functions. It can track steps, monitor physical activity, and even offer insights into health metrics. Additionally, with Google voice Assistant integration, users can perform tasks hands-free, making it a truly smart companion for the modern individual.
Pros and Cons
| Pros | Cons |
| --- | --- |
| Always-on display | Short battery life |
| Comes with multiple replaceable straps | Limited advanced fitness features |
| Supports wireless charging | An older model in a fast-evolving market |
Points to Consider
The Motorola Moto 360 is not just a timepiece but a blend of style and technology. Its distinct circular design sets it apart, offering both functionality and a fashion-forward look suitable for various occasions. The watch's versatility is further highlighted by its replaceable bands, allowing users to tailor its appearance to their preferences.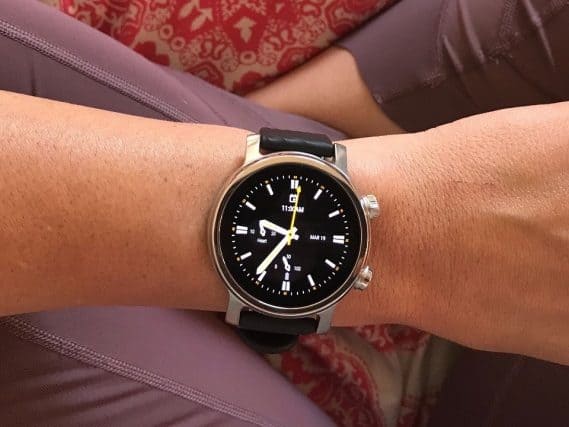 Buy Now
Conclusion
Choosing the right slim smartwatch depends on your specific needs and preferences. Whether you prioritize a sleek design, long battery life, or a host of fitness tracking features, there's a slim smartwatch out there for you. Remember to consider the watch's compatibility with your smartphone, its durability, and its comfort on your wrist. With the right slim smartwatch, you can maximize your mobility while staying connected and tracking your health and fitness goals.