Most of us are only familiar with normal SIM cards we insert into the phone ourselves. So if we change the phone, we need to pop out the old SIM card and insert it back into the new phone. With the introduction of e-SIM cards, traditional SIM cards will be completely replaced shortly. While it won't be happening in 2022, there are still chances that after 2025 the east SIM cards will dominate the technological market.
For example, Apple and Android 13 will only support those smartphones with e-SIM card slots. eSIM cards are already embedded in phones and are much more convenient to use as they won't get lost easily. Although the SIM card has multiple benefits, it has not gained the clear attention of tech giants. So we will see how the e-SIM card will revolutionise the world of smartphones.
What is an eSIM?
The latest technological trend that promotes the ideas of worldwide connectivity and unifying transitions is called eSIM. The traditional SIM cards, made up of plastic and present in tablets and smartphones, will be getting replaced soon by the e-SIM. SIM cards play a major role in mobile phones and have also been a substantial part of the global market. The e-SIM will be a new trend and influence the market at a very high rate. However, most of you won't be familiar with the term e-SIM.
One of the biggest smartphone companies, Apple, has decided to start manufacturing embedded SIM cards in its new iPhones. In iPhone 16, we will probably see e-SIM card slots. The reason for using this SIM card is that you won't have to purchase another SIM card again, and there is no problem in inserting the SIM card again and again. Thus, it becomes essential to understand these e-SIM cards and how they work.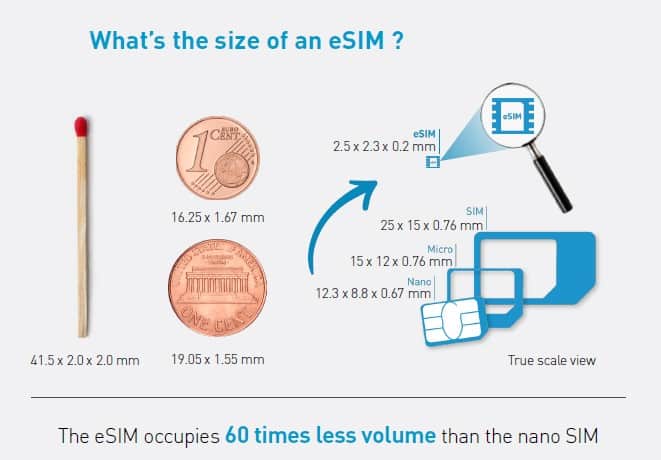 How does the e-SIM card work?
As the name indicates, the e-SIM cards Have the following features:
Cannot be removed
Embedded in the smartphone
Writable
Work precisely
Compatible with leading carriers
The manufacturer of this SIM card model inserts them directly into the motherboard of the smartphone or the tablet so that people won't have to worry about the physical insertion of the SIM cards in smartphones. At the time, not all smartphones typically had eSIMs. But the interest for them is consistently rising. Many big smartphone companies such as Samsung, Google, Huawei and Apple have decided to adopt e-SIM cards in their products. But surprisingly, there is no clear evidence of when it will start manufacturing. But people might be surprised to know what features the new e-SIM card offers.
What all devices does the e-SIM card support?
E-SIM cards are available for various products, including computers, headphones and smartphones. Most commonly, they will be used in smartphones. Apart from these, various other devices also contain a SIM card, such as:
Smart meters
Home automation
IoT devices
Security system
Connected cars
These are some of the devices on which the e-SIM card is supported. Other than that, many other devices will be used in smartwatches shortly.
What is the reason for the popularity of e-SIM cards?
The rise in the adoption of e-SIM cards, especially in 2021, impacted the global infrastructure and will be implemented by all countries. As of 2022, it has been said that e-SIM cards are increasingly utilised by tier one and two carriers. One of the major industries is TCA, also known as the trusted connectivity alliance, which has invested a lot in the e-SIM subscription management platform.
This platform is going to provide remote management and provisioning of newly developed e-SIM. Apart from this, the investors and the operators have started managing and activating the e-SIM cards for customer connectivity and authentication.
Advantages of employing e-SIM card over traditional SIM cards
There are three main advantages of using the e-SIM card. These includes:
Best utilised for commuting purposes
If you are using SIM cards inserted, you must purchase the local card when commuting to communicate with others on the smartphone. Also, if you are going out of the country, you might have to purchase a new card with a new number. But with the introduction of e-SIM cards, you can easily commute without any problem with networking. Also, while going outside, you can easily purchase the e-SIM card within a few hours. It is cheaper than the traditional SIM card.
No chance of damage and losing
One of the greatest advantages of employing this card in your smartphone is that it cannot wear out easily, just like the traditional SIM cards which can wear out. Also, the traditional SIM card must be replaced and repaired if damaged. Apart from this, one major problem with the usage of traditional SIM cards is that there are chances that you might lose them. If you lose the SIM card, you might have to lose all your contacts and also, there are chances of a data leak. Thus it's not safe to use traditional SIM cards.
So the major advantage of using the e-SIM card over a traditional SIM card is that it is embedded inside the smartphone's Motherboard. Apart from this, it is easy to plug and unplug the e-SIM card.
It can easily locate phones.
One of the biggest threats is the smartphone's security in the information contained inside the SIM cards. Many times people do not set the geo-location or the locator. This is why If you lose the phone, you want to be able to trace it easily. This is especially for iPhone users who have this feature on their phones. But to eliminate this problem, e-SIM cards can be used as these are directly embedded in the smartphone, so they cannot be removed. So, it becomes very easy to track down your smartphone using the e-SIM card.
Why are e-SIM cards not yet commonplace?
According to a recent study in the United States of America, there is a low consumer market for e-SIM cards. This is because of the lack of awareness about embedded SIM cards. Merely only 17% of the people in America know about e-SIM cards. And in the countries like Canada and UK, it is even lower. This is because people are not fully aware of the advantages that the e-SIM card has to offer, and also, it is not easy for everyone to replace their phone with an e-SIM card.
It isn't easy to market a SIM card!
As per the report by the media of the U.S, it has been stated that nearly 3.4 billion Devices will have e-SIM cards by the end of the year 2025. And it has also been stated that about 1.2 billion smartphones already have embedded SIM cards. However, because of the consumer's lack of awareness, the e-SIM card rate is still low. But for people who used to commute frequently, an e-card is the best choice for them.
After initial setup, most smartphone users keep their phones for 2 – 3 years before needing to switch SIM cards. There isn't enough of an incentive for smartphone owners to eliminate the use of plastic SIM.
Final verdict
There is no surprise in knowing that the market of e SIM card is increasing day by day because of the advantages that it offers. But due to a lack of awareness, the SIM card market value is still low. Many big companies such as Apple, Samsung and Huawei are preparing to use the e-SIM card in their new smartphone models. You can go outside and update the timepiece or other device if it accepts an e-SIM card and you have a connectivity package that provides it with data. They are easy to use and adaptable.