I'm sure you have all noticed by now that our front page has been covered all over with Google Chrome Headlines. Well I must confess, Google's mind-boggling game blew our "geeky" brain cells away. Three days after the release of Google Chrome I noticed that all we talk and write about is Google's new Browser. But then from what I saw on digg's front pages it was a relief. We are not alone, Digg's front pages are all covered with titles about Google Chrome too.
And here are the statistics about the browser usage of our visitor of the second and third day after the Chrome's release. Notice how close it is to IE's precentage :)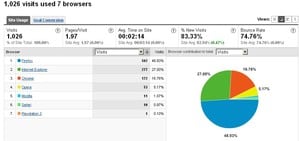 I guess Google Chrome is taking over casual internet users much faster than we orginally thought. Watch out IE here comes Chrome!