Appearance
The looks of the Dell N5010 Inspiron is just as the name suggests, inspiring. Our model has a light blue color on it's lid in a brushed metal style with the dell logo on the center. Simple and sleek design, yet still very fresh for the everyday casual user. It should also come in other color variants, but we like ours, light blue.
Inside design continues with the same style, sleek and fun. Same brushed finish on the palm rest area, but here it is grayish and aluminum. The camera on the top it's almost indistinguishable which looks good, a rounded power button which get's lighten up while working, and with the three led lights in the front/right, it is the only nice light detail. There is a orange logo an text right below the monitor, a "SRS Premium Sound" logo, which may be too much for some, but somehow it does fit the fun and entertaining design along with the little orange signs on the F# keys. The 15.6 WXGA screen is a 1366×768 resolution, which seems to be a standard for this class, although the ATI Mobility Radeon HD 5650 can power up much better resolution.
Keyboard & Touchpad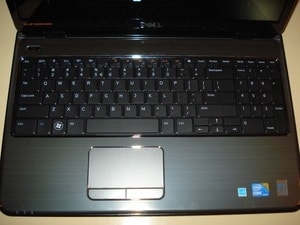 The keyboard, as on most Dell Inspiron models, feels right and tight, the layout is stanar, with a big ctrl, enter and even a backspace button. A numpad included certainly. Even though it looks like there is a space between the keys at first this keyboard is not chiclet like today's notebook standards. Dell did a great job by reversing the functions on the F buttons. Notice how the standard F numbers are marked with blue and there are white marks of a battery, wi-fi and even orange ones of a volume/mute speakers etc. Which means if you want the F1,F2.. commands you have to hold the Fn key right next to Ctrl, because the primary function of those buttons is replaced with other more useful stuff like a wireless switch, brightness level, volume and so on. This proves again that the Dell Inspiron N5010 is targeted more or the casual user who doesn't use the original F keys much.
The touchpad is normal size or maybe let's say a bit small for some. Two big buttons, and it is placed right along the center of the qwerty keyboard. The material it is made from is plastic and to be frank it is not the best touchpad I have used. Actually it felt a bit sluggish and not very precise. I hope with some tweaking one can adjust it to his own needs, but adjusting gets out of the "targeted for the casual family guy" idea now does it?