If you are looking for the best laptops for video editing under 500 dollars, then it's safe to say, look no further! We got you covered!
Besides having the technical skills to use a video editing software like Adobe Premiere Pro or Final Cut Pro X, you need but an adequate piece of equipment too. And, for video editing, a capable laptop is one of the basic tools you need to buy.
Since video editing is quite demanding, it requires having a high-end hardware configuration. But not everyone can afford that top-of-the-class laptop featuring the latest GPU, CPU, and 1 TB of solid-state-drive.
That's where we come into play. With our list of the 5 best laptops for video editing under $500, we want to help you get the best out of your limited budget. That way you can find a video editing laptop that will get the job done and won't struggle (significantly) on more demanding tasks and edits.
A quick preview of our list of 5 best laptops for video editing under $500:
ASUS VivoBook 15
Lenovo Ideapad 3
Dell Inspiron 15 3000 (2020)
Acer Aspire 5 (2020)
HP 14-dq2097nr
It's a well known fact that video editing often is very taxing on a laptop, especially when processing longer high-res videos. So, having said that, processing power is one of the crucial aspects of a decent video editing laptop.
Now, follow up with this article, and let's get you started with our buying guide for the best laptops for video editing under $500.
Video Editing: Laptop vs Desktop
Opposite to some very light tasks like doing web research, working on a word document, or writing an email that don't require much computing power, video editing is known to be very demanding on the hardware. So, in that regard, doing creative work with a laptop whose hardware can't match the video editing software's demands, is very hard.
Now, depending on whether you prefer to be mobile instead of being tied to a spot, a laptop will be a better choice. On the other hand, you can't upgrade a laptop as easily as a desktop because there are parts you can't remove and replace.
Laptops are a good choice for video editing and work overall if you:
prefer mobility and flexibility over a fixed workplace
need a compact lightweight portable device you can take everywhere
tend to work outside of your home from time to time
prefer ease of use and don't understand computer hardware that much
A desktop configuration is an especially good choice if you:
understand computer hardware and want a custom build for multiple purposes besides video editing
prefer having multiple internal drives for storage
prefer to have options when upgrading or repairing your configuration
But what both desktop and laptop have as a common ground is that it's difficult to find a good laptop or desktop configuration for under $500 for video editing. It's important to know that editing QHD, 4k, and 8k videos may become pretty challenging with a $500 laptop device.
But, lucky for you, difficult, doesn't mean impossible. That's where our list of the best laptops for video editing under $500 comes in. The thing is, you don't always have to go for the highest-end configuration just so you can do video editing.
It's true, video editing may require a little more processing power from the CPU and GPU, but let's try and find the right balance between power and price.
Best Laptops for Video Editing under $500
We already know this: video editing software needs to be coupled with powerful hardware in order to carry out the heavy tasks successfully.
As we already said you don't have to pour out thousands of dollars into getting that laptop with the latest cpu and gpu and 32 gigs of RAM or 1TB of SSD storage. No, just no.
A $500 video editing laptop might be the best bet here for anyone struggling with a budget or just starting out with video editing, wanting to test the waters.
A $500 is a very justifiable price for a video editing laptop since you'll probably buy a few extra accessories along the way like a laptop stand, cooling pad, a wireless mouse, a wifi router or an extender, and more. So, in the end, you have a full working setup worth well over $600.
So, at the end of the day, what's most important is getting a decent laptop with decent battery life, and just enough processing power to get the job done.
In that regard, we have this short but quality list of five awesome affordable laptops to help you find the best one for video editing under $500.
1. ASUS VivoBook 15
This is one solid video editing laptop when considering our price-point of $500 dollars. It has some nice specs which are not top-of-the-line, understandably, but will get the job done.
The Asus VivoBook 15 sports a pretty slick look, with an almost bezel-less screen and a modern design that will appeal to everyone. It's very comfortable for long-term use due to the Ergolift which adds a tilt of 3 full degrees to benefit improved hand placement, cooling, and much better acoustics.
When it comes to the specs, The Asus Vivobook can stand its own ground. It's a laptop device that offers you a capable Intel i3 10th gen processor with a working frequency of up to 3.4Ghz. Meaning, the i3 CPU can handle video processing, with the occasional cough and struggle.
Now, what we are more interested in is the video card. Graphics are also an important part of hassle-free video editing. A decent and capable graphics card can help you process videos quickly. With integrated Intel UHD graphics, the Vivobook 15 is going to struggle at the intensive parts during video editing.
But there's not much you can do except increase your budget of $500. In this price category, more often than not, you'll see that laptops seldom come with a dedicated GPU.
You get 8GB of RAM which is pretty decent for the price range considering that most laptops for video editing under $500 are with 4GBs of RAM.
The display is a standard 1920 x 1080 Full HD at 15.6 inches and for what matters, it looks pretty color-accurate and you won't have problems when color-grading your videos.
The storage consists of a 128 GB NVMe M.2 SSD. It's directly attached to the motherboard and it runs a pre-installed Windows 10 meaning you can start using it as soon as you get it out of the box.
You also have the pretty much standard ports you'd expect on a budget laptop under $500 like the usb 3.2 and HDMI with the exception of thunderbolt.
Pros:
1920 x 1080 FULL HD Display with thin bezels
Intel Processor
8GBs of RAM
NVMe M.2 SSD
Cons:
Only 128 GB of storage
Integrated video graphics
No Thunderbolt 3 port
Average battery life of up to 8 hours
Why you should buy it:
Despite the small internal storage space of only 128 GBs and no dedicated graphics, the Asus Vivobook 15 is a reasonable and worthy buy for anyone looking for a video editing laptop under $500.
2. Lenovo Ideapad 3
The next budget-friendly video editing laptop on our list is the Lenovo Ideapad 3. Given the limit we have in terms of budget for our video editing laptops list, at $479 on Amazon, the Lenovo Ideapad 3 is a steal.
Might as well be the best option so far for the price. With that said, let's have a deeper look into the performance and design aspects of this device.
If you haven't used a Lenovo laptop so far, I'd say that you can always expect to find a laptop that meets performance and modern aesthetics at a pretty reasonable price, like the Ideapad 3. The deep blue color of the Ideapad 3 kind of distinguishes the model in price and performance category from other models. There's a nice matte finish to it.
The display is a colorful 14″ full HD 1920 x 1080 resolution and it will definitely help you in color-correction or any other video processes.
Performance-wise the Ideapad 3 is a fantastic choice for the price of $475 currently on Amazon.
It has the Ryzen 5 3500U processor clocking up to a maximum of 3.8Ghz along with the integrated AMD Vega 8 Graphics which will definitely help in processing videos. The Vega 8 is miles better than Intel's UHD Graphics.
With 256 GBs of storage capacity in the form of an SSD, the Ideapad is a lot better than the Vivobook 15. The available RAM in the system is 8GB which is the minimum required for a solid performance in most video editing software.
Considering connection ports, the Ideapad 3 has two USB 3.0 ports and one USB 2.0 port and an HDMI. It also has Bluetooth 4.1 and Wi-Fi 5.
The laptop comes with pre-installed Windows 10 OS.
Pros
Capable Ryzen 5 3500U processor with clocks speed up to 3.8Ghz
Above-average integrated AMD Vega Graphics
Accurate Full HD display
8 GB of RAM offers decent performance in video editing software
256 GB SSD internal storage
Cons
A very limited array of ports
Why you should buy it:
If you are looking for a decent and affordable laptop under $500 that will help you get into video editing and perform consistently, then look no further.
It's a bang for the buck type of a deal so, we leave it up to you to decide.
3. Dell Inspiron 15 3000 (2020)
Next on our list of laptops for video editing under $500 is the newest, 2020 version of the Dell Inspiron 15 3000, a decent laptop with a Full HD 15.6 screen at 1920 x 1080 resolution.
With a current price of $459 on Amazon, we at Technoish believe that this laptop is a steal considering the RAM and storage space you get.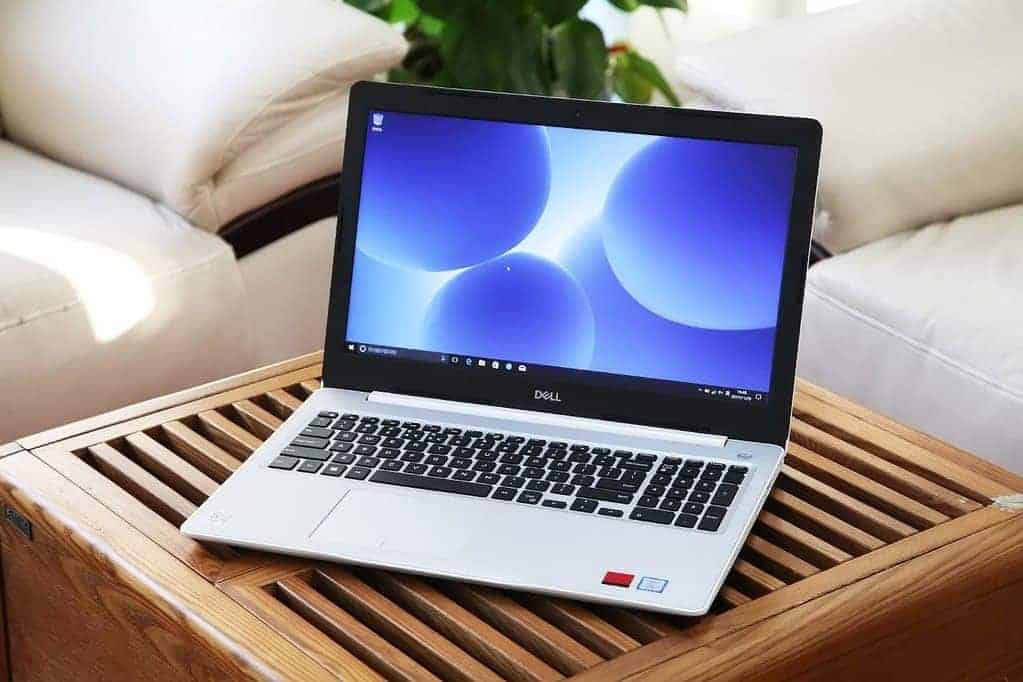 You can always opt for the $369 and $429 versions but it's not worth it when you can have a bang-for-the-buck deal at $459.
When it comes to performance, the Dell Inspiron 15 3000 will be able to meet your expectations on video editing, meaning it will handle software and will certainly struggle with some parts, as many other $500 laptops would as well.
With just enough RAM, processor power and storage space, this laptop can be your budget-friendly entry point to video editing. And in all honesty, the hardware is pretty generous for the price.
The fantastic storage space of 512 GB (SSD), the 8GBs of DDR4 RAM, and the AMD Athlon 3050U processor are a decent combo for your typical video processing software.
It's not the latest AMD processor or even a top 10 choice but then again for the price of $459 there's not much room for complaints. The device has an integrated AMD graphics so it's going to lack in the video processing department so it's safe to say that the GPU is the weakest link on the spec sheet.
The screen is 15.6 inches in size at an HD resolution (1366 x 768). It's an uninspiring display, to say the least, knowing that you need at least a Full HD to even entertain the idea of a decent screen experience in 2021.
The laptop comes with a pre-installed Windows 10 S Mode. In case you don't know, S mode is a version of Windows 10 where the operating system can only run applications downloaded from the Microsoft store as opposed to regular Windows 10 where you can download and install software from third party websites and stores.
You can expect all standard connectivity ports and network like Bluetooth, Wi-Fi, LAN port, 1 x USB 2.0 and 2 x USB 3.2 ports, a single HDMI port and 3.5mm audio jack for your headset.
Pros:
512 GB SSD capacity is rare in budget laptops under 500
8GB of RAM is a starter point for video editing
Great price on Amazon
Cons:
Underwhelming HD Display
Poor integrated graphics
The processor will struggle on more demanding tasks
Why you should buy it:
The price along with the 512 GB of SSD capacity and RAM are the selling points on this laptop. It's far from the perfect laptop for video editing but for $500 it's a viable option to get you started.
4. Acer Aspire 5 (2020)
The Acer Aspire 5 is another laptop on our list which overshoots that $500 dollar mark by $20 but it's a device worth the money since it packs solid hardware. Let's start with the specs right away.
Besides the elegant design which is clearly inspired by Apple's Mac, this laptop can provide a decent video editing experience for any enthusiasts just starting out or more experienced ones looking for a budget-friendly backup option in case they need to move around.
The newest 2020 edition of the Acer Aspire 5 is packed with a bright and vivid Full HD display at 1920 x 1080 resolution. Furthermore, it packs a solid AMD Ryzen 3200 clocking up to 3.5Mhz (which beats i5 7200 in performance), standard 8GB of RAM, Radeon Vega 3 dedicated graphics and 128 GB of SSD, and 500 GB of HDD storage.
The laptop also has a Windows 10, supports standard network technologies like Bluetooth and Wi-Fi and connection ports like one HDMI port, two USB 2.0 ports and one USB 3.0 port.
It has a backlit keyboard for extra visibility in dark rooms and a battery that can last up to 8 hours.
Pros:
128GB SSD + 500GB HDD allows boost speed and additional storage for your files
15.6″ Full HD display
A decent AMD laptop processor
8GB of RAM
Comes with a Windows 10
Decent 7-8 hours of battery life
Cons:
Lackluster integrated Vega 3 graphics
Why you should buy it:
It's a decent $500 laptop for video editing if you are looking to dip your toes and test the waters while being on a tight budget. But you will probably need a more powerful GPU and CPU both and even 16GBs of RAM if you intend to make a living out of video editing.
5. HP Laptop 14-dq2097nr
With a $520 price tag, the HP laptop 14-dq2097nr is the freshest device on our list, sporting the newest hardware from intel and providing enough performance power to get you started with video editing.
One of the factors why the price is a bit higher when compared with similarly performing laptops in the $500 price range is the HP brand name.
Now, it's save to say that every brand on our list is a well-known name but you will find that Dell and HP are the stand-outs in terms of price to performance ratio.
When talking hardware, the Intel Core i3-1115G is a new and capable processor, with a 3.0Ghz base frequency, able to clock speeds up to 4.1Ghz and stand its ground even with some intensive video editing processes.
As a stark contrast to that, we have the integrated Intel UHD graphics which is truly an underwhelming experience and a thing of great nuisance for video editors. While we're talking about underwhelming experience it's only fair to mention the HD display which is nothing but confusing to have on a laptop in 2021.
For this price range, you get the standard 8GB of RAM, but instead in a dual-channel module setup ( 2 x 4 ). The storage is a 256GB NVMe M.2 SSD meaning it's slotted on the motherboard. You'll definitely enjoy ultra-fast system and software boot but you'll have to either manage your 256GBs or get yourself an additional (possibly external) storage.
The laptop supports the newest Wi-Fi 6 and Bluetooth 5, and has the standard and newest connection ports like an SD card reader, super speed type-C (3.0), two 3.0 USB type A, one HDMI 1.4 and a headphone jack.
Pros
Brand new Intel i3-1115G processor
256 GB NVMe M.2 SSD
8GB of RAM
Cons
An underwhelming display
Low-performance integrated graphics
Why should you buy it:
In all honesty, this is a confusing laptop configuration. There are enough selling points as there are deal-breaker ones.
I mean, on one side you get a crisp Intel i3 processor that released in Q4 in 2020 with a fast, reliable NVMe M.2 SSD and on the other side you are stuck with a less than a Full HD screen and a incredibly bad Intel UHD graphics.
How to Choose The Best Laptop For Video Editing Under $500
For anyone who's not familiar with computer hardware or follows current hardware and laptop releases, choosing a laptop for a particular task might be a problem. You will either need to educate and inform yourself on the basics or call a tech-savvy friend or relative to help you make the right choice.
But, on the other side of things, choosing a laptop for video editing under $500 is not easy even for a person who's familiar with tech and computer hardware. If this is going to be your job or h
Choosing a laptop for a particular task, hobby or a profession like video editing can be hard, especially if you are not that familiar with computer hardware or follow the latest laptop models on the market.
Since video editing requires a laptop with decent processing power from the CPU and GPU and a substantial amount of internal storage, we will try to pick out some of the most important factors and what to look for when buying.
Keep an eye on these hardware components and factors if you want to get the best video editing laptop under $500:
Size
Resolution
Processor (CPU)
Graphics (GPU)
RAM (Random Access Memory)
Storage
Battery Life
Operating System
Size
The size of your laptop's display is also an important factor to consider. If you plan to work on the laptop without any aditional screens connected then it would be best if you choose a standard 15.6 " laptop screen size. If yo however plan to have a workstation with your laptop and one or two additional monitors then 13 or 14-inch laptop screen size would suffice.
Resolution
A good display is also a crucial factor. A good display helps you to see the accurate colors and identify them more rapidly. If you are in search of the best laptop for film editing then display is something that you should pay attention to.
For the purpose of video editing, we highly recommend you use a full HD resolution, but with a tight budget $500 that might become a problem.
The typical display resolution you'll most likely encounter in $500 video editing laptops are either Full HD (1920 x 1080) or HD (1366 x 768).
Processor
Buying a laptop with a decent processor should be your top priority if you are looking to get a device suitable for video editing. Any advanced software tasks and operations will be entirely dependant on your processor for carrying them out.
Most of the popular video editing sofware like Adobe Premiere or Final Cut Pro use the total working capacity of your processor for carrying out tasks like color correction, exporting, and more.
A multi-core processor is a perfect fit for video editing but for a budget of $500 you will need to make some compromises. That's why we covered the laptops with better CPU performance in comparison to other models in the same price range.
Graphics
Along with the CPU, the GPU or the graphics card is one of the essential parts to look into when considering to buy a laptop for video editing.
However, regarding our price range, a lot of the models on our list offer integrated graphics cards which should be decent enough to aid your editing without interrupting, freezing and more.
It definitely helps to have a dedicated video graphics card on a laptop and it will optimize the workload on the laptop but with video editing there's enough leeway so that enthusiasts on a tight budget can enjoy working without investing more than they are comfortable.
RAM
for most video editing programs, 4 GB RAM should do the trick, but you will have to step it up a few notches for other RAM-hungry programs. If you're going to be multitasking, meaning switching back and forth between programs, you will need more RAM to do it quickly. RAM does not speed up the laptop or make single tasks faster, but simply allows you to do more things at once.
Video Editing Softwares require a large number of RAM so that they can run faster, the least and minimum requirement for today's use is 8GB.
In this range, your device can easily run all the software required for video editing. If you find a great device with 16GB of RAM then it is even better.
Storage
Since you'll be working with big file sizes from HD or QHD videos, having enough storage is crucial. Now, here comes the dilemma between storage and speed and making a compromise, since having both on a budget laptop under $500 is a very rare thing.
Battery Life
Another important aspect when it comes to picking that budget laptop under $500, which is never an easy task. It's nice to have that reassurance in case you want to be mobile and work in a coffee shop or somewhere outdoors. Or even just
Operating System
Most video editing laptops are powered by three common operating systems – Google Chrome, Microsoft Windows, or macOS. You should choose one that you're most comfortable working with.
Useful FAQ
How much RAM do I need for video editing?
The bare minimum would be 8GB although 16GB and above are considered optimal. Realistically, you probably won't find a $500 budget laptop with more than 8GB of RAM but as long as there are free slots on the laptop motherboard, you can always upgrade.
Is SSD good for video editing?
Definitely. It will increase system and software boot speeds significantly, but you'll probably need to get an additional HDD to store the big video files from your projects.
Should I go with an Intel or AMD Processor?
They are pretty tied up in performance and both are a good choice. You can expect to find decent laptop processors depending on your budget.
What is the cheapest laptop for video editing?
If you went through our thoroughly researched list of the 5 best laptops for video editing, you will notice that is the $369 version of the Dell Inspiron 15 3000 although we recommend the $459 version model with more RAM and SSD.
Final Words
If there's one thing for sure when looking for a video editing laptop on a tight budget such as $500, it's making compromise on performance and being aware of the fact that regardless of what laptop you choose, it's going to struggle at certain tasks.
But that's not us saying you can't start with video editing on a $500 budget but instead that you'll have to persevere for a while and possibly upgrade your laptop after a few gigs or even buy a new one if you start making some good money because professionals video editing is one of the top in-demand skills and professions.