Sorry for the great delay of this review, I was very busy lately working on a new website project for downloading drivers, DriverLot.com. It's been some time since I've published the Asus X51L unpacking video so now you can read the full review finally.
Design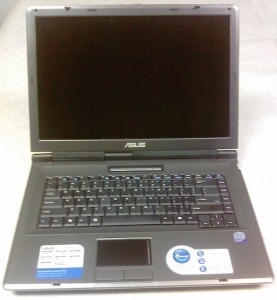 The notebook chassis is a typical for the lower and middle class Asus notebooks, sharp edges, not too thin, not too thick, mostly silver with black around the 15.4″ wide monitor. Simple yet good looking, a much better design than most of the notebooks in this class.
Inside it's pretty straightforward, a nice keyboard with good response, no keypad which is good because the large touch-pad is placed right in the middle. It's simplicity is dominating inside also, but the usefulness can be noticed while using it. There are also the hotkey buttons for power up, wireless switch and a power4gear mode switch which are nicely placed on line above the keyboard and have a blue led light in them.
It weights about 6.5lbs (or 2.94kg) with the battery, which is still not bad for a notebook of this class. The length of the legs are not that high, but enough to provide good airflow to cool the Core2Duo processor. What I like about this notebook is that is quite firmly made. The monitor is connected with the chasis with three hindges and there is no way that it can brake with excessive use.

Features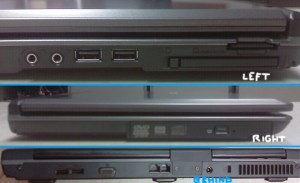 The Asus X51L is equipped with four USB 2.0 ports to connect your camera and download your pictures, connect a mouse, swap file to your flash memory stick or maybe use a notebook stand to cool your it better. It also contains a multi 4 in 1 card reader for SD, MMC, MS and MS Pro to exchange files with a camera or phone. Two jacks for a microphone or headphones are included, a VGA output to transfer the signal to a bigger monitor or a TV maybe if you need to. A PCMCIA slot is included, as well as a 56k modem, don't know if it is still worth it, but yet you got it if you need to send faxes, and a disappointing 10/100Mbps LAN port instead of 1 Gigabit. The lack of a web-cam is another disappointment for an entertainment oriented notebook.
Under the hood we have a Core2Duo T5450 (1.66GHz) which is quite powerful processor for most applications and games, yet energy saving. An Intel GMA965 graphic card is integrated, which is somewhat low for the T5450 processor and 2GB ram and explains our low 3DMark results, but yet a graphic card which can handle everyday business and home users tasks like wordprocessing software, surfing the web, whatching movies etc. A Super-Multi DVD Burner is also built in, as well as wireless adapter.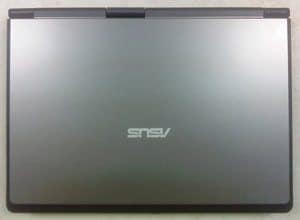 The 15.4″ monitor is a glare-type and it can reflect some backlight, but it sure doesn't reflect as much as other notebooks I have seen. The good side on this is that you will see a much clearer and sharp picture.
Performance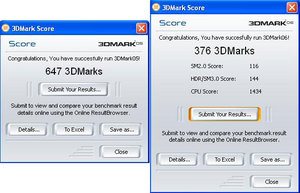 We've run the 3DMark06 on the Core2Duo T5450 clocked at 1.66GHz and the score was 376 which is quite low for a processor like the T5450, but since the graphic card is has a great part on the 3DMark results and therefore the low score. The 3DMark05 scored 647 which means that it can run most of the older games smoothly like Silent Hill, Simcity, Warcraft 3 etc. and hardly some of the newer games, maybe if set on minimum details, but it should handle most of the productivity applications with ease.
The battery test also resulted in something lower than the 3 hour advertised, but 2 hours and 34 minutes is still great for a notebook of this class with a 6-cell battery. We've put on some background music, with wireless turned on and played some basic games on it like zuma and bejeweld.
The Asus X51L qualifies as stable, well-processed notebook at an affordable price. Vista runs fast, but I do not recommend it since a disk with xp drivers is already included. The notebook is ideal for average home users. For game enthusiasts there are obviously better like the Asus M51Va, but for a higher price. All in all a good buy for the money.
Specifications
Model: Asus X51L-AP164
CPU: T5450 Core2Duo CPU
Graphic Card: Intel GMA965 on board VGA
Memory: 2GB RAM
Hard Disk: 250GB Sata
Optical Drive: Super Multi DVD-RW
Communication: WLAN b/g standard, LAN 10/100Mbps, 56k Modem
Battery: 6 Cell Battery
Display: 15.4′ LCD Glare-type
Ports: 4 x USB 2.0, 4-in-1 Card Reader, Mic/Headphones jacks, VGA Output, PCMCIA